EVENT: Paris Optional Sightseeing Excursion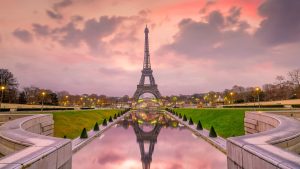 Ahh Paris, the city of LOVE! Travel with Event USA to one of the most beautiful cities in the world that is known worldwide for the Louvre Museum, Notre-Dame Cathedral and, of course, the Eiffel Tower. In the city of lights, there are sidewalk cafes at every street corner that provide the perfect place to sit back, have a bite to eat or a coffee while taking in the stunning views of Paris. As Audrey Hepburn best put it, "Paris is always a good idea!" $475 pp.
Trip details:
Meet in the hotel lobby at 5am* for breakfast/coffee to go. Shuttles will leave promptly at 5:15am* and head to the train station for the 7:01am* departure time. We will arrive in Paris around 10:30am* and board our buses to begin to take in the sights including the Arc de Triomphe. Some of you will head to the scenic Seine River Cruise first followed by the Eiffel Tower while the other half will go see the Eiffel Tower first followed by the scenic Seine River Cruise. Everyone will receive a box lunch during this time. All together we will depart at 3pm* and head on over to The Louvre for a self guided tour. When you have had your fill of The Louvre you may enjoy some time grabbing a bite to eat at one of the sidewalk cafes or indulge in a little shopping. We will depart from The Louvre at 7:30pm* and head back to the train station for the 9:13pm* departure time arriving in London at 10:45pm* and back at the hotel around 11:15pm*.
*Please note all times are subject to change. We will have more definite times closer to the date.