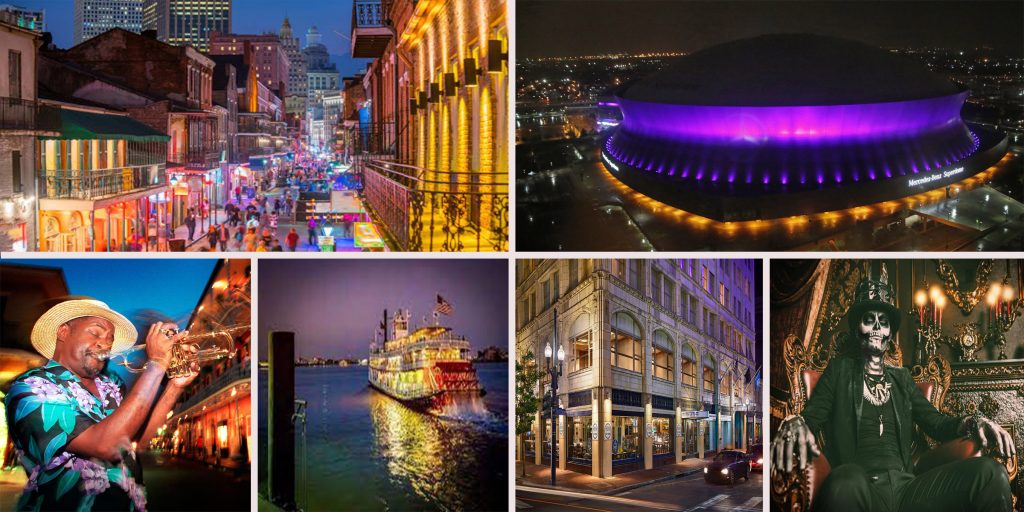 Sunday, September 12th, 2021 at 3:25 PM CST
Mercedes-Benz Superdome – New Orleans, LA
Travel with the Pack to the "Big Easy"! New Orleans is known for its round-the-clock nightlife, vibrant live-music scene and spicy, singular cuisine reflecting its history as a melting pot of French, African and American cultures. Once you have seen all that New Orleans has to offer, head on over to the Superdome to see the Pack take on the Saints and their new leader at QB! Are you ready for some football?!
Our Game Package combines all the great things about New Orleans with the excitement of Packers football! Help support the team on the road to the Super Bowl!
Land Package
Our Land Game Package features tickets, accommodations, tailgate, and more to help you support the team on the road!
The Land Game Package includes:
Upper End Zone Electronic Game Ticket (Exact Location Ticket upgrade available)
1 or 2 Nights Accommodations
Event USA Tailgate Party
Event USA Souvenir
Game Day Transfer
Complimentary WIFI
Staffed Hospitality Desk
Professional Tour Host
Hotel
Renaissance New Orleans Pere Marquette French Quarter
Need air?
Most of our tour customers are adding air on their own by going through their own travel agent, booking it online, using their own reward points etc. And then they can determine the exact departure point, times of flight, and number of days involved, to meet their needs. However, if you need assistance with air, reach out and we will help with that. We are aware of some opportunities for nonstop charter air that you can book directly with the provider, including a departure from Appleton Wisconsin. You can investigate that by contacting the provider directly which is Allegiant Air.
Just Tickets or game day package?
Our Road Warrior Package is a great day-of-game option. You can also purchase just tickets or tailgate only.
Road Warrior Package
Road Game Ticket ONLY
Road Tailgate ONLY
Optional Sightseeing Excursion (Saturday, September 11th – Time 9:30 am – 11:30 am) –
In New Orleans, the walls truly have eyes. Let us show you the hidden secrets of their long and storied history while experiencing the local culture on this guided neighborhood and cemetery tour. We will be starting in the French Quarter and heading over to the Riverfront. From there we are off to St. Louis Cemetery where we will be making a short stop where you will hear enchanting stories about many of the historical figures laid to rest including the famous tomb of Voodoo Priestess Marie Laveau! We will also learn about the fascinating burial traditions of old New Orleans. After that we will be off to one of the oldest parks in the country "City Park"; the largest outdoor attraction since 1854. Lastly, we will head to the Garden District which is most sophisticated, historic and elegant neighborhood in all of New Orleans. Make sure to have your camera ready to catch all the sights! Just $69/person.
Sightseeing Tour
PRICING
Land Package
Double
Triple
Quad
Single
Child
09/12- New Orleans Saints 2 Night Land Package
Extra Hotel Night $195
$779
$739
$699
$959
$499
Buy
09/12- New Orleans Saints 1 Night Land Package
$699
$679
$659
$799
$499
Buy
Additional nights only available on the 2 night land packages at $195 per night.