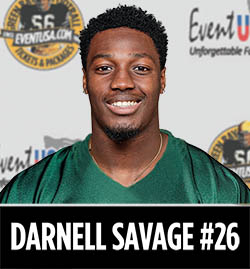 Darnell Savage Jr. (born July 30, 1997) is a safety for the Green Bay Packers. He played college football at Maryland, and was drafted by the Packers in the first round of the 2019 NFL Draft.
During his college career, he played in 46 games with 37 starts in four seasons for the Terrapins, recording 182 tackles (139 solo), eight interceptions (two returned for touchdowns), 22 passes defensed, a sack, a fumble recovery and a blocked punt he returned for a TD.
As a junior in 2017, earned honorable mention All-Big Ten honors after leading the team with eight passes defensed and tying for the team lead with three interceptions. Be set career highs with 59 tackles and 45 solo tackles as a sophomore in 2016 and as a junior in 2017.
Savage was named second-team All-Big Ten by both the media and the coaches as a senior after ranking No. 2 in the conference and No. 13 in the country with four interceptions. He posted seven interceptions in 2017-18, tied for No. 2 in the Big Ten over that span.
He made his NFL debut in the Packers' season opener against the Chicago Bears on September 5, 2019, recording three tackles and one pass deflection. In week 3 against the Denver Broncos, Savage recorded his first career interception off Joe Flacco as the Packers won 27-16.
Savage is a premier athlete. He's an aggressive physical player able to take the ball away and close the gap from centerfield to the hash. He has already asserted himself in his rookie season as one of the best safeties in the NFC and shows tremendous promise at being a dominant defensive player in the NFL for many years to come.