Event USA has partnered with D2 Sports Pub on Armed Forces Dr for our World Famous Tailgate Party! Come join us in cheering on the Pack before the BIG game while enjoying all you can eat and drink like a true Packer fan outside under the big tent with a view of Lambeau! Looking to avoid the cold? Upgrade to our VIP tailgate with full open bar including all you can eat indoors to help keep you warm before entering the Frozen Tundra.
For a memorable game day adventure that includes Green Bay Tickets, try our Ticket & Tailgate Package, where you get admission to the game at historic Lambeau Field, plus our unlimited food and drink tailgate party. It's a "complete" pre-game experience from Event USA!
Ticket & Tailgate Package Details:
Game Ticket upper rows 51 and higher. Endzone location tickets may also be located in the 600 and 700 levels of the South Endzone. (with choice of seating options)
Our Traditional Event USA Tailgate Party
Additional options/upgrades:
Upgraded ticket seating available (including sidelines, skyboxes & club seats)
Upgrade to VIP Tailgate Party
Player Autograph Party
Packers Memorabilia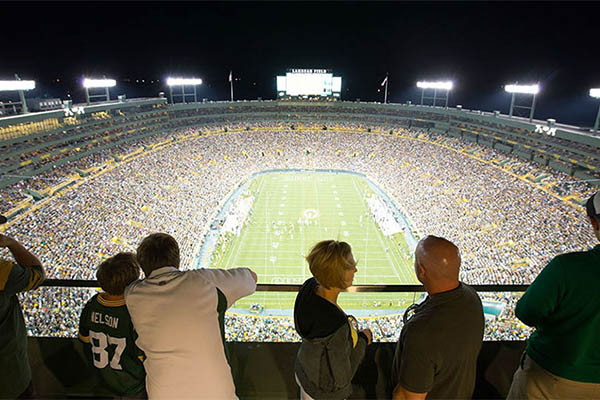 Ticket & Tailgate Pricing
All prices are per-person. Please note, while you can order as many as you want, we cannot guarantee groups larger than 4 in any category to sit together (although we try our best to accommodate your group). Sections & rows will be our choice.
**Indoor Clubs: Can only be purchased in EVEN numbered groups, please.
This package is subject to our terms & conditions. 
Please call (920) 722-5377for details.
2022 Regular Season Ticket and Tailgate is no longer being offered.