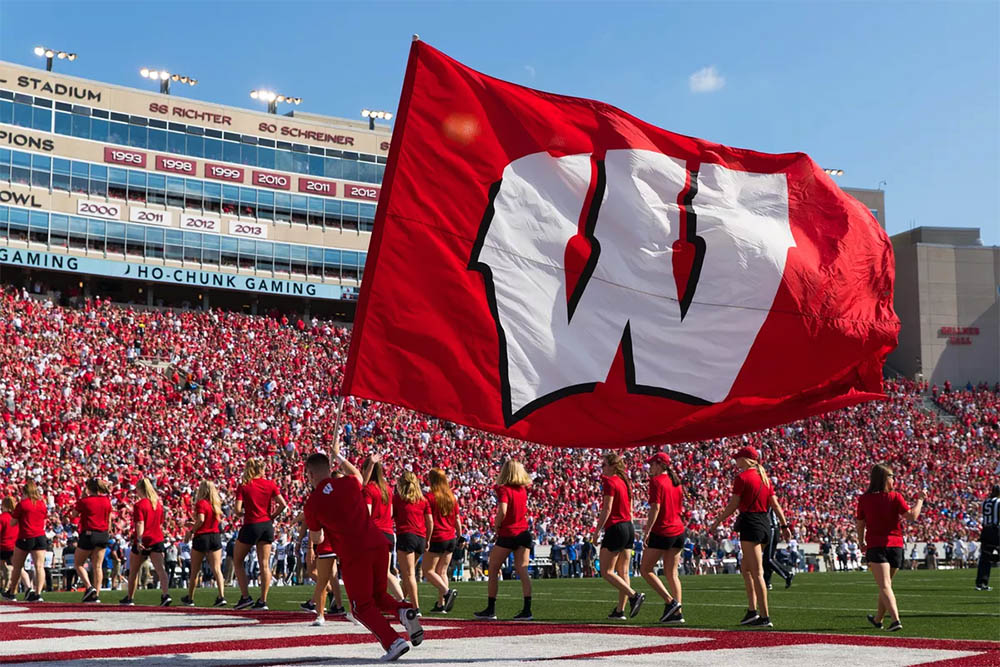 If you're a football fan and you've never experienced college football at Camp Randall Stadium in Madison, Wisconsin, you're missing out! And if you have been there, you're going to want to return time and time again. It is consistently rated as one of the best stadiums and overall atmospheres to enjoy college football at.
So put a visit there on your calendar this year. We can get you in the stands with a vast array of seating choices from midfield to end zone and in many groupings to accommodate most any number of people in your party. Take a look at our choices and, if you don't see what you want, give us a call!
Get ready to "jump around" with Badgers football!
Don't forget Wisconsin Badgers Basketball. We can get you to all the games!
Date
Event Name
Category
Oct 26, 2023
7:00 pm
Wisconsin Badgers at Minnesota Golden Gophers Mens Hockey


3M Arena at Mariucci (Minneapolis, MN)

NCAA Men's Hockey
VIEW EVENT
Nov 01, 2023
2:00 pm
Wisconsin-Stevens Point Pointers at Wisconsin Badgers Basketball


Kohl Center (Madison, WI)

NCAA Men's Basketball
VIEW EVENT
Sep 22, 2023
TBD
Wisconsin Badgers at Purdue Boilermakers Football


Ross–Ade Stadium (West Lafayette, IN)

NCAA Football
VIEW EVENT
Sep 21, 2023
7:00 pm
Wisconsin Badgers at Northwestern Wildcats Womens Volleyball


Welsh-Ryan Arena (Evanston, IL)

Volleyball
VIEW EVENT
Sep 24, 2023
8:00 am
Indiana Hoosiers at Wisconsin Badgers Womens Volleyball


Wisconsin Field House (Madison, WI)

Volleyball
VIEW EVENT
Sep 27, 2023
3:00 pm
Wisconsin Badgers at Ohio State Buckeyes Womens Volleyball


Covelli Center - Columbus (Columbus, OH)

Volleyball
VIEW EVENT
Oct 01, 2023
8:00 am
Michigan Wolverines at Wisconsin Badgers Womens Volleyball


Wisconsin Field House (Madison, WI)

Volleyball
VIEW EVENT
Oct 03, 2023
7:00 pm
Wisconsin Badgers at Iowa Hawkeyes Womens Volleyball


Xtream Arena (Coralville, IA)

Volleyball
div>no tickets available VIEW EVENT
Oct 06, 2023
7:00 pm
Wisconsin Badgers at Illinois Fighting Illini Womens Volleyball


George Huff Hall (Champaign, IL)

Volleyball
VIEW EVENT
Oct 06, 2023
TBD
Rutgers Scarlet Knights at Wisconsin Badgers Football


Camp Randall Stadium (Madison, WI)

NCAA Football
VIEW EVENT
Oct 13, 2023
2:00 pm
Rutgers Scarlet Knights at Wisconsin Badgers Womens Volleyball


Wisconsin Field House (Madison, WI)

Volleyball
VIEW EVENT
Oct 14, 2023
1:07 pm
University of North Dakota Mens Hockey vs. University of Wisconsin Badgers Mens Hockey


Ralph Engelstad Arena (Grand Forks, ND)

NCAA Men's Hockey
VIEW EVENT
Oct 13, 2023
TBD
Iowa Hawkeyes at Wisconsin Badgers Football


Camp Randall Stadium (Madison, WI)

NCAA Football
VIEW EVENT
Oct 15, 2023
8:00 am
Maryland Terrapins at Wisconsin Badgers Womens Volleyball


Wisconsin Field House (Madison, WI)

Volleyball
VIEW EVENT
Oct 18, 2023
2:00 pm
Ohio State Buckeyes at Wisconsin Badgers Womens Volleyball


Wisconsin Field House (Madison, WI)

Volleyball
VIEW EVENT
Oct 20, 2023
TBD
Wisconsin Badgers at Illinois Fighting Illini Football


Memorial Stadium- IL (Champaign, IL)

NCAA Football
VIEW EVENT
Oct 20, 2023
7:00 pm
Wisconsin Badgers at Nebraska Cornhuskers Womens Volleyball


Bob Devaney Sports Center (Lincoln, NE)

Volleyball
VIEW EVENT
Oct 25, 2023
7:00 pm
Wisconsin Badgers at Minnesota Golden Gophers Mens Hockey


3M Arena at Mariucci (Minneapolis, MN)

NCAA Men's Hockey
VIEW EVENT
Oct 26, 2023
7:00 pm
Wisconsin Badgers at Michigan State Spartans Womens Volleyball


Breslin Center (East Lansing, MI)

Volleyball
VIEW EVENT
Oct 27, 2023
TBD
Ohio State Buckeyes at Wisconsin Badgers Football


Camp Randall Stadium (Madison, WI)

NCAA Football
VIEW EVENT
Oct 29, 2023
10:45 am
Minnesota Golden Gophers at Wisconsin Badgers Womens Volleyball


Wisconsin Field House (Madison, WI)

Volleyball
VIEW EVENT
Nov 01, 2023
1:00 pm
Purdue Boilermaker at Wisconsin Badgers Womens Volleyball


Wisconsin Field House (Madison, WI)

Volleyball
VIEW EVENT
Nov 04, 2023
2:00 pm
Illinois Fighting Illini at Wisconsin Badgers Womens Volleyball


Wisconsin Field House (Madison, WI)

Volleyball
VIEW EVENT
Nov 03, 2023
TBD
Wisconsin Badgers at Indiana Hoosiers Football


Memorial Stadium - Bloomington (Bloomington, IN)

NCAA Football
VIEW EVENT
Nov 05, 2023
6:00 pm
Arkansas State Red Wolves at Wisconsin Badgers Basketball


Kohl Center (Madison, WI)

NCAA Men's Basketball
VIEW EVENT
Nov 09, 2023
6:00 pm
Wisconsin Badgers at Maryland Terrapins Womens Volleyball


Xfinity Center - MD (College Park, MD)

Volleyball
VIEW EVENT
Nov 09, 2023
6:00 pm
Tennessee Volunteers at Wisconsin Badgers Basketball


Kohl Center (Madison, WI)

NCAA Men's Basketball
VIEW EVENT
Nov 10, 2023
TBD
Northwestern Wildcats at Wisconsin Badgers Football


Camp Randall Stadium (Madison, WI)

NCAA Football
VIEW EVENT
Nov 13, 2023
6:00 pm
Wisconsin Badgers at Providence Friars Basketball


Amica Mutual Pavilion (Providence, RI)

NCAA Men's Basketball
VIEW EVENT
Nov 16, 2023
6:00 pm
Robert Morris Colonials at Wisconsin Badgers Basketball


Kohl Center (Madison, WI)

NCAA Men's Basketball
VIEW EVENT
Nov 17, 2023
1:00 pm
Wisconsin Badgers at Purdue Boilermakers Womens Volleyball


Holloway Gymnasium (West Lafayette, IN)

Volleyball
VIEW EVENT
Nov 17, 2023
6:00 pm
Wisconsin Badgers at Indiana Hoosiers Womens Volleyball


Wilkinson Hall (Bloomington, IN)

Volleyball
VIEW EVENT
Nov 17, 2023
TBD
Nebraska Cornhuskers at Wisconsin Badgers Football


Camp Randall Stadium (Madison, WI)

NCAA Football
VIEW EVENT
Nov 24, 2023
9:00 am
Nebraska Cornhuskers at Wisconsin Badgers Womens Volleyball


Wisconsin Field House (Madison, WI)

Volleyball
VIEW EVENT
Nov 24, 2023
TBD
Wisconsin Badgers at Minnesota Golden Gophers Football


Huntington Bank Stadium (Minneapolis, MN)

NCAA Football
VIEW EVENT
Nov 25, 2023
1:00 pm
Iowa Hawkeyes at Wisconsin Badgers Womens Volleyball


Wisconsin Field House (Madison, WI)

Volleyball
VIEW EVENT
Nov 26, 2023
6:00 pm
Western Illinois Leathernecks at Wisconsin Badgers Basketball


Kohl Center (Madison, WI)

NCAA Men's Basketball
VIEW EVENT
Dec 01, 2023
6:00 pm
Marquette Golden Eagles at Wisconsin Badgers Basketball


Kohl Center (Madison, WI)

NCAA Men's Basketball
VIEW EVENT
Dec 04, 2023
6:00 pm
Wisconsin Badgers at Michigan State Spartans Basketball


Breslin Center (East Lansing, MI)

NCAA Men's Basketball
div>no tickets available VIEW EVENT
Dec 08, 2023
6:00 pm
Wisconsin Badgers at Arizona Wildcats Basketball


McKale Center (Tucson, AZ)

NCAA Men's Basketball
div>no tickets available VIEW EVENT
Dec 13, 2023
6:00 pm
Jacksonville State Gamecocks at Wisconsin Badgers Basketball


Kohl Center (Madison, WI)

NCAA Men's Basketball
VIEW EVENT
Dec 21, 2023
6:00 pm
Chicago State Cougars at Wisconsin Badgers Basketball


Kohl Center (Madison, WI)

NCAA Men's Basketball
VIEW EVENT
Jan 01, 2024
6:00 pm
Iowa Hawkeyes at Wisconsin Badgers Basketball


Kohl Center (Madison, WI)

NCAA Men's Basketball
div>no tickets available VIEW EVENT
Jan 05, 2024
6:00 pm
Nebraska Cornhuskers at Wisconsin Badgers Basketball


Kohl Center (Madison, WI)

NCAA Men's Basketball
div>no tickets available VIEW EVENT
Jan 09, 2024
6:00 pm
Wisconsin Badgers at Ohio State Buckeyes Basketball


Value City Arena at the Jerome Schottenstein Center (Columbus, OH)

NCAA Men's Basketball
div>no tickets available VIEW EVENT
Jan 12, 2024
6:00 pm
Northwestern Wildcats at Wisconsin Badgers Basketball


Kohl Center (Madison, WI)

NCAA Men's Basketball
div>no tickets available VIEW EVENT
Jan 15, 2024
6:00 pm
Wisconsin Badgers at Penn State Nittany Lions Mens Basketball


Bryce Jordan Center (State College, PA)

NCAA Men's Basketball
VIEW EVENT
Jan 18, 2024
6:00 pm
Indiana Hoosiers at Wisconsin Badgers Basketball


Kohl Center (Madison, WI)

NCAA Men's Basketball
VIEW EVENT
Jan 19, 2024
12:01 pm
Wisconsin Badgers Womens Hockey at Minnesota State Mankato Mavericks Womens Hockey


Mayo Clinic Health System Event Center (Mankato, MN)

NCAA Women's Hockey
VIEW EVENT
Jan 20, 2024
9:01 am
Wisconsin Badgers Womens Hockey at Minnesota State Mankato Mavericks Womens Hockey


Mayo Clinic Health System Event Center (Mankato, MN)

NCAA Women's Hockey
VIEW EVENT
Jan 22, 2024
6:00 pm
Wisconsin Badgers at Minnesota Golden Gophers Basketball


Williams Arena (Minneapolis, MN)

NCAA Men's Basketball
div>no tickets available VIEW EVENT
Jan 25, 2024
6:00 pm
Wisconsin Badgers at Michigan Wolverines Hockey


Yost Arena (Ann Arbor, MI)

NCAA Men's Hockey
VIEW EVENT
Jan 25, 2024
6:00 pm
Michigan State Spartans at Wisconsin Badgers Basketball


Kohl Center (Madison, WI)

NCAA Men's Basketball
VIEW EVENT
Jan 26, 2024
6:00 pm
Wisconsin Badgers at Michigan Wolverines Hockey


Yost Arena (Ann Arbor, MI)

NCAA Men's Hockey
VIEW EVENT
Jan 31, 2024
6:00 pm
Wisconsin Badgers at Nebraska Cornhuskers Basketball


Pinnacle Bank Arena (Lincoln, NE)

NCAA Men's Basketball
div>no tickets available VIEW EVENT
Feb 03, 2024
6:00 pm
Purdue Boilermakers at Wisconsin Badgers Basketball


Kohl Center (Madison, WI)

NCAA Men's Basketball
div>no tickets available VIEW EVENT
Feb 06, 2024
6:00 pm
Wisconsin Badgers at Michigan Wolverines Basketball


Crisler Center (Ann Arbor, MI)

NCAA Men's Basketball
VIEW EVENT
Feb 09, 2024
6:00 pm
Wisconsin Badgers at Rutgers Scarlet Knights Basketball


Jersey Mike's Arena (Piscataway, NJ)

NCAA Men's Basketball
div>no tickets available VIEW EVENT
Mar 01, 2024
6:00 pm
Illinois Fighting Illini at Wisconsin Badgers Basketball


Kohl Center (Madison, WI)

NCAA Men's Basketball
div>no tickets available VIEW EVENT
Mar 06, 2024
6:00 pm
Rutgers Scarlet Knights at Wisconsin Badgers Basketball


Kohl Center (Madison, WI)

NCAA Men's Basketball
div>no tickets available VIEW EVENT
Mar 09, 2024
6:00 pm
Wisconsin Badgers at Purdue Boilermakers Basketball


Mackey Arena (West Lafayette, IN)

NCAA Men's Basketball
div>no tickets available VIEW EVENT