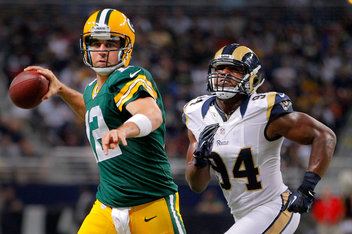 Packers News – Aaron Rodgers is the reigning NFL MVP for a reason. In case you had forgotten during an up-and-down start to the Packers' season, Rodgers is really, really good.
On the strength of another phenomenal game from Rodgers, the Packers went to St. Louis and beat the Rams on Sunday, improving to 4-3 and making a strong statement that they'll have a lot to say about the shape of the NFC playoff race.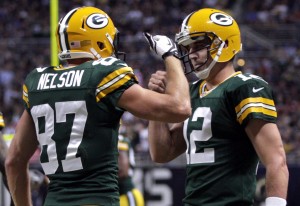 Rodgers completed 30 of 37 passes for 342 yards, with three touchdowns and no interceptions. After last week's phenomenal game in Houston, Rodgers is now 54 of 74 for 680 yards, with nine touchdowns and no interceptions over the last two weeks.
This Packers team is better than its 4-3 record would indicate, and it's not just Rodgers. Receivers Jordy Nelson and Randall Cobb both had big games, and the Packers' defense was led once again by All-Pro linebacker Clay Matthews, who recorded another sack, his ninth of the season.
That's not to say the Packers are perfect. They still need to find a way to run the ball more effectively (running back Alex Green was a non-factor), and they've been too inconsistent. But over the last two weeks, the Packers have been as impressive a team as there is in the NFL.
The loss drops the Rams' record to 3-4, but St. Louis deserves a lot of credit for the way it's playing in Jeff Fisher's first season as head coach. This Rams team isn't a lot more talented than last year's 2-14 club, but this year's team is playing a lot harder than last year's team. Beating the Rams isn't easy anymore.
But the Packers did beat the Rams, and they beat them in St. Louis, by a comfortable margin. That says a lot about this Packers team.
Michael David Smith – Pro Football Talk