Defense, coaching carry Green Bay to within a half-game of NFC North lead
Green Bay Packers News – Some fans and media described it as an ugly win.
On the contrary, Green Bay's 24-20 victory against the Lions Sunday at Detroit's Ford Field wasn't ugly.
It was football.
The Packers (7-3) secured a fifth-straight win with big plays, good field position and strong defense. They didn't overwhelm so much as control. They didn't dominate. They demoralized.
Whereas the Packers' Aaron Rodgers was good but not great, the Lions' Matthew Stafford was neither. Stafford completed just 17 of 39 passes for 266 yards, one touchdown and two interceptions. Stafford's errant throws included a deflected pass that Packers' safety M.D. Jennings intercepted and returned 72 yards for a touchdown. Casey Hayward nabbed the other pick, the rookie's fifth interception this season.
The Packers' defense applied constant pressure, racked up five sacks, forced three turnovers and scored a touchdown. That it did so without Clay Matthews, Charles Woodson and Sam Shields was impressive.
Lest we forget, the Packers' defense isn't that far removed from being an embarrassment. A year ago it was utterly incapable of putting on a performance such as Sunday's. Whether it was veteran Ryan Pickett blowing up plays along the line of scrimmage or youngster Dezman Moses alertly slapping the ball away from Stafford, Green Bay's defense put in an exceptional day's work.
Stafford did connect with Calvin Johnson on a 25-yard touchdown pass to give Detroit a 17-14 lead late in the third quarter.
No problem.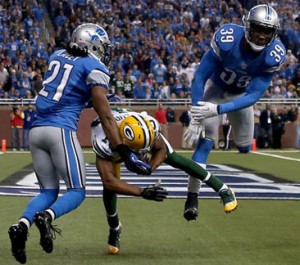 When the game's outcome was on the line in the final four minutes, the Packers' offense delivered a six-play, 82-yard touchdown drive to go up 21-20. It was capped by a Rodgers-to-Randall Cobb 22-yard touchdown pass with 1:55 to play. Jermichael Finley, who scored a touchdown in the first half, hauled in a 40-yard pass on the game-winning drive.
"When our best was needed," Rodgers said, "we came through."
That is what separates the NFC's best from the NFC's also-rans. When push comes to shove, with the game on the line, the better teams deliver. Rodgers was 19 of 27 for 236 yards, two touchdowns and an interception. It is far from Rodgers' best but there lies the beauty of this Packers' victory: Rodgers didn't have to post a 150 QB rating in order for Green Bay to prevail on the road against a desperate division foe.
The Packers' all-important search for balance isn't merely "pass/run" but also "offense/defense."
Green Bay got enough of each to secure the win.
When the Lions (4-6) trailed 24-20 and tried to respond they failed to gain a single yard. In the game's last-ditch drive the Detroit offense went four-and-out, and that was that.
With 19 seconds to play, Mason Crosby added a 39-yard field goal that was greeted with a sigh of relief. Crosby had missed six of his previous 11 field-goal attempts, so any kick that sailed between the uprights was a bright spot. Head coach Mike McCarthy said he doesn't plan to make a change at kicker; he just needs the kicker to start making it. 'Nuff said.
The Packers are within a half-game of NFC North leader Chicago (7-2). The Bears are at San Francisco (6-2-1) for a Monday Night Football matchup by the bay.
"Early on, we were trying to find the identity we had last year when we had an attitude that no one could stop us coming off our Super Bowl," receiver Donald Driver said. "'Now, we got our groove back and we're ready to roll."
McCarthy has positioned the Packers nicely after a 2-3 start. Since then, they have solidified a patchwork defense, and they have turned a non-existent running attack into something serviceable.
The Packers' next challenge is a New York Giants (6-4) team that has stumbled recently and is badly in need of a win at MetLife Stadium. For their part, the Packers have a score to settle because it was the Giants who upset them at Lambeau Field in last year's playoffs.
This time, Aaron Rodgers and his receivers won't be alone.
Last week's prediction: Packers 31, Lions 28 (Packers, 24-20)
Season: 7-3
This week's prediction: Packers 34, Giants 20
Chris Havel is a national best-selling author and his latest book is Lombardi: An Illustrated Life. Havel can be heard Monday through Friday from 4-6 p.m. CDT on WDUZ FM 107.5 The Fan, or on AM-1400, as well as Fan Internet Radio (www.thefan1075.com). Havel also hosts Event USA' MVP Parties the evening before home games.