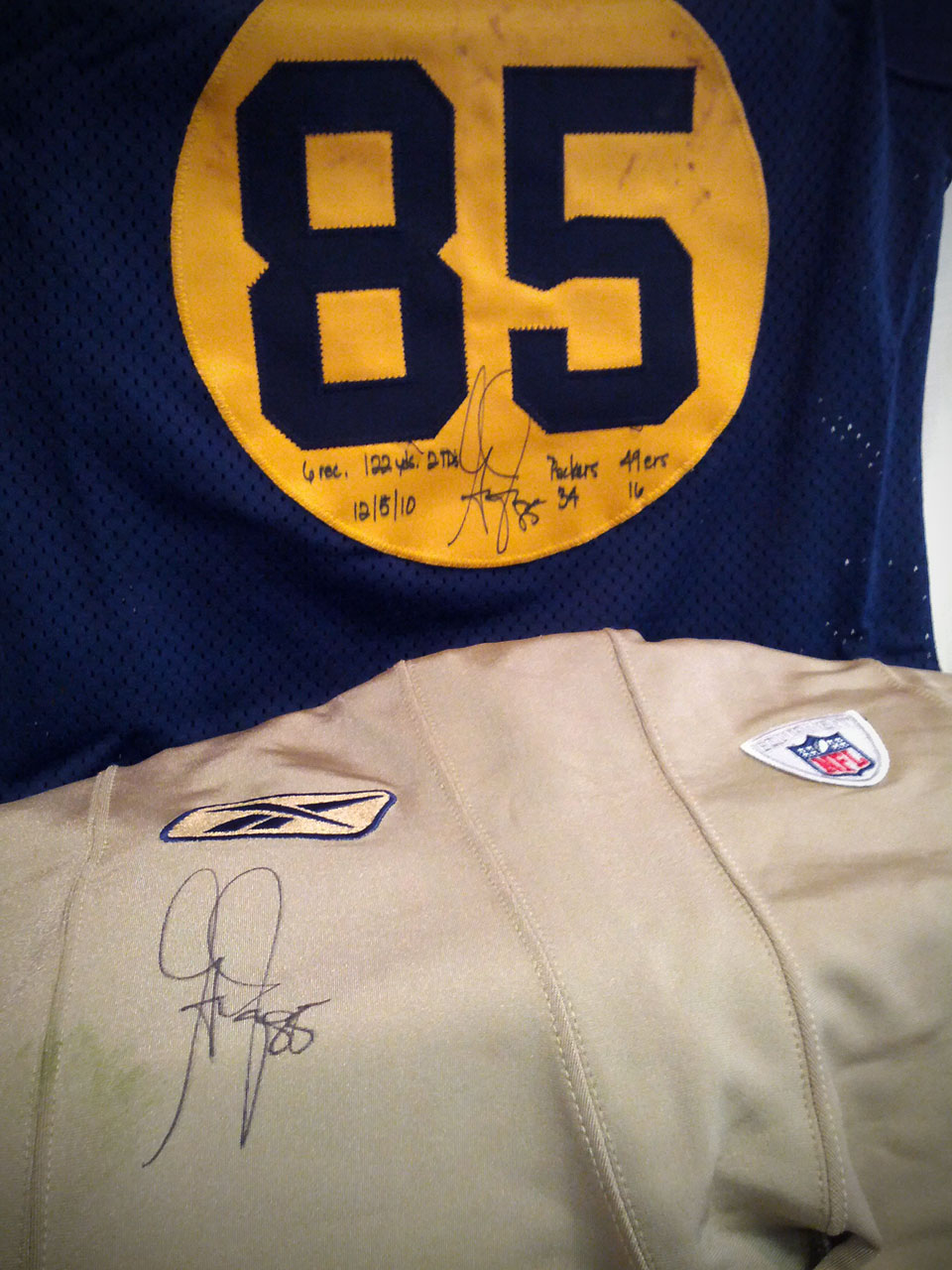 Commemorate Greg's career in Green Bay with
authentic memorabilia
. including this rare,
game worn throwback jersey
Jennings Throwback Jersey
GREEN BAY – The first strike was Greg Jennings listing his Green Bay-area home a few months ago. The second strike was the Green Bay Packers' apparent lack of interest in negotiating a long-term contract extension.
Strike three came Monday at 3 p.m. That's when the Packers allowed the NFL's franchise tag deadline to lapse without designating Jennings.
The decision triggers a domino-like effect.
Here are some reasonable assumptions as Jennings, who is reportedly seeking a deal worth $12 million a year, hits the free agent market:
** Jermichael Finley's chances of receiving a $3 million bonus due March 27 increased significantly. I can't imagine the Packers would allow Jennings and Finley to leave in the same offseason.
That would be too much firepower walking out the door.
Remember, Finley is under contract for this season. It seems Packers head coach Mike McCarthy was impressed by Finley's strong second-half surge last season. Finley's drops diminished and his production increased. Furthermore, he made steps to improve his relationship with Aaron Rodgers and it seemed to help.
If Finley starts strong in September, look for the Packers to discuss an extension.
** This is a vote of confidence for third-year receiver Randall Cobb.
The third-year receiver's growth between his first and second seasons was impressive. Cobb showed he could be a quality slot receiver (Jennings' position) and McCarthy reciprocated by making an effort to utilize his play-making ability.
Cobb lined up in the slot. He worked out of the backfield. He also returned kicks and punts, although that seems like a part of his past. He joins James Jones and a healthy Jordy Nelson to give Rodgers a strong top three receivers.
Now, the Packers have to find at least one receiver to develop behind the trio. Look for the Packers to draft a receiver in the middle rounds.
** The decision not to tag Jennings raises a question: Why not tag and trade?
GM Ted Thompson did exactly that with defensive tackle Corey Williams a few years back, and acquired compensation in the process.
Perhaps the Packers feared Jennings wouldn't receive an offer to his liking and they would end up paying him $10.36 million on a one-year deal. Worse, it might be a one-year deal that would leave Jennings an unhappy Packer.
The Packers' receiving corps prides itself on being unselfish. The potential for possible chemistry problems is worth considering, although I think Jennings would have been a consummate pro. Now we may never know.
I say "may never know" because it's possible nobody will make Jennings an offer to his liking, ala James Jones last year. Perhaps Jennings dips his toe in free agency and finds the icy water (less than $12 million annually) not to his liking.
Surely the Packers would listen if he expressed an interest in returning, although that would mean signing him to a multi-year deal. Again, that doesn't seem like it is going to be in the cards.