By CHRIS HAVEL
GREEN BAY – Brett Favre can laugh about it now.
The old gunslinger told a Dallas radio station during the weekend that his trade to the New York Jets in 2008 and signing with Minnesota in 2009 "made for good TV when I came back, didn't it?"
Favre predicted he will return to Green Bay, which is to say he will return to be honored by his former team.
He didn't say when he planned to do that, though.
"As far as coming back to Green Bay?" Favre said. "We'll do it one day."
Favre, 43, also said he never used retirement as leverage.
10% Off all Brett Favre Merchandise!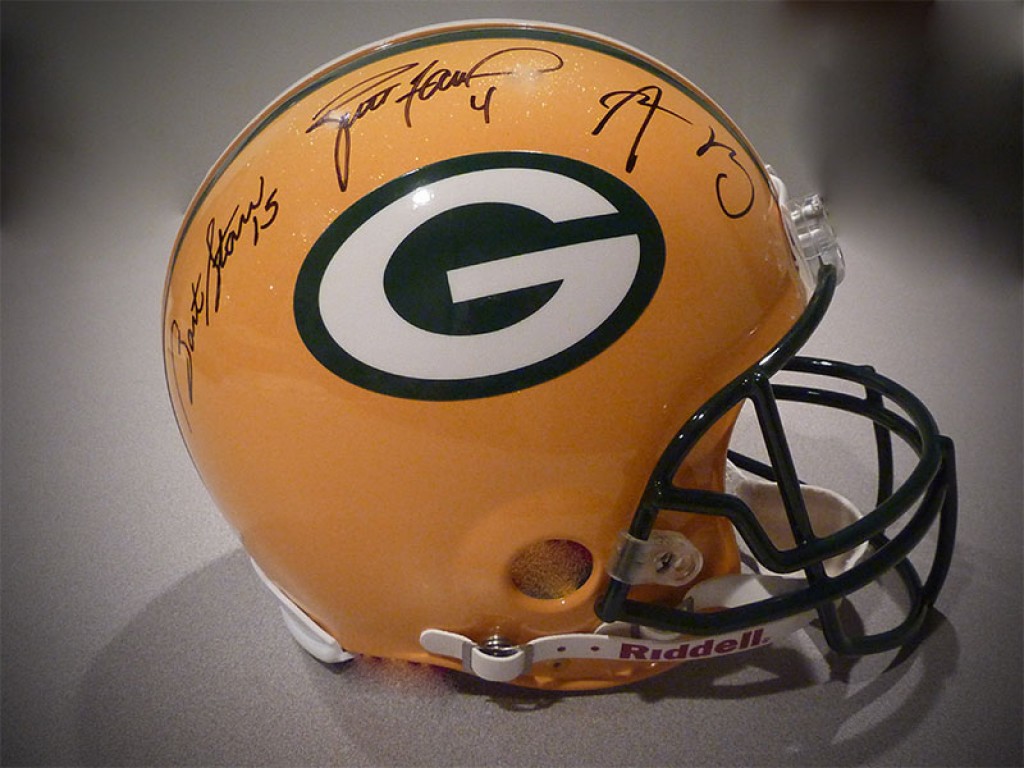 Just use promo code:
…at checkout.
Furthermore, Favre said he never believed Packers GM Ted Thompson was wasting his later years by building for the future.
"I just find it hard to believe that a GM or a head coach would be concerned about the next era when their job is on the line today," Favre told the station. "That has happened. I think you do have to look to the future a little bit in, for example, drafting Aaron Rodgers. (I'm) perfectly OK with that. But you do have to be concerned about winning now, unless you're looking forward to getting a high pick or whatever.
"But I think for me it (retirement contemplation) was the timing. I had played I don't know how many games straight in '05 at the end of the year. … If we didn't win it at the end of the year, which 19 out of 20 we didn't, then it was a disappointing year for me. Later on in my career, it just got more and more disappointing. Even though I might've had a great year, the last thing I wanted to think about was football.
"So when I was asked that question of playing or not playing, I could have easily said, which I probably should've, 'We'll see you in July. At this point I can't commit to a team, I'm burned out.' Which was true. That's not to say that in July I wouldn't be recharged. It's kind of like when you go on summer break from school. You can't wait. But then the first day of school, you're kind of looking forward to it again. And that's the way I was."
Favre's comments raise more questions than they answer. There's really nothing new in that. The important thing is that he seems comfortable discussing his departure and is open to a return.
Fans are divided on the topic. Some want to see his number prominently displayed inside Lambeau Field. Others say they hope it never happens.
The reality is that it is going to happen. The question is, "When?"
Ultimately, that's up to Favre and nobody else.
Packers' president Mark Murphy repeatedly has said the team will retire Favre's No. 4 "when the time is right."
Since the football is in Favre's hands, right where he wants it, the future Pro Football Hall of Fame quarterback ought to take his time.
Unlike a play, there's no rush here.
Fans are enjoying the Packers' success with Aaron Rodgers at quarterback. That alone makes it easier to live in the present, rather than to long for the good old days.
Furthermore, it's been just two years since Favre was out of the NFL. That's like a blink of an eye given his two decades in the league. The record-setting quarterback's stature isn't going to diminish.
In fact, as Favre's election to the Pro Football Hall of Fame draws near – he will be eligible in the summer of 2015 – memories of his incredibly powerful right arm and legendary toughness will be rekindled.
If Favre wants to patch things up with Packers' fans he may have disappointed or offended, he merely needs to make that return trip to Green Bay before he goes into Canton.
The gesture would go a long way toward healing old wounds. It would be wise for one of the greatest Packers to make Green Bay his first stop, and then continue on his way to Canton in the summer of '15.
It would be a sign of respect to the team that he represented so terrifically for all those seasons. If it happens sooner in Green Bay, so be it. But to really embrace everything that is going into the Packer Hall of Fame and the Pro Football Hall of Fame, Favre should do it right, and in that order: Green Bay and then Canton.
Based on Favre's comments to the Dallas radio station his wounds have healed. Now he can think about doing some mending for his fans.
Chris Havel is a national best-selling author and his latest book is Lombardi: An Illustrated Life. Havel can be heard Monday through Friday from 4-6 p.m. CDT on WDUZ FM 107.5 The Fan, or on AM-1400, as well as Fan Internet Radio (www.thefan1075.com). Havel also hosts Event USA' MVP Parties the evening before home games.