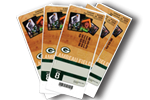 Lions at Packers
Great seats still available so don't miss it!
» Packers Home Game Tickets
Green Bay has won 22 straight over Detroit dating back to Dec. 15, 1991
By CHRIS HAVEL
For more than two decades, the Green Bay Packers haven't played so much as owned the Detroit Lions in Wisconsin.
The Packers (1-2) have won 22 straight home games against the often lackluster Lions (3-1) since Dec. 15, 1991. I believe Bobby Layne was the Lions' starting quarterback that day, or was it Bobby Douglass?
It's been so long the Scott Mitchells and Erik Kramers run together.
As dreadful as the Lions' losing streak is in Wisconsin, it guarantees very little, if anything, when Detroit and Green Bay kick off Sunday's noon game at Lambeau Field.
This isn't the same Detroit Lions' squad that frequently relies on inability, ineptitude or a combination thereof to lose here. This is a Lions' squad, led by Reggie Bush's feet and Ndamukong Suh's suspensions, that prefers to hit first and ask questions later. Bush rolled up 173 yards in the win over the Bears, and Suh played relentlessly.
The Lions are playing in the image of head coach Jim Schwartz. They are playing aggressive if not reckless football that lacks discipline but makes up for it with intimidation. At least so far this season anyway. Neither the Packers nor the Lions care to hear about the past. Green Bay knows this isn't a Lions' team lacking ability, while Detroit realizes that the Packers – at 1-2 coming out of the bye week – can't afford to lose.
In fact, this is as close to a must-win situation as the Packers are likely to face until December, if it matters then. It is difficult to know just how good the Packers truly are this season. They lose at San Francisco, which is understandable, except the 49ers promptly lose two straight in awful fashion. The Packers blow a 30-14 lead at Cincinnati, which is tough to forgive, especially when the Bengals follow it up with an even more unforgivable 17-6 loss at home to the Cleveland Browns.
Meantime, the Lions take care of business and the Bears with a 40-32 victory over Chicago Sunday at Ford Field. In London, the Minnesota Vikings fended off the winless Pittsburgh Steelers 34-27 to go to 1-3. The NFC North is a two-team fight between the Bears and Lions unless the Packers kick in the door with a win against Detroit on Sunday.
To do that, the Packers' defense is going to have to play its best game of the season. The Lions' offense is no joke with Bush doing a far imitation of Barry Sanders, and Matthew Stafford making enough throws to Calvin Johnson and Co. to keep defenses on their heels.
The Packers need all hands on deck. Morgan Burnett and Casey Hayward are going to be needed in the secondary, especially if Clay Matthews' hamstring flares up.
"It's great to have weapons at your disposal," Stafford said after defeating the Bears. "Our offensive line is playing great. They're opening holes in the running game and those guys are doing what they do. The more we can do that (run), the better we're going to be."
Stafford routinely plays some of his poorest football against the Packers. Much of that is because his counterpart, Aaron Rodgers, often puts Detroit in a double-digit hole. That is going to be the Packers' formula for success again Sunday against Detroit. Meantime, the Lions aim to run against the Packers' nickel defense.
"We definitely felt like that was an area we could take advantage of," Bush said of the Bears' game. "When we had (Chicago) in nickel – their nickel personnel – and there's six guys in the box, we've got to take advantage of that."
It will be up to the Packers' defense to keep the explosive Bush and Co. from opening an early lead. Then, if everything goes to plan, the Green Bay defense will be asked to close out the game. If the Packers intend to win the NFC North the first step is a win against the Detroit Lions on Sunday. Anything less is unacceptable at this point.
Chris Havel is a national best-selling author and his latest book is Lombardi: An Illustrated Life. Havel can be heard Monday through Friday from 4-6 p.m. CDT on WDUZ FM 107.5 The Fan, or on AM-1400, as well as Fan Internet Radio (www.thefan1075.com). Havel also hosts Event USA' MVP Parties the evening before home games.