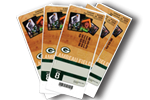 Help the Pack beat the Browns this Sunday
Great deals on tickets/packages!
» Packers Home Game Tickets
Rodgers delivers in clutch despite losing Cobb, Jones to first-half leg injuries; LB Nick Perry suffers broken foot
By CHRIS HAVEL
Victories frequently come at a price in the NFL.
On Sunday, the Green Bay Packers paid handsomely for a hard-fought 19-17 victory against the defending Super Bowl champion Ravens in Baltimore. Receivers Randall Cobb (knee) and James Jones (shin) were shelved in the first half, while Monday brought word that linebacker Nick Perry will be out indefinitely with a broken bone in his foot.
The Packers (3-2) showed great mental and physical toughness against a salty Ravens squad on the road in a hostile environment. They built a tenuous 9-3 lead before Aaron Rodgers connected with Jordy Nelson on a 64-yard touchdown pass in the third quarter to make it 16-3. Baltimore (3-3) pulled within 19-17 but a Rodgers-to-Jermichael Finley 52-yard pass play effectively sealed the victory. It came on third-and-3 and kept the Ravens from getting the ball back with a chance to win.
"It's important to win on the road in this league if you want to make the playoffs," Rodgers said. "This was a tough environment. This is a team that's defending champs, a football team that's very well-coached, great players on both sides of the ball. This is a great team character-building win."
The Packers' defense stepped up without leader Clay Matthews, who is out with a broken thumb.
"It's kind of been our motto for a long time around here: 'Next man up.' We have to make it work," linebacker A.J. Hawk said. "We had a lot of young guys out there today who really did a good job."
The Ravens were 2 of 14 on third down attempts Sunday. They needed at least 10 yards on nine of those tries. That enabled the pressure to get to Flacco and bottle up the run. The Packers held the Ravens to 47 yards rushing and sacked Flacco five times, including three by Hawk. Clearly, this was Hawk's best game as a pro and it comes at a time when the Packers' linebacker corps needs him the most. With Matthews and Brad Jones (hamstring) already sidelined, and Perry now joining them, the Packers' 3-4 is relying on youth at linebacker.
Rookies Andy Mulumba and Nate Palmer played significant minutes and likely will be counted on again this week against Cleveland. The Packers also will be counting on kicker Mason Crosby, who delivered on 4 of 5 field goal attempts in the victory. Crosby has been excellent after fending off several challengers in training camp. On a Packers' team missing several of its key players every point counts.
Meantime, rookie running back Eddie Lacy continues to answer the question: Is it the line that makes the ball carrier or vice-versa? Lacy rolled up 120 yards on 23 carries against a rugged Ravens defense. The Packers' ability to go ground-and-pound – at least in stretches – was a key factor in the team's first road win of the season. In loss at San Francisco and Cincinnati, the Packers held fourth-quarter leads. Now, with the dimension of Lacy's running, the Packers can work the clock.
Rodgers played well despite losing two of his top targets. He finished 17 of 32 for 315 yards with one touchdown and an interception.
"Days like today remind you of why you love this game so much," Rodgers said. "Offensively, we're struggling a little bit, but we found a way to make enough plays to win."
The Ravens had won 13 straight home games against NFC teams, and linebacker Terrell Suggs saw his string of five straight games with at least one sack come to an end. Now, the Packers must brace for an improved Cleveland team in Sunday's 3:25 p.m. kickoff, and it must find a way to win without Cobb, Perry, Matthews and the Joneses (James and Brad).
A much-improved running game with Lacy is one way. So is a defense that looks light years ahead of its 2012 counterpart. Of course, the surest way to success rest in Rodgers' right arm. It's up to GM Ted Thompson and his staff to find him adequate targets until Cobb and Jones return.
Chris Havel is a national best-selling author and his latest book is Lombardi: An Illustrated Life. Havel can be heard Monday through Friday from 4-6 p.m. CDT on WDUZ FM 107.5 The Fan, or on AM-1400, as well as Fan Internet Radio (www.thefan1075.com). Havel also hosts Event USA' MVP Parties the evening before home games.