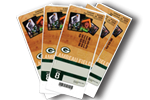 Packers vs Steelers: December 22
Celebrate the Holidays at Lambeau Field. Great deals now!!
» Packers Home Game Tickets
Flynn rallies Green Bay to second-half comeback while defense blanks Atlanta
By CHRIS HAVEL
Jordy Nelson reminded everyone why he is one of the NFL's top receivers, Mason Crosby continued to earn every penny of his incentive-laden contract and Green Bay's defense finally stepped up. Nelson's circus catches, Crosby's clutch field goals and the defense's second-half shutout filled the void created by Aaron Rodgers' absence to lead the Packers to a 22-21 save-the-season victory Sunday at Lambeau Field, where halftime boos gave way to postgame cheers.
Life is good when Green Bay wins, and it's been a while – six weeks, to be exact – since the Packers walked off the field victorious.
Now, amazingly, the Packers (6-6-1) are within a half-game of the Detroit Lions (7-6) and first place in the NFC North Division. The Lions lost at Philadelphia in a snowstorm, while the Chicago Bears (6-6) host the Dallas Cowboys (7-5) at Soldier Field on Monday Night Football.
If Rodgers returns this week, and the Packers manage to win out, the Packers just might supplant the self-destructive Lions and capture a highly improbable but incredibly welcome playoff berth.
This victory said a lot about the Packers. Down by 11 at half, a lesser team might've come out flat in the second half and effectively put an end to a miserable and disappointing season. Instead, the defense came out like it had a sore tooth, and Flynn did enough to let Nelson (four for 85 yards) and Eddie Lacy (65 yards rushing, one touchdown) make a handful of key plays. The Packers kept the season, and hope, alive for at least another week.
Sunday's victory reminded everyone that football is a team game, and that defense wins gives teams a chance to win championships. The Packers' second-half shutout was welcomed after fourth-quarter collapses at San Francisco and at Cincinnati earlier this season. This time, defensive coordinator Dom Capers' crew stood up and made a game-turning play with Mike Neal's sack and forced fumble in the fourth quarter. Furthermore, the Packers' special teams units were up to the task in less-than-ideal 9 degree temperatures on a slick surface. Kudos for the Packers' big win begins with head coach Mike McCarthy.
Following a 10-day post-Thanksgiving Day layoff, McCarthy had the Packers ready in a must-win scenario. Quarterback Matt Flynn opened a solid day by leading Green Bay on a lengthy touchdown drive. Atlanta (3-10) answered and eventually took a 21-10 lead into the locker room at halftime. It came on a 71-yard interception return for a touchdown by linebacker Sean Weatherspoon with 23 seconds to play in the second quarter. Flynn's errant pass caromed off linebacker Paul Worrilow's shoe and chest and into Weatherspoon's hands. The Lambeau Field fans booed the Packers into the locker room.
"We played our best football in the second half, and as a coach that's what you look for in your football team," McCarthy said.
The Packers rallied around each other, especially the defense, and got strong performances from several players. Tight end Andrew Quarless caught the go-ahead touchdown pass. He finished with six catches for 66 yards and a long of 21 yards.
Jarrett Bush also stepped up with several big defensive plays, including tight coverage on Falcons tight end Tony Gonzalez to end the game.
"Good to win, it's been a while. Forgot what it felt like," McCarthy said.
The Packers' defense forced a turnover when Mike Neal's sack jarred the football loose from Falcons quarterback Matt Ryan, and Johnny Jolly recovered for Green Bay. Flynn capped the short drive with a 2-yard touchdown pass to Quarless, and Green Bay led 22-21 with 12 minutes.
"But I'll say this – I really like the football team, particularly at halftime, coming in, getting booed at home, and just the energy in the locker room. They never even blinked, they stayed the course."
The Packers will await word on Rodgers, perhaps as early as Tuesday, regarding his availability for Sunday's game at Dallas. With Rodgers' return, and the Cowboys coming off a Monday Night Game at Chicago, Green Bay has every reason to think it can still win the division title.
Imagine that. The Packers capturing the 2013 NFC North title sounded like a fantasy going into halftime Sunday. By game's end, with a scoreboard that touted Green Bay's win and Detroit's loss, anything was still possible.
Chris Havel is a national best-selling author and his latest book is Lombardi: An Illustrated Life. Havel can be heard Monday through Friday from 4-6 p.m. CDT on WDUZ FM 107.5 The Fan, or on AM-1400, as well as Fan Internet Radio (www.thefan1075.com). Havel also hosts Event USA' MVP Parties the evening before home games.