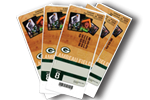 Grab Your Spot for Playoffs!
Playoff Tickets/Packages available now—no obligation unless the Packers play.
» Packers Playoff Tickets & Packages
Green Bay's 38-31 loss to Pittsburgh canceled by Chicago's loss to Eagles
By CHRIS HAVEL
The Green Bay Packers chose an inopportune time to take a step back. With the momentum of a two-game winning streak and a snowy Lambeau Field as the backdrop, head coach Mike McCarthy's Packers were dealt a surprising setback Sunday in a 38-31 loss to Pittsburgh.
While it is true the Packers still control their own destiny, it also is true that the Packers' ascent toward being a serious playoff caliber team during Aaron Rodgers' took a hit against the Steelers. The Packers (7-7-1) will capture the NFC North Division crown with a victory against Chicago Sunday at Soldier Field. That is because the Bears (8-7) were blown out by the Eagles 54-11 last night in Philadelphia.
While hope remains alive for Green Bay, the reality is the Packers must play a disciplined, mistake-free, head's-up brand of football if they hope to compete with the Bears on Sunday. Will Mr. Rodgers return for this one last crucial regular season game? Let's cross our fingers.
There was some good in the Packers' loss against the determined Steelers (7-8). It included:
Eddie Lacy rushing 15 times for 84 yards and two touchdowns before aggravating an ankle injury. He exited late in the third quarter, and while James Starks performed OK (10 carries, 47 yards), Lacy was missed.
Micah Hyde's clutch 70-yard kickoff return that gave Green Bay at least a chance to perhaps tie the game in the final minutes. Hyde was active defensively and is an up-and-coming player.
A.J. Hawk's nifty one-handed tip-and-catch for an interception afforded Matt Flynn and Co. at least a chance to keep hope alive. Hawk was the Packers' best linebacker on the field Sunday. (By the way, why were the Steelers throwing the ball at that point? We were asking similar questions about the Cowboys seven days ago.)
Flynn's two turnovers were brutal, but on the whole he played OK, and one pick (returned for TD) occurred because Flynn's own blocker hit his throwing arm as the ball was released. Flynn completed 21 of 39 passes for 232 yards and a touchdown. His quarterback rating of 69.6 is not as hoped for, but he still made several nice plays despite being constantly harassed and sacked three times.
That said, the Packers' mistakes and self-inflicted damage caused them to fall short. Due to the Bears' loss later Sunday, the Packers' outcome wasn't as deflating as their performance. A team with playoff aspirations, in a game with playoff implications, can't make that many mistakes and expect to advance beyond the first round.
The Packers and McCarthy are getting painfully thin on time to get these recurring problems cleaned up. The most prominent miscues included: The offense running just one play during a critical 40-second span at game's end.
"I don't know what happened, really," Flynn told reporters after. "The operation seemed kind of weird right there."
The Packers received a false-start penalty which moved them back to the Steelers' 6-yard line, and a 10-second runoff that went with it.
Then, Flynn didn't get the snap off until there were three seconds to play. That shouldn't happen at the high school level, let alone the NFL.
To make matters worse, it seems the Packers were robbed of clock time by inept officiating at the end, painfully reminiscent to the Wisconsin Badgers at Arizona State last September.
Flynn's interception after being nudged by tight end Andrew Quarless that was returned by Cortez Allen for a 40-yard touchdown. It capped a 14-point Steelers' outburst in a 14-second span late in the third quarter.
The Packers gave up three first downs by penalty. B.J. Raji's selfish retaliation by throwing a punch wasn't smart. Neither was Nick Perry's false start penalty that kept the Steelers from kicking a field goal before Pittsburgh eventually scored a touchdown.
Here is a stat of concern for the Green Bay defense: Kicker Mason Crosby made more tackles (one) than B.J. Raji, Ryan Pickett, C.J. Wilson, Mike Daniels and Nick Perry combined (zero).
The special teams were painful to watch except that Hyde's 70-yard kickoff return was a thing of beauty. Otherwise, it was a tough day for the special teams.
The Steelers fooled the Packers with a fake punt. They also blocked a field goal, although the play was negated by a very fortunate "batting" penalty against Pittsburgh. Perry's offside didn't help, and the kick coverage was rough.
Other than that, it's a wonderful life for George Bailey and Shawn Slocum, I suppose. Given the Packers' 38-31 loss and the Bears' 54-11 humiliation coming into Sunday's game, it is possible we could see a high-scoring, once-in-a-Packers/Bears lifetime-freewheeling affair. 
It sounds like fun. It also sounds like a Chicago Bears' victory if the Packers' defense and special teams don't tighten up, if AR doesn't play and if Matt Flynn doesn't find a way to quit giving it up. Through it all, McCarthy must feel a bit like George Bailey in that memorable holiday classic movie. He has seen what life for the Green Bay Packers would be like if they lost Aaron Rodgers (or $8,000 as in the movie), but just when despair is upon him, McCarthy finds a way to lead the Packers to victory and a division title.
The Packers' fans celebrate mightily while the Bears are vanquished, and an angel gets his wings. At least I think that's how the movie ends, Green Bay-style.
Chris Havel is a national best-selling author and his latest book is Lombardi: An Illustrated Life. Havel can be heard Monday through Friday from 4-6 p.m. CDT on WDUZ FM 107.5 The Fan, or on AM-1400, as well as Fan Internet Radio (www.thefan1075.com). Havel also hosts Event USA' MVP Parties the evening before home games.