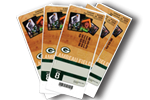 Grab Your Spot for Playoffs!
Playoff Tickets/Packages available now for this weekend!
» Packers Playoff Tickets & Packages
Green Bay's 33-28 victory propels Packers into the NFL's postseason
By CHRIS HAVEL
It may not be the single-greatest play in Green Bay Packers history but it certainly is in the conversation.
Facing fourth-and-7 at the Chicago 48 with less than a minute to play, Aaron Rodgers punctuated his return with a pass for the ages. Rodgers took the snap, saw a Bears' safety roll up on Jordy Nelson, sidestepped Julius Peppers and lobbed a perfect pass to a wide-open Randall Cobb.
Cobb cruised into the end zone with what proved to be the game-winning play in the Packers' 33-28 victory over the Bears Sunday at Soldier Field. The victory enabled the Packers (8-7-1) to capture the NFC North Division title and earned them a rematch with San Francisco in the NFC wild-card playoffs Sunday at Lambeau Field. It is the Packers' third straight division title and fifth straight playoff appearance.
"This is a special group of guys who've been through a lot," Rodgers told reporters after the game. "It's been a rollercoaster."
The ride ended for the Bears (8-8) in painful fashion. Chicago's defense brought the house with the game on the line, but a tremendous block by fullback John Kuhn and Cobb's head's-up play sent the Bears and first-year head coach Marc Trestman packing.
Rodgers was shaky early in his first start after an eight-week absence due to a broken left collarbone. But after he settled down the Packers and Bears went facemask-to-facemask in a gut-wrenching thriller. The Packers converted three fourth-and-go-home plays on the winning drive, including a diving catch by Jordy Nelson that was reviewed by the replay officials before being upheld. Nelson finished with 161 receiving yards, while James Starks (88 yards) and Eddie Lacy (66 yards) tore up a really bad Bears defense.
Chicago's Jay Cutler kept the Bears' hopes alive with a strong performance, including a 5-yard touchdown pass to Brandon Marshall to put Chicago up 28-20 on the first play of the fourth quarter. Bears running back Matt Forte rushed for 110 yards and two touchdowns and also caught four passes for another 47 yards and a touchdown.
Still it wasn't enough as the Packers' defense did enough early to keep it close while Rodgers threw interceptions on his first two drives. Green Bay's Jarrett Boykin scored on one of the most bizarre plays you'll see. After Peppers hit Rodgers to force a fumble, the officials didn't blow the whistle because it was a live football. Boykin attempted to pick up the loose football, then kicked it a few feet before grabbing it and running untouched into the end zone.
The second half was back-and-forth before Rodgers' last-minute heroics. Cutler tried to muster one final drive but was intercepted by Sam Shields to end the game.
Now the Packers host the 49ers with an opportunity to atone for a dreadful 45-31 loss in the NFC Divisional Playoffs a year ago.
Clearly, Packers defensive coordinator Dom Capers and special teams coach Shawn Slocum need their units to play better if Green Bay hopes to advance. Furthermore, one or both may be coaching for their jobs. The Packers have been bounced from the playoffs each of the past two seasons because their defense let them down in a big way. I can't imagine Packers head coach Mike McCarthy will stand pat if Green Bay endures a similar fate this post-season.
But enough of that talk. There will be plenty of time for that if the Packers get KO'd by the 49ers or by Seattle or Carolina if they advance. Right now, karma is on the Packers' side after a brutal injury-plagued season. It's no coincidence that Rodgers and Cobb figured in the game's deciding play. Green Bay's offense appears to be as dangerous as ever. Now, if the defense and special teams show up Green Bay could be poised to make a deep playoff run.
Bring on the 49ers and say bye-bye to the Bears.
Chris Havel is a national best-selling author and his latest book is Lombardi: An Illustrated Life. Havel can be heard Monday through Friday from 4-6 p.m. CDT on WDUZ FM 107.5 The Fan, or on AM-1400, as well as Fan Internet Radio (www.thefan1075.com). Havel also hosts Event USA' MVP Parties the evening before home games.