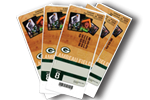 Super Bowl XLVIII Tickets
Wanna go? We got your spot in East Rutherford.
» Super Bowl XLVIII Tickets & Packages
Seattle-Denver matchup features NFL's top defense vs. league's No. 1 offense
By CHRIS HAVEL
If you are a Green Bay Packers fan – especially one who doubles as a Wisconsin Badgers fan – and you are looking for a rooting interest in Super Bowl XLVIII your search is over. The Seattle Seahawks are your team.
There for many reasons, not the least of which is because they slammed the playoff door in San Francisco's facemask on Sunday.
Did you really want to endure two weeks of 49ers coach Jim Harbaugh's condescending sound bites? Or the incessant replays of 49ers quarterback Colin Kaepernick? I didn't think so. Thank you, Seattle. The debt owed on the Fail Mary is almost paid off.
Here are five reasons Packers fans should count themselves as honorary, one-day-only members of Seattle's 12th Man fan club. After all, Seattle has its CenturyLink Leap, and imitation is the sincerest form of flattery.
#5: Winning Team
It is always nice to be on the winning side and the Seahawks are going to defeat the Broncos. There is precedence for it, the game-time weather forecast supports it, and Seattle's defense dictates it.
The Broncos opened as the early favorite after their 26-16 victory over New England in the AFC Championship Game Sunday at Denver. Seattle's last-minute, 23-17 victory at home against San Francisco was much more compelling, but perhaps less impressive than Denver's showing to a national betting audience.
However, a closer look at the facts strongly suggests a Seahawks' victory in Super Bowl XLVIII. According to Elias Sports Bureau, the NFL's top offense and top defense have met in four Super Bowls. The top defense is 3-1. Furthermore, a total of 15 teams with the league's top-rated defense have reached the Super Bowl. The top defensive teams are a combined 12-3.
Indeed, defense wins championships. And inclement weather is a rugged defense's best friend. The most recent AccuWeather forecast says there is a possibility of rain and snow showers coupled with a high of 37 degrees at East Rutherford. Broncos quarterback Peyton Manning has been less effective in cold weather, and the statistical data proves it.
According to ESPN's John Clayton, Manning has had 15 regular-season games in temperatures below 40. His completion percentage drops minimally (65.5. to 63.7) but in cold-weather playoff games it plummets to 56.4 percent. He also has nine interceptions in cold-weather postseason games.
That bodes well for Seattle's hard-hitting, opportunistic defense.
The Legion of Boom is waiting.
#4: Packers-Seahawks ties abound.
Packers GM Ted Thompson spent five seasons (2000-2004) as the Seahawks' VP of football operations. Packers assistant head coach/ILBs coach Winston Moss played his final three seasons in Seattle (1995-97) and began his coaching career as quality control defense in 1998.
Packers LBs Clay Matthews and Nick Perry played for Seattle head coach Pete Carroll at USC. … Seahawks P Jon Ryan played for Green Bay in 2006-07. Seahawks T Breno Giacomini was a fifth-round draft pick of Green Bay in 2008 and played in one game.
Seahawks QB Russell Wilson and CB Chris Maragos played at Wisconsin. Seahawks GM John Schneider is from De Pere and served two stints in the Packers' personnel department (1993-96, 2002-09) concluding as director-football operations. Seahawks offensive coordinator Darrell Bevell played QB at Wisconsin and coached on the Packers' staff from 2000-05.
The Denver Broncos have ex-Badgers running back Monte Ball. It isn't even close.
#3: Seattle's defense plays the way we'd like Green Bay's defense to play.
When San Francisco's Kaepernick began running wild in the first half, the Seahawks' defenders took it upon themselves to man up.
Cornerback Richard Sherman and safety Earl Thomas echoed the following sentiment in post-game comments: "We told ourselves that championship teams rise in these situations, and that we weren't going to let Kaepernick beat us. We were going to hit him on every play."
After a dominant first half, Kaepernick threw two interceptions and Seattle's defense had the last laugh in the final quarter.
#2: More Ties to Green Bay.
The Seahawks play in the NFC, they play in an outdoor stadium and they rely on their fans—the 12th Man—to give them a home-field advantage. They have become what the Packers were in the 1990s, and what the Packers want to become again this decade.
Perhaps Thompson will take a cue from his disciple, Schneider, and at least dabble in free agency. The Packers need to plug several holes, and they need to add experience – especially on defense – if they are going to compete with teams like the 49ers and Seahawks.
Follow the blueprint.
#1: Seattle's appeal seems wider.
Unless you are a Denver Broncos fan, or a Peyton Manning fan, the allure of seeing Manning somehow "vindicated" or "elevated" if he captures a second Super Bowl ring seems farfetched. Manning is one of the greatest quarterbacks in NFL history.
Nothing can change that. Seattle's appeal seems wider.
Love him or hate him, cornerback Richard Sherman, safety Kam Chancellor and the rest of Seattle's defense play a tough brand of football that is entertaining. Perhaps it is more that way because Packers fans are familiar with offensive fireworks, but defensive explosions are rather few and far between of late.
Here is rooting for the Seattle Seahawks to defeat the Denver Broncos. After what they did to San Francisco on Sunday they deserve that much.
Chris Havel is a national best-selling author and his latest book is Lombardi: An Illustrated Life. Havel can be heard Monday through Friday from 4-6 p.m. CDT on WDUZ FM 107.5 The Fan, or on AM-1400, as well as Fan Internet Radio (www.thefan1075.com). Havel also hosts Event USA' MVP Parties the evening before home games.