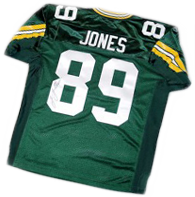 Save 10% on James Jones Autographed Items
Great deals on our already reduced pricing!
Use coupon code SAVE10JONES at checkout.
Browse Now
Packers wise to low-ball Raji, pursue free agent TE, safety
By CHRIS HAVEL
The Packers' decision to pay Sam Shields does more than merely allow the defense to tread water. It prevents Green Bay's defense from having one of its few strengths (a young stable of cornerbacks) become a weakness if injuries occur.
Shields' reported four-year deal is worth $39 million including a $12.5 million signing bonus. Aside from the practical matter of keeping Green Bay's cornerback quartet intact (Tramon Williams, Casey Hayward, Davon House and Shields), it also sends two important messages:
That the Packers take care of their own by re-signing their own so long as they play at a high level
That players such as B.J. Raji, who reportedly declined an $8 million-a-year deal at midseason, won't be rewarded for substandard play.
The hardest pushback Raji showed all season was when he allowed his play to slip noticeably in the wake of the unsigned deal. By offering him a one-year, $4 million deal, GM Ted Thompson got it right. Clearly, it was a take-it-or-leave-it offer.
Too many NFL general managers lack the discipline to stick to their plan. By overpaying Raji, and rewarding indifference, if not laziness, the Packers would have done damage to the locker room's makeup. The Packers fear bringing in a high-priced free agent who may disrupt the team's chemistry. But that is no worse than resigning one of their own when the player isn't worthy.
The Packers didn't slam the door on Raji. They drew a line in the foyer. Raji's reaction to Shields' signing was typical. He decided to test free agency rather than go for the one-year deal. Raji may receive a generous offer from another team, and if that happens, good for him and so be it.
Last week, I wrote that if head coach Mike McCarthy really intends to be more involved in the defense, he should start by doing what it takes to convince Thompson to resign Shields. Whatever the dynamic behind the Shields signing the fact is the Packers kept a good player at a key position in the NFC North. Because of it, the defense can build on what it did well and begin fixing what it didn't.
Shields, 26, had four interceptions in 14 games. He made a terrific play at Dallas to help close out the road victory, and he played well against the NFL's best, including Cincinnati's A.J. Green, Dallas' Dez Bryant, Chicago's Brandon Marshall and Detroit's Calvin Johnson. Now, Thompson can focus on retooling the rest of the defense.
Defensive end Mike Neal still seems interested in returning to Green Bay, a move I'd make only if the price was right. Neal hasn't done anything to earn a sizable, long-term contract. The Packers just might play in free agency, which officially opens tomorrow at 3 p.m. I would expect Green Bay to show interest in several veterans at key positions. The safety position is one area that may require attention in free agency and the draft.
Another position in need of help is linebacker. If the Packers feel they can generate enough pass rush with Nick Perry at elephant, Jerel Worthy at the five-technique and DaTone Jones bringing it on passing downs, they would be wise to invest in an inside linebacker. Ex-New England linebacker Brandon Spikes would fit the bill. He would be a significant upgrade over A.J. Hawk or Brad Jones. A heavy hitter at inside linebacker would help cure the sagging run defense, and it might allow for more plays to be made by Perry and Co.
It will be interesting to see how the dominos fall from here on out. Re-signing Shields was a strong move in the right direction.
Chris Havel is a national best-selling author and his latest book is Lombardi: An Illustrated Life. Havel can be heard Monday through Friday from 4-6 p.m. CDT on WDUZ FM 107.5 The Fan, or on AM-1400, as well as Fan Internet Radio (www.thefan1075.com). Havel also hosts Event USA' MVP Parties the evening before home games.