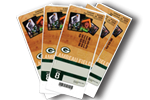 Go to the Game!!
Get your Game Tickets/Packages NOW to see the 2014 class in action!
» Go to the game!
Receiver, tight end, center all addressed in this draft
By CHRIS HAVEL
It is at once tempting and foolish to assign a letter grade to the Green Bay Packers' 2014 NFL draft. Therefore I give it an I for incomplete. It is impossible for even the most experienced, insightful NFL writers to dispense meaningful letter grades on individual picks, much less an entire draft class. The saying, "Time will tell," has endured for a reason.
On the other hand, those who regurgitate the phrase, "It takes three years to accurately assess a draft class," haven't been paying attention. NFL teams don't have the luxury of waiting three seasons to determine whether a player can play. And NFL fans don't have the patience.
However, it is interesting to speculate on how each player fits into the Packers' scheme, chemistry and depth chart at each position group.
Ha Ha Clinton-Dix, safety, Alabama
The 21st pick in this year's draft proved most fortuitous for the Packers. Clinton-Dix was a consensus Top 15 pick going into the draft. That he was available to Green Bay with the 21st pick solved what could have been a disaster. The Packers likely would have been left to trade down or reach for a tight end, receiver or safety.
Instead, Thompson got the highest-rated player still on the board that filled a position of dire need.
Clinton-Dix (6-1, 208) had some NFL scouts concerned because his measureable attributes weren't off the charts. That might've been cause for concern at another position such as cornerback or receiver. If either is too slow it's a long shot to think they'll become a big-time playmaker.
At safety, Clinton-Dix's 4.59-second 40-yard dash isn't that troubling. First, Thompson said 4.59 seconds wasn't what the Packers had him at. Second, a safety's instincts, football IQ, range and ball skills are crucial. In each of those areas Clinton-Dix rates high marks.
The fact that he is 21 is a plus because he is still maturing. He should line up as one of the Packers' starting safeties in Week One.
Davante Adams, receiver, Fresno State
Adams is James Jones with a bit of Greg Jennings sprinkled in. At 6-1, 214, Adams knows how to use his body to shield defenders. He also has an exceptional vertical leap (almost 40 inches) and outstanding hands to make even the most difficult of catches. He's only 21, so he should develop much like Jones did over time.
He also has a bit of shake-and-bake off the line and a terrific awareness of how the game is played. His 4.55 time in the 40-yard dash is ordinary, but his moves after the catch are anything but. In these ways he is similar to Jennings. According to reports, Adams isn't a "me first" guy and should fit with Jordy Nelson, Randall Cobb and Jarrett Boykin.
Khyri Thornton, defensive line, Southern Miss
At 6-2 ½, 308 pounds, Thornton is light on his feet and moves like a much smaller man. He is powerful at the point but also possesses the quickness to knife through gaps and make plays in the backfield.
Mike Daniels made his mark by being disruptive along the interior. Thornton, who is bigger and stronger, has that same type of ability. He is a mature 24-year-old who should push his way into the defensive line rotation sooner than later.
Richard Rodgers, tight end, California
The selection of Rodgers with a Top 100 pick seemed to be a head scratcher to some. I didn't see it that way. Rodgers' best attributes are know-how as an inline blocker, maturity, strength and soft hands that make him a highly reliable pass catcher.
What's not to like? OK, he doesn't run a 4.50 40-yard dash. So what? How often in the course of any NFL season does a tight end make plays of 40 or more yards? Not very often. If a team has a terrific quarterback (Aaron Rodgers), outstanding receivers (Nelson, Cobb, etc.) and a top-notch running back (Eddie Lacy) it doesn't need a seam-stretching tight end.
What it needs is a tight end who is a willing blocker who is OK with doing the dirty work, and a pass-catching target that is reliable on third-and-whatever. Furthermore, the Packers need a tight end who knows how to get open and make plays in the red zone.
If the Packers need a big play they've got numerous options. Give Rodgers a chance. My guess is you won't be disappointed.
Carl Bradford, outside linebacker, Arizona State
Bradford is attempting to make the switch from defensive end to outside linebacker. That is called a "project" which is fine considering where he was selected. Bradford (6-1, 251) gets knocked for his short arms. It remains to be seen whether he has adequate pass rush skills against the big boys. However, his willingness equates to hard work and quite likely a key role on special teams while he's developing.
Corey Linsley, center, Ohio State
I like this pick a lot. Linsley is smart, tough, naturally powerful and big enough (6-2 ½, 299) to knock helmets with rugged defensive tackles. He would have been drafted higher except he lacks ideal athleticism.
So what? He isn't a receiver for goodness sake. He is a center that represents a significant upgrade at a position of need that will come in and compete with J.C. Tretter for the starting job. Competition is good.
Jared Abbrederis, receiver, Wisconsin
Abbrederis already is a fan favorite. The kid from Wautoma is living his childhood dream of playing for the Packers. Scouts found reasons not to like him (lack of size, strength, concussion history). That's fine. The Packers found reasons to draft him. For instance, he owned Ohio State's highly rated cornerback, Bradley Roby, in one-on-one battles.
He is a precise route-runner with more wiggle than you might think. He also has excellent hands and doubles as an accomplished punt returner. Abbrederis will make the Packers' 53-man roster and it won't be because his background makes for a neat story.
Demetri Goodson, cornerback, Baylor
Goodson (5-11, 196) has excellent size and ball skills to play corner. He was a three-year starter as a point guard at Gonzaga. Goodson is a bit of a project. It's no big deal given where he was drafted.
Jeff Janis, receiver, Saginaw Valley State
Janis has excellent size (6-3, 200) and speed (4.4 seconds in the 40) for a receiver. In fact, he tested better than all but one of the receivers (Sammy Watkins) in the draft. He definitely was worth a gamble in the seventh round.
Chris Havel is a national best-selling author and his latest book is Lombardi: An Illustrated Life. Havel can be heard Monday through Friday from 4-6 p.m. CDT on WDUZ FM 107.5 The Fan, or on AM-1400, as well as Fan Internet Radio (www.thefan1075.com). Havel also hosts Event USA' MVP Parties the evening before home games.