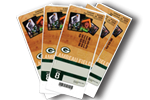 Support your team and its new members.
Game Tickets/Packages Now Available!
» Go to the game!
Young guns get a grip on city, career as they launch career
By CHRIS HAVEL
It was early June in 1992 and the Green Bay Packers were conducting their version of today's offseason minicamps. After the first practice I approached Edgar Bennett, a rookie running back from Florida State, and asked if he'd be willing to do an interview. Bennett, who is about as polite as they come, was eager to please.
"Sure," he said. "Stop by the hotel and we'll do it."
The Packers' rookies and first-year players were staying at the Best Western just a hop-skip from the team's former practice facility not-so-affectionately known as "The Barn." True to his word Bennett – the 103rd player selected – met me in the lobby and invited me up to his room. I assumed this would allow us a measure of privacy so we could do the interview without interruption.
What transpired was less a one-on-one interview and more an eye opener for the first-year reporter from The Press-Gazette. Bennett never got a chance to use his room key. A door was propped open a few rooms down, and the lively conversation and energy inside spilled into the hallway.
We were drawn to it like moths to light.
Dexter McNabb, a bruising fullback, spoke excitedly about the future. He and Bennett teased each other about how it was going to be having a fullback from Florida (McNabb was the 119th player selected) being the lead blocker for a halfback from Florida State.
The former adversaries-turned-teammates had great fun at each other's expense. Several other players, including a slender receiver from South Carolina named Robert Brooks, also participated in the festivities. The scene was Animal House only NFL style.
They were a bunch of 20-somethings who were among the greatest athletes on their teams from Pop Warner on up. Now they were getting acquainted with each other as teammates in the NFL. They talked about the playbook, the day's practice, the facilities and all things Green Bay Packers. That included the city and the team.
Some commented about how nice the fans were to the rookies. Others spoke of Green Bay being an uncommonly clean city while asking where the "bad side" was so they could avoid it. That one stopped me. Where was the "bad side" of town? Back then it was hard to say. They asked about restaurants and hair salons and NFL Sundays.
Bennett half-apologized because there was no way we were going to be conducted a one-on-one interview in that setting. He talked a bit about his parents, whom he clearly adored, and life in Jacksonville, Fla. His father was a firefighter and his mother was an administrator for a nursing home.
He talked about how much they sacrificed so he could have a chance to be sitting in a Best Western in Green Bay discussing his NFL future. That was as far as the interview went. No matter. Bennett brought me into two worlds that day. The world he lived in down in Florida, and the world he was entering in Green Bay.
The players talked about Florida State's Terrell Buckley, the fifth pick overall and GM Ron Wolf's first pick ever, and it was almost mythical. He's so fast. He's so dynamic. He's such a playmaker. Of course, T-Buck proved to be all of that in time. It's just that he didn't do it often enough to endear himself to Packers fans.
What I remember isn't Buckley's shortcomings, but the deep level of respect – despite all the teasing – that these new teammates held for each other. It didn't matter what round they were chosen, or which school they hailed from, or how many college accolades they garnered.
Now what mattered most was what type of teammate they would be, and how many division titles and NFL championships they would collect together. That was the key word: Together.
It might be one of the most important words in the English language.
Together, these newly minted Packers were going to rule the NFL.
Together, they would work and learn and help and love.
Together, this was their time and they were going to make it count.
Today that type of access for one reporter – unless it was a network TV-type – would never be granted. For that I am eternally grateful for two reasons:
First, it allowed me to see these wide-eyed players interact. It humanized them. It brought them to life before my eyes. They were no longer a name and a 40 time and a position and a university. They were young men embarking on the journey of a lifetime and it showed.
Second, it allowed me to relay that to our readers and their fans. At the risk of sounding like an old-timer, "Man, those were the days."
There's a funny thing about that. The game has changed since then. The money has grown. The players' profiles have been elevated to astronomic proportions. The scrutiny with technology and all that comes with it has exploded. The thing that has stayed the same is the players. The Packers' current class of rookies is just as wide-eyed, eager and excited about beginning their NFL journey.
It's just that we may not see it quite as up-close and personal as we did "back in the day."
Chris Havel is a national best-selling author and his latest book is Lombardi: An Illustrated Life. Havel can be heard Monday through Friday from 4-6 p.m. CDT on WDUZ FM 107.5 The Fan, or on AM-1400, as well as Fan Internet Radio (www.thefan1075.com). Havel also hosts Event USA' MVP Parties the evening before home games.