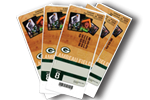 Pre-Season Begins in 19 days!
We get you to ALL the games and more!
» Go to the game with us!
Projected starters comparable to 2010 Super Bowl champions
By CHRIS HAVEL
Ahman Green is the Green Bay Packers' all-time leading rusher. Ken Ruettgers is one of several key players who helped Green Bay bridge the gap from Lindy Infante's futility to Mike Holmgren's brilliance.
It has been four years since the Green Bay Packers defeated the Pittsburgh Steelers 31-25 in Super Bowl XLV.
While a handful of stars from that 2010 Packers team have departed, many of the key core players are on the 2014 roster. In fact, it could be argued that the 2014 edition is stronger going into training camp.
In four days Packers head coach Mike McCarthy and his team will embark on a new adventure. Here is a starter-by-starter comparison of 2010 and 2014:
Quarterback:
Aaron Rodgers is one of the games top players. ESPN's Ron Jaworski, who played the position and studies game film constantly, ranked Rodgers third among NFL quarterbacks. An easy argument could be made for Rodgers at the top.
Either way, Rodgers gives Green Bay a chance to win the Super Bowl every season he plays and stays healthy. With Matt Flynn back in a reserve role just like 2010, and Scott Tolzien competing at the position, the quarterback position is in great hands.
Running back:
Eddie Lacy's emergence as one of the top young backs in the league is a game-changer. Backup James Starks was good enough in 2010 to help the Packers become the NFC's first sixth seed to an unprecedented three straight road games and the Super Bowl.
Fullback:
John Kuhn returns to his role as a situational fullback and core special teams' player.
Offensive line:
In 2010, it was (left to right) Chad Clifton, Daryn Colledge, Scott Wells, Josh Sitton and Bryan Bulaga.
This season the Packers will start David Bakhtiari, Sitton, J.C. Tretter, T.J. Lang and Bulaga. Clifton played at a Pro Bowl level, and Wells was an above-average center, but the 2014 group should be as good.
Tight end:
Jermichael Finley played five games before going on season-ending injured reserve. Andrew Quarless, who will compete for the starting job, took over and helped the Packers win it all. With the addition of Richard Rodgers and Colt Lyerla, plus Brandon Bostick and Ryan Taylor, the tight end position is strong. Furthermore, nobody has ruled out a return by Finley.
Wide receiver:
Greg Jennings was a stud in 2010. He made a terrific touchdown catch in the Super Bowl and was a difference-maker. He is gone. So is the irrepressible Donald Driver. However, Jordy Nelson, Randall Cobb, Davante Adams and Jarrett Boykin comprise a stronger, deeper position group.
Defensive line:
B.J. Raji was young and hungry in 2010. Perhaps after being stifled in free agency after a very subpar season he will be reinvigorated and return to form. Ryan Pickett was the left end and Cullen Jenkins the right end in 2010. Jenkins is gone and Pickett is waiting to get a call that may not come. The 2014 group has Raji flanked by Mike Daniels and DaTone Jones as the starters.
The reason for optimism is the depth. Mike Neal, Jerel Worthy and Khyri Thornton have potential. In fact, I think Worthy could have a big season if he can regain his rookie form.
Linebackers:
Clay Matthews has registered sacks and logged miles since 2010. He remains an impact pass rusher, but he has to stay healthy. He also has Julius Peppers opposite him this season. If Matthews' thumb and hamstrings hold up he should have a terrific season.
Peppers' experience and athleticism – not to mention his pedigree – represent a significant upgrade over Frank Zombo and Brad Jones.
Inside, it's A.J. Hawk and Jones instead of Hawk and Desmond Bishop. The Packers were better at inside linebacker in 2010, but it remains to be seen if Jamari Lattimore or another player emerges during camp.
Cornerbacks:
It was Tramon Williams and Charles Woodson in 2010, which is certainly better than Williams-Sam Shields. However, Williams finished strong last season, Shields is a rising star and Casey Hayward provides top-flight depth.
Safeties:
Nick Collins and Charlie Peprah (in place of the injured Morgan Burnett) started in Super Bowl XLV. Collins was a top-flight veteran who had an outstanding season, while Peprah was willing and smart.
Much of the secondary's improvement depends on rookie Ha Ha Clinton-Dix's development alongside Morgan Burnett. Micah Hyde is the wild card this season. This year's safeties might be as good as the 2010 version.
Special teams:
Tim Masthay and Mason Crosby were the punter and kicker then and now.
Here's to the 2014 Season
Ultimately, Lacy makes the offense much more balanced and explosive, while the influx of talent on defense gives it a chance to approach what the 2010 team did that season.
On defense, the 2010 Packers ranked among the franchise's finest units. It allowed just 240 total points (second-best in team history) with 47 sacks and 24 interceptions.
The 2014 group has a terrific challenge ahead. However, the potential exists for a return to the 2010 form that featured a bend-but-don't-break defense that helped the Packers never trail by more than seven points all season.
Chris Havel is a national best-selling author and his latest book is Lombardi: An Illustrated Life. Havel can be heard Monday through Friday from 4-6 p.m. CDT on WDUZ FM 107.5 The Fan, or on AM-1400, as well as Fan Internet Radio (www.thefan1075.com). Havel also hosts Event USA' MVP Parties the evening before home games.