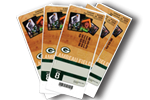 Tickets & Packages – All Games!
From end zone to midfield we got you covered.
» Go to the game with us!
By CHRIS HAVEL
NFL power rankings be damned.
In a league replete with parity, and where a team's fortunes can and do change with the twist of a knee, it seems silly to rank 'em 1-to-32.
Consider the Green Bay Packers' recent twist of fate. Injuries to nose tackle B.J. Raji (season-ending torn biceps) and center J.C. Tretter (knee – out eight weeks) has Packers head coach Mike McCarthy needing to solve two problems at once. He lost his starting nose tackle and his starting center 11 days before the regular season kicks off Sept. 4 at Seattle.
Trotter was gelling with his new offensive line mates when the injury intervened in what had been a strong training camp and preseason.
"I told J.C. this morning, 'Right when I got real comfortable with you, now you're gone," Packers left guard Josh Sitton said.
The loss of Tretter means rookie Corey Linsley – a fifth-round pick from Ohio State – will be force-fed as much as possible in the next 11 days. The challenge facing him couldn't be greater.
Linsley's first NFL start – presuming the Packers don't acquire a veteran center between now and the season opener – will be a point of focus and debate from now to kickoff.
Linsley will make his debut on the road against the defending Super Bowl champion Seattle Seahawks, a team whose personality and dominance is fueled by its defense, a daunting task indeed. Whereas Tretter worked exclusively with the No. 1 offense, Linsley will have to adjust to another level of pace, precision and performance.
"It's just going to take a little extra work by everybody to make sure that he's 100 percent comfortable going out there," right guard T.J. Lang said.
Linsley struck a realistic tone when asked about the days ahead. It appears that he is going in with eyes wide open.
"The urgency level is just through the roof," Linsley told reporters. "I've been working hard, but it's a different animal out there with the 1s. I've got to fill in at the highest level. There's no room for nonsense anymore or ridiculous mistakes."
Meantime, a defense trying to find its groove was dealt a blow with Raji's biceps tear in Friday's 31-21 preseason victory against Oakland.
"B.J. Raji, he was in the best shape and having the camp of his career," McCarthy said.
True, Raji was having a terrific training camp and preseason. However, let's not forget that he also was among the NFL's worst nose tackles in 2013.
The Packers' defense doesn't have to replace the Raji of circa 2010-2011, because that player hasn't been seen in two-plus seasons. They have to replace the sloppy, under-motivated Raji who seemed to lose interest about mid-season and offered little to an awful defense.
Josh Boyd, a second-year pro, is one possibility to eat up Raji's snaps. Another is rookie free agent Mike Pennel, who has had a strong showing to this point and should make the 53-man roster. In the past, McCarthy has praised his staff for coaching the entire roster, including the practice squad. Once again, that will be put to the test.
While Raji's absence creates a long-term problem, Tretter's is of more immediate concern. The notion of Linsley being able to play mostly error-free football given the upcoming circumstances at Seattle is probably unrealistic.
Linsley will make mistakes, and the Seahawks' defense will take advantage of his inexperience. Of that there is little doubt. The question is to what degree does Seattle create havoc for the Packers' center? This is where McCarthy and Aaron Rodgers come into play. Their experience must mitigate the loss of Tretter, especially in the next few weeks while Linsley gets up to speed.
They have been down this road before. Expect McCarthy and Co. to coach the heck out of Linsley, and don't be totally surprised if GM Ted Thompson adds a veteran center. Also, expect Rodgers to be demanding but also realistic with the rookie.
All teams must deal with injuries. It's how they adjust that counts, and history suggests the Packers deal with it better than most. At any rate, the plot certainly has thickened for the Packers' season opener, and the urgency level couldn't be higher.
Chris Havel is a national best-selling author and his latest book is Lombardi: An Illustrated Life. Havel can be heard Monday through Friday from 4-6 p.m. CDT on WDUZ FM 107.5 The Fan, or on AM-1400, as well as Fan Internet Radio (www.thefan1075.com). Havel also hosts Event USA' MVP Parties the evening before home games.