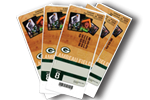 Grab your spot!
We've got seats for great fall games at Lambeau – Panthers, Bears, Eagles & MORE!
» Grab Your Spot
By CHRIS HAVEL
Jim Schwartz's sideline antics might grow tiresome, but seeing him mess up the Lions – even after being fired – never gets old.
It's the same with Jay Cutler and killer interceptions. It's tough to watch Cutler melt down if you're a Bears fan, but for Packers fans it reinforces the old saying, "In Jay we trust – to throw the crucial pick that buries the Bears." Sunday's games proved both points.
In Detroit, the Bills carried Schwartz across the field after a gritty 17-14 victory over the Lions on Sunday at Ford Field. Schwartz, who was fired after a miserable 29-51 record during five seasons in Detroit, is the Bills' defensive coordinator. After a 58-yard field goal sealed the Bills win several linebackers hoisted Schwartz on their shoulder pads and celebrated like it was the Super Bowl. That Schwartz actually wanted to be carried off if they won the game – he told his players that during training camp – illustrates what an arrogant, egotistical jack looks like. He looks like Schwartz.
Elsewhere, Cutler had a terrific day going in the first half at Carolina. The Bears built a 14-point lead and seemed in total control. Cutler even finished 28 of 36 for 289 yards and two touchdowns – good numbers – but it was his three turnovers that proved costly. Cutler had two interceptions and also a lost fumble after being sacked trying to deliver a late, game-tying touchdown drive. Instead of rallying the Bears, Cutler and his perpetual pout turned the ball over and watched the Panthers celebrate a double-digit comeback.
Meantime, the Packers (3-2) relaxed as other teams did the heavy lifting. The downside of playing on Thursday night is fighting through the aches and pains while preparing on a short week. The upside is getting a 10-day respite AND a share of first place.
While the Packers certainly have their issues, which include building a reliable running game and developing defensive cohesiveness, it is instructive to see how the rest of the NFL lives. The Lions (3-2) were beaten by their former head coach because they can't make field goals (the since-released Alex Henery missed three Sunday) and they can't move the football without Calvin Johnson, who could be out three weeks with a gimpy knee. The difference between Aaron Rodgers and the Lions' Matthew Stafford is that Stafford NEEDS Megatron to be effective, whereas Rodgers can and has done well even when he's had limited weaponry.
The Bears (2-3) got knocked off because their defense couldn't hold a 14-point lead, and Cutler couldn't keep from turning it over. Chicago is at Atlanta on Sunday, where the Falcons will be riled up following a disappointing 30-20 loss at the Giants.
Detroit is at Minnesota, where the Vikings continue to be last in the standings but first on the police blotter. Defensive lineman Tom Johnson is the latest offender.
Johnson, who is 6-3, 288, refused to leave a restaurant late Sunday night. He had to be pepper sprayed and zapped with a stun gun in order to be placed under arrest. He was cited for trespassing and disorderly conduct.
Johnson is the 47th Vikings player to be arrested since 2000, according to a USA Today database. Johnson was charged with fourth-degree driving while impaired in May, and has pleaded not guilty while he waits for a pretrial hearing later this month.
The Vikings already have their hands full with running back Adrian Peterson's legal difficulties. Peterson was arrested on charges of reckless or negligent injury to a child Sept. 12 and has been banned from all team activities until his court case is resolved.
The Packers' focus now is preparing for Sunday's game at Miami. A victory there would mean an impressive 4-2 start despite a challenging schedule and the usual spate of injuries.
While we wait to see what the Packers do next, it's always comforting to know the Lions and Bears are fully capable of self-destructing all by themselves.
Chris Havel is a national best-selling author and his latest book is Lombardi: An Illustrated Life. Havel can be heard Monday through Friday from 4-6 p.m. CDT on WDUZ FM 107.5 The Fan, or on AM-1400, as well as Fan Internet Radio (www.thefan1075.com). Havel also hosts Event USA' MVP Parties the evening before home games.