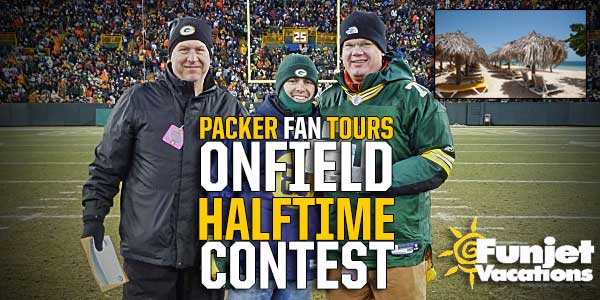 Want to be on the field at Lambeau this year? Our annual on-the-field halftime competition, sponsored by our friends at Funjet Vacations, is taking place this November 30 during the Packers vs Patriots game and you could be there.
Sign up now for your chance to compete on the field at Lambeau for a chance to win our 7 night air package to our
2015 Packers Player Vacation
at the Hard Rock Resort in Puerto Vallarta!
No purchase necessary. Please read the complete rules below. Must be 21 years of age or older to enter.
[pft_onthefield_form]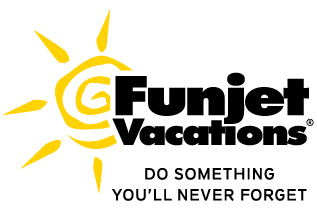 Rules for the 2014 Event USA Halftime Contest
Two teams of two persons each will compete before kickoff at the Packers vs. Patriots game at Lambeau Field on November 30, 2014. One team will be selected by Funjet Vacations and one by Event USA. The contestants on each team will be given free game tickets and free passes to the Event USA Tailgate Party at Brett Favre's Steakhouse, which starts 3 hours before kickoff.
Contest rules for Event USA (hereafter referred to as "PFT"):

1. Entrants must send entries as required in the contest announcement in order to be eligible. Entries received after the deadline set forth in the contest announcement are ineligible, null, and void. PFT will not be responsible for and will not consider incomplete or incorrect entries. PFT is not responsible for entries that are sent but not received by PFT for any reason.
2. All winners will be notified by the form/method of contact they provided to PFT when they initially entered the contest. If contest was entered by filling out a form or by mail, winner will be emailed or called.
If the winner does not respond to the notification within: a) five (5) business days for contests entered via a form, email or mail, b) twenty four (24) hours for contests entered via Twitter, c) twenty four (24) hours for contests entered via text messaging, another winner will be chosen. Failure to respond within the time frames listed above shall mean that the provisional winner forfeits the prize.
3. Only one entry per person will be considered for contest entry unless the contest announcement specifically says that multiple entries are allowed.
4. All photos, drawings, text, and any other content or information (collectively and severally, "Materials") submitted by you to PFT shall become the sole and exclusive property of PFT, and PFT shall have no obligation to preserve, return, or otherwise make available to you or others any Materials.
PFT may use, reproduce, edit, display, transmit, prepare derivative works of, modify, publish, and otherwise make use of Materials in any and all media, whether now known or hereinafter created—throughout the world and for any purpose—without compensation to you of any kind.
5. By submitting Materials to PFT, you represent and warrant that the Materials do not infringe any copyright, trademark, property rights, rights of privacy or publicity of any person, or any other right of any third party and that you have the full and unrestricted right to transfer the Materials to PFT free and clear of any claims or encumbrances.
6. You acknowledge and agree that PFT shall have no obligation to post, display, or otherwise make publicly available any Materials submitted by you.
7. You acknowledge and agree that Materials submitted by you may be made available by PFT for viewing, rating, reviewing, and commenting by the public. You acknowledge that comments or ratings that you disagree with or are unhappy about may be published or otherwise become associated with Materials that you submit to PFT. By submitting Materials to PFT, you waive any privacy expectations that you may have with respect to the Materials.
8. You agree to hold PFT and its officers, directors, employees, agents, successors, and assigns harmless from and against—and hereby waive any right to pursue—any claims of any nature arising in connection with PFT's use of the Materials submitted to PFT and used in any manner in PFT's sole and absolute discretion.
9. Contests involving evaluations of Materials submitted as part of the contest will be judged entirely in the sole and absolute discretion of PFT. Decisions by PFT are final.
10. All entrants and winners must be at least 21 years of age, unless otherwise stated or posted.
11. Winners may not request substitutions of prize winnings. All winners are solely responsible for any and all taxes and/or fees as well as all additional costs that may be incurred.
12. Neither PFT nor its officers, directors, employees, agents, successors, or assigns shall be liable for any warranty, costs, damage, injury, or any other claims incurred as a result of the usage of a prize by any winner including but in no way limited to each and every aspect of the taking of a trip or tour as part of a contest prize. PFT is not liable for any loss arising out of or in connection with any contest promoted by PFT.
13. If the specified prize becomes unavailable for any reason, PFT in its sole and absolute discretion may substitute a prize of like or equal value.
14. A contest is null and void in any jurisdiction where prohibited by law.
15. PFT reserves the right in its sole and absolute discretion to terminate any contest at any time without prior notice.
16. PFT reserves the right in its sole and absolute discretion to alter any contest rules at any time.
17. By entering a contest, you conclusively are deemed to have agreed to be bound by these contest rules and terms and conditions as well as by any rules specific to such contest. This is an irrevocable condition of entry.
18. The following criteria apply:
a. In contests in which winners are selected at random, the odds of winning depend upon the number of entries received and cannot be determined in advance.
b. In contests in which winners are selected based upon skill or accomplishments, winners will be chosen by PFT on the merits of each entry, in PFT's sole and absolute discretion.
c. In contests in which winners are selected on the basis of being the nth person to complete a stated action, the winner shall be that person provided that he or she validly completes the action, validity being determined by PFT, in its sole and absolute discretion.
d. In contests and polls in which PFT solicits votes by the public to help decide the winner, while the results of such polls may be a considered factor in determining the winner, the winner will ultimately be selected by PFT in its sole and absolute discretion.
19. No purchase or payment of any consideration is necessary to enter the contest.
20. Except in the case of contests in which winners are selected as outlined in clause 18(c), each contest will state a deadline for entry and the date when the winner(s) will be announced. Winners of contests run in accordance with clause 18(c) will be announced the day the action is completed. A list of winner(s) may be obtained by sending a self-addressed, stamped (first-class postage) envelope to PFT and requesting the list.
21. PFT reserves the right to condition the award of prizes upon the execution by the winner(s) of a publicity release. Notwithstanding this reserved right, entry is conclusively deemed to be permission by the entrant to use the entrant's name (without compensation to the entrant) if the entrant is a winner to publicize the contest and otherwise, as determined by PFT, unless prohibited by law.
22. PFT reserves the right to require the winner to execute an affidavit of eligibility as a sworn document and provide other proof of eligibility as a condition of receipt of the prize or award.