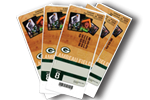 Packers vs Falcons Monday at Lambeau
We can get you to this prime time game at great pricing!!!
» Grab Your Spot
By CHRIS HAVEL
First-quarter fireworks, fourth-quarter defense and error-free football in between enabled the Packers to outlast the Patriots, 26-21, Sunday in a battle of Super Bowl contenders at Lambeau Field.
The Packers (9-3) kept sole possession of first place in the NFC North on a day when head coach Mike McCarthy was at his best. McCarthy's creative play design and his offense's solid execution kept the Patriots' defense on its heels.
The Patriots (9-3) saw their seven-game winning streak end as the Packers rolled up 478 yards, converted 10 of 17 third down attempts and dominated the time of possession.
Green Bay's most important third down conversion came when Aaron Rodgers threw a dart to Randall Cobb for a 7-yard gain on third-and-4 at the Packers' 43 with 2:28 to play. The completion enabled the Packers to run out the clock while a helpless Tom Brady showed his frustration.
It came after the Packers' defense sacked Brady on third-and-9 in Green Bay territory on the previous possession. Belichick elected to attempt the field goal and Stephen Gostkowski missed the 47-yarder wide right.
The Packers' Mike Neal and Mike Daniels combined on Green Bay's only sack of the game. It couldn't have been a more timely sack, though.
"I hate to take a sack in that situation," Brady told reporters. "I really would have liked to score there. I just wish we would have won this one. We put a lot into this one, and this was a great test for us. I think the guys knew how important this was for our season."
The game was equally important for Green Bay. The victory kept the Packers one game up on Detroit (8-4) who rallied from an early 14-3 deficit on Thanksgiving Day to beat Chicago 34-17. The win also bolstered the Packers' confidence because it came against the NFL's hottest team. The Patriots threw everything into this game and it wasn't enough.
While the ghosts of past home playoff losses still swirl around Lambeau Field, the Packers' strong showing against New England bodes well during this run to the postseason.
"The point total was enough to win the game," McCarthy said. "I thought (the) defense did a lot of good things, and really, I think the end of the game is what you're looking for as a coach."
Brady was 22 of 35 for 245 yards and a pair of touchdown passes to Brandon LaFell. He also connected with Rob Gronkowski on seven completions for 98 yards but no touchdowns. The Packers' defense rallied to the ball and tackled Patriots' receivers and ball carriers short of a first down on several occasions.
Meantime, Rodgers threw for 368 yards and two touchdowns while completing 24 of 38 for a quarterback rating of 112.6.
The Packers opened a 13-0 first quarter lead, but New England closed to within 16-14 with 1:09 to play in the first half. Rodgers responded by hitting Jordy Nelson for a 45-yard touchdown that reversed momentum and gave Green Bay a 23-14 halftime lead.
The Packers maintained it despite struggling in the red zone. Green Bay was 0-for-4 inside the 20-yard line, and had to settle for four Mason Crosby field goals. That has to improve if the Packers expect to go deep into the postseason.
"I just go back to our philosophy of winning," McCarthy said. "First, you have to find ways to win. Learn how to win, No. 1, but then you've got to find ways to win and you have to do it as many different ways as possible."
Eddie Lacy's 21 carries for 98 yards, including 26 in the decisive fourth quarter, may provide a glimpse of what to expect in the red zone. McCarthy likely will look for ways to run, as well as through, inside the opponent's 20-yard line.
Rookie receiver Davante Adams is another emerging weapon. Adams caught a career-best six catches for 121 yards. He dropped what would have been an easy touchdown after a nifty slant route. Even Adams' drop wasn't enough to ruin his day, or change Belichick's mind about the Packers' offensive weaponry.
"I said all week they had good skill players," Belichick said. "They have good everything."
Now, the Packers get an extra day off as they prepare for a nationally televised matchup with Atlanta on Monday Night Football.

Chris Havel is a national best-selling author and his latest book is Lombardi: An Illustrated Life. Havel can be heard Monday through Friday from 4-6 p.m. CDT on WDUZ FM 107.5 The Fan, or on AM-1400, as well as Fan Internet Radio (www.thefan1075.com). Havel also hosts Event USA' MVP Parties the evening before home games.