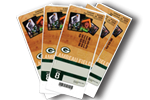 Packer Resort Vacation
Tickets/Packages for next season available in April, but a few spots for the Players Resort Vacation still available NOW!
» Grab Your Spot
By CHRIS HAVEL
Playing 'The Blame Game' gets old fast, what matters is what Packers do next
It won't be long before someone decides Vince Lombardi is to blame for the Packers' 28-22 overtime loss at Seattle last Sunday in the NFC Championship Game.
Everyone has drawn fire, from the head coach and the MVP quarterback to the defense, special teams and even Randall Cobb for calling "tails." That's enough already.
The Packers were foiled by familiar and seemingly correctible failings, namely run defense, special teams and a less-than-killer-instinct. Let's not turn the Packers' playoff loss into something it isn't.
It isn't an indictment of Aaron Rodgers' ability in big games. Rodgers is the NFL's best quarterback. He struggled at times in the NFC Championship but in his defense he was hobbled by a strained left calf muscle and going against one of the NFL's top defenses. Rodgers isn't the problem, unless it's fools who think he should play with a 125 quarterback rating game in, game out. The idea that Rodgers let the Packers down because he didn't play his best, which would have been good enough to overcome the team's other shortcomings.
Indeed, Rodgers didn't play his best, but he certainly played well enough for the Packers to advance to the Super Bowl. It's not his job to defend a two-point conversion, sniff out a fake field goal attempt or recover an onside kick. It's also not his job to decide whether to go for a touchdown or a field goal on fourth down. That's head coach Mike McCarthy's job.
Those who wish to blame McCarthy should do so because:
He allowed the special teams to be their undoing despite ample alerts;
He didn't go from building a lead to nailing the coffin shut. He allowed the Seahawks to rally late because he didn't put them away.
Once McCarthy realized that the Packers' offensive line was protecting the quarterback extraordinarily well, and that Rodgers could to some degree protect himself, he should've cut loose with the passing game.
Instead, he played it conservative from start to bitter finish. McCarthy's greatest mistake was keeping special teams' coordinator Shawn Slocum on his coaching staff. Former assistant Chad Morton was fired by Green Bay and hired by Seattle in the past offseason. Clearly Morton wasn't the problem in Green Bay a year ago.
Now we'll see if McCarthy is able to move on from Slocum. If he isn't able to cut ties, McCarthy should consider relinquishing some of his play-calling duties. While I think he is an above-average play caller, especially in concert with Rodgers' ability to change plays at the line, it behooves him to monitor his underwhelming special teams.
Defensive coordinator Dom Capers has earned another season. His decision to move Clay Matthews to inside linebacker, plus another handful of solid moves, helped the defense improve a great deal. Sam Barrington is an ascending player at inside linebacker, while Sam Shields, Micah Hyde, Ha Ha Clinton-Dix, Casey Hayward and Sean Richardson are all young, talented defensive backs. Retaining Julius Peppers is critical to the defense's success. Peppers' presence, athleticism and big-play ability helped fuel the 12-4 season.
The Packers' strengths are evident. Rodgers, Eddie Lacy, the receivers and the offensive line are golden. The tight ends are in need of an upgrade, but otherwise the offense is capable of playing to championship form.
While the strengths are apparent, so are their weaknesses. The special teams' coordinator is a serious problem. Green Bay finished last in the NFL's ranking among special teams. The run defense also needs to be shored up through the draft, and perhaps in free agency. Otherwise, the Packers are a Super Bowl-caliber team. They have the salary cap space to retain their top talent (Bryan Bulaga, Tramon Williams and Cobb). They also have an excellent GM, a strong head coach and the NFL's top quarterback to go with a quality core group.
What the Packers need is the time to heal the wounds from Seattle and the determination to honestly address and correct the problems.
The Packers are really close to being a Super Bowl champion. They need to use the heartbreaking loss at Seattle to inspire them to take that next step.
Chris Havel is a national best-selling author and his latest book is Lombardi: An Illustrated Life. Havel can be heard Monday through Friday from 4-6 p.m. CDT on WDUZ FM 107.5 The Fan, or on AM-1400, as well as Fan Internet Radio (www.thefan1075.com). Havel also hosts Event USA' MVP Parties the evening before home games.