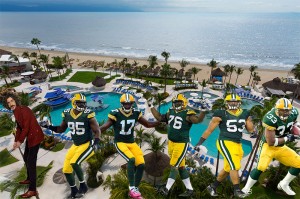 Packer Resort Vacation
Tickets/Packages for next season available in April, but a few spots for the Players Resort Vacation still available NOW!
» Grab Your Spot
By CHRIS HAVEL
Firing special teams coordinator Slocum first step toward seeing the big picture
Whatever change may come for Mike McCarthy's coaching staff will be considered with an eye toward enabling the Packers' head coach to better-manage game-day decisions.
The final five-minute meltdown in the Packers' 28-22 overtime loss at Seattle in the NFC Championship game demanded it. Whether McCarthy relinquishes all, some or none his play-calling duties is strictly his call. His offense's sustained excellence gives him the resume to proceed as he sees fit.
More important is the fact that McCarthy is even considering it, according to various media reports.
The best NFL head coaches tend to leave the play-calling duties to the coordinators. New England's Bill Belichick, Seattle's Pete Carroll, Baltimore's John Harbaugh, Pittsburgh's Mike Tomlin and Chicago's John Fox all follow that structure. In fact, more NFL head coaches don't call their team's offensive or defensive plays than do.
Consider the Seattle aftermath:
McCarthy's receivers and coaches weren't aware that Seattle cornerback Richard Sherman was in excruciating pain with an elbow injury. It turns out Sherman tore ligaments, yet the Packers' players and bench never got together and tested the injured player.
McCarthy didn't know why pass rusher Clay Matthews was on the bench for the team's final two series. That information typically is communicated to the head coach by the staff after the game. That isn't fast enough. The head coach needs to know ASAP and react.
The Seahawks' fake field goal and onside kick recovery might've happened against any opponent at any time. However, the Seahawks had good reason for what they did and took advantage of an out-coached Packers' special teams' coordinator. McCarthy can't allow that to happen again.
The head coach's possible staff shuffle includes the hiring of former San Francisco offensive line coach Mike Solari in a yet-to-be-determined role. The Packers' James Campen remains the offensive line coach.
McCarthy, according to sources, may promote wide receivers coach Edgar Bennett to offensive coordinator, and in turn move current offensive coordinator Tom Clements to assistant head coach with some possible play-calling duties. Whether these precise changes are made remains to be seen, but it is clear McCarthy intends to examine and change – if necessary – any and every aspect of his operation. If that includes having his play-calling duties on the table, so be it. Surely it signals his level of urgency, sincerity and commitment to getting the Packers to the Super Bowl.
McCarthy's open-minded approach is consistent with his career. He tends to proceed rather deliberately, but once his mind is made up and the course charted it has been full speed ahead. Whatever changes occur likely will happen before week's end.
Teams prefer to have their coaching staffs together before the NFL Combine, which is next week in Indianapolis. Clearly, none of this should be seen as an indictment against McCarthy's ability as a play caller. If anything the decisions he has made and currently is in the process of making show a commitment to doing what it takes to win.
If indeed McCarthy promotes Clements and Bennett it will reward trusted assistants who have been exemplary in their roles. Bennett's move from running backs coach to receivers coach and now perhaps offensive coordinator signal a steady, natural progression. Bennett's learning curve, the Packers' success and opportunities eventual should allow him to become a play-caller in the NFL.
Clements may be ready now. It was fortunate for the Packers that the Chicago Bears went in a different direction – toward Marc Trestman and away from Clements – the last time around. Securing Clements' talents for the next four-five years of Aaron Rodgers' career may be key to the Packers winning a championship. It would allow Rodgers to work more closely with Clements, while McCarthy tends to the big-picture business of winning titles.
Chris Havel is a national best-selling author and his latest book is Lombardi: An Illustrated Life. Havel can be heard Monday through Friday from 4-6 p.m. CDT on WDUZ FM 107.5 The Fan, or on AM-1400, as well as Fan Internet Radio (www.thefan1075.com). Havel also hosts Event USA' MVP Parties the evening before home games.