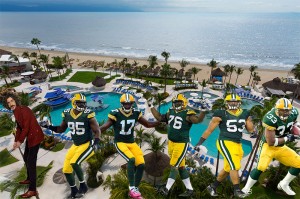 We got your spot!
Tickets/Packages for next season will be available in April, but grab your spot for our Players Resort Vacation and Kenny Chesney NOW!
By CHRIS HAVEL
Thompson, McCarthy get busy upgrading coaches, personnel
Throughout the NFL, and certainly in Green Bay, second-guessing knows no offseason.
The Packers have made several significant changes in the five weeks since their 28-22 overtime loss in the NFC Championship at Seattle. Most addressed Green Bay's failures in the final five minutes. They included special teams' gaffes, painfully conservative play-calling and poor communication in all three phases.
Packers head coach Mike McCarthy has since fired special teams' coordinator Shawn Slocum, relinquished the play-calling duties in order to better oversee the entire operation and committed to re-signing free agents Randall Cobb and Bryan Bulaga and retaining Julius Peppers. That's a lot in less than six weeks.
Standing pat wasn't an option. That much was apparent in Seattle. The Packers have since released tight end Brandon Bostick, who was recently signed by Minnesota, and linebacker Brad Jones. Also, veteran linebacker A.J. Hawk's disappearing act in the second half of the season can at least be partially explained by post-season ankle surgery. While Hawk's future with Green Bay remains doubtful, McCarthy's urgency and sincerity in effecting change is crystal clear.
McCarthy began by yielding the play-calling duties. Since then, cynics have been bashing him for doing so. They believe it will weaken the Packers' prolific offense and render the team mediocre. It's an intriguing topic, and a baseless one. Associate head coach/offense Tom Clements has been with McCarthy for nine years. He and MVP quarterback Aaron Rodgers have worked together with considerable success. There is no reason to believe that will change.
It is infinitely more likely that McCarthy's "big picture" approach will be the difference between just being close or winning Super Bowls. Re-signing Cobb and Bulaga is a priority. I suspect GM Ted Thompson will be able to retain Cobb and quite likely Bulaga as well. McCarthy made it clear the Packers intend to keep Peppers, who at 35 still has plenty of juice left.
The Packers' personnel moves will be interesting between now and the start of training camp. However, the more important development was McCarthy's willingness to make change for the better. Perhaps new special teams' coordinator Ron Zook will be ineffective. Maybe McCarthy should have considered other options. That's just speculation at this point. The fact is McCarthy intends to change the culture on special teams, and that means more than just handing over the keys to the new coordinator.
It means McCarthy sitting in meetings and making sure what's discussed and practiced during the week comes to fruition on game day. Where is the downside to that Furthermore, when it comes to the Packers and personnel decisions the common response is, "In Ted we trust."
The 2014 NFL draft was outstanding for the Packers. It brought a starting, play-making safety (Ha Ha Clinton-Dix), a starting center (Corey Linsley), a developing receiver (DaVante Adams) and tight end (Richard Rodgers) among others.
A similar draft this spring could catapult the Packers into serious Super Bowl 50 contention. As the draft approaches, it'll be interesting to see which players likely will be available when the Packers pick at No. 30. An inside linebacker, tight end or outside linebacker makes sense. So does selecting the best available player, even if it's Wisconsin running back Melvin Gordon, Jr., for example. The Packers are in position to let the draft board work for them.
I wouldn't rule out the Packers trading up if a player they absolutely love falls within drafting range (say within three or four spots of 30). However, Thompson generally plays it cool, bides his time, entertains offers and then makes the call.
Among other positions, the Packers also have need for a defensive tackle, especially with Letroy Guion's felony arrest and other legal difficulties in Starke, Fla. B.J. Raji is a possibility the Packers have to seriously consider. They also need second-year tackle Khyri Thornton to develop in much the way Josh Boyd did the previous offseason.
The Packers are close to having all the right pieces in place. To second-guess McCarthy for making moves that, quite frankly, could've been criticized for coming too slowly is ridiculous.
No one knows if McCarthy's play-calling change or Thompson's personnel moves will lead to a berth in Super Bowl 50. What we do know is that the moves were necessary, they made sense and they show beyond a doubt the organization's desire to win.

Chris Havel is a national best-selling author and his latest book is Lombardi: An Illustrated Life. Havel can be heard Monday through Friday from 4-6 p.m. CDT on WDUZ FM 107.5 The Fan, or on AM-1400, as well as Fan Internet Radio (www.thefan1075.com). Havel also hosts Event USA' MVP Parties the evening before home games.