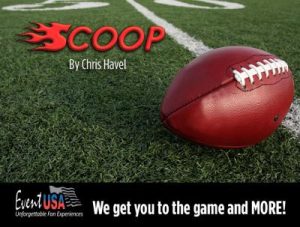 By Chris Havel
Special to Event USA
Green Bay needs a 'bounce-back' season from these five players to get back on top
GREEN BAY, Wis. – Much of the Packers' offseason has been spent analyzing the new additions.
Everyone from head coach Matt LaFleur and his coaching staff newbies to the defense's edge-rushing Smiths – Za'Darius and Preston – has been subjected to close scrutiny.
With that in mind, I asked my radio show listeners to call in and name the returning Packers who need a "bounce-back" season. They could define "bounce-back" however they wished.
Home Game Tickets, Home Game Packages, Road Game Packages, Meet Players, Great Tailgate Parties, we have it ALL! >>
After a 6-9-1 season, it's not surprising that more than a few players were mentioned. Everyone from Aaron Rodgers and Aaron Jones to Oren Burks and Geronimo Allison was cited by hopeful-sounding fans.
Here's my list of top five players who need to bounce back:
** Jimmy Graham, tight end, 10th season

It created quite a stir when the Packers signed Graham in free agency last offseason. Fans had visions of red-zone dominance dancing in their heads.
It didn't work out quite that well.
Graham's numbers weren't awful. He was the team's No. 2 receiver with 55 catches for 636 yards (11.6 average) and two touchdowns.
However, they didn't come close to matching expectations.
Some of it was because Graham was nursing a sore knee through much of the season. And some of it was because Graham never really developed into a top option.
The good news is Graham's three least-productive seasons were his 2010 rookie season in New Orleans (31 catches, five TDs), his first season in Seattle in 2015 (48 catches, two TDs) and in Green Bay last season.
LaFleur's desire to run the ball and rely on play-action passes should give Graham's game a boost. Then again, it's his first year in a "new" offense, so keep your fingers crossed.
** Bryan Bulaga, offensive tackle, 10th season
Bulaga, who turned 30 on March 21, has to be one of the NFL's oldest 30-year-olds in terms of wear and tear on his body. He has missed 45 of a possible 144 games due to injury during his nine-year career here.
That's almost three season's worth of games lost.
Still, Bulaga remains an above-average right tackle when healthy. The 6-5, 314-pound tackle is a workout warrior in terms of rehabbing injuries. He's certainly had way too much practice.
If Bulaga can hold up this season, the Packers' offensive line is almost certain to show considerable improvement over last year.
** Mason Crosby, kicker, 13th season

Crosby, like Bulaga, has been a consummate pro since his arrival in Green Bay. The franchise's all-time leading scorer with 1,469 points ranks as the NFL's seventh-highest scorer among active players.
He also has kicked the seven longest field goals in team history.
Still, last season was a grind for Crosby.
He connected on just 30 of 37 field goal attempts (81 percent) with a long of 53 yards. His misfires either came at a bad time, in bunches or both.
For example, Crosby drilled five field goals against Minnesota in Week 2, but a 53-yard miss in regulation forced the game into overtime. The Packers and Vikings played to a tie.
At Detroit on Oct. 7, Crosby missed on four attempts before converting a meaningless 41-yarder late in the game.
He bounced back the following week to make four field goals and three extra-points in the Packers' narrow win over the 49ers.
The Packers brought in Sam Ficken to compete for the job.
My money is on Crosby to have a big season.
** Mike Daniels, defensive tackle, eighth season
Daniels managed only nine starts last season, which was his first single-digit total since 2013, his second season here.
It came after a stellar 2017 season in which he was named to his first career Pro Bowl. That year he registered 72 tackles and five sacks, numbers that plummeted to 26 tackles and two sacks last season.
Daniels, who turned 30 on May 5, must prove he isn't in decline. He should be helped by a more competent front seven, including the new additions and Kenny Clark's development into a Pro Bowl-caliber defensive tackle.
If the Packers' defense can apply pressure off the edges, it's critical for Daniels to respond with interior pressure, too. This is an important season in his career.
** Kevin King, cornerback, third season

In two seasons, King has started 11 of 15 games played with just one interception. The third-year pro has battled shoulder and hamstring injuries since his arrival in 2017.
King, a fast, rangy athlete, is expected to start opposite Jaire Alexander at cornerback. The 6-3, 200-pound defensive back has all the tools to be an above-average NFL corner.
However, he has to stay healthy.
We haven't seen what King can do on the field given the injuries and relative lack of experience. With a new defensive core and veteran leadership, King should finally blossom.