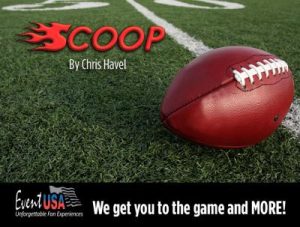 By Chris Havel
Special to Event USA
Green Bay's "impact" newcomers expected to transform OL, secondary
GREEN BAY, Wis. – The Green Bay Packers kick off training camp in 17 days. Their Thursday night regular-season opener at Chicago is less than two months away.
The offseason changes have been numerous and significant.
Let's compare the Packers' anticipated starters with their 2018 counterparts that limped to a 6-9-1 finish.
New choices and new pricing on game tickets and packages! >>
How much better are the Packers? It seems fairly obvious that Green Bay's defense, especially, is better-equipped to deal with the NFL's high-powered offensive attacks. I will analyze the Packers' 2019 defense and compare it with last year's crew in next week's column.
It also appears the Packers' offensive line is much improved.
I project Green Bay will feature at least 10 new starters when they line up against the Bears on Thursday, Sept. 5. This week we'll take a close look at the offense; next week, the defense.
Let's break it down position-by-position of offense:
OFFENSE (Four of 11 new starters)
Quarterback: Aaron Rodgers returns with a new head coach, two new starters in the offensive line and a receiving corps that features Davante Adams and a handful of young, talented players behind him.
Rodgers' quarterback rating of 97.6 was excellent given the lack of protection (49 sacks), but it was offset by a porous Packers' defense that allowed opposing QBs to post a 100.9 rating. Rodgers was forced to throw the football away 59 times, the most by any NFL QB since 2006.
My guess is that Rodgers' completion percentage (62.3), yards per attempt (7.44) and touchdowns (25) will increase dramatically. It may mean more interceptions, too, given the fact that it's a new offense.
In the long run, Rodgers' performance should improve, which means more wins for Green Bay.
Running back: Aaron Jones' two-game suspension placed Jamaal Williams in the starter's role in the Bears' opener last year. Williams managed 47 yards on 15 carries with a long run of just 11 yards. Jones, the expected starter, is much more explosive and appears to fit new coach Matt LaFleur's offense.
A healthy, available Jones clearly gives the Packers' attack more big-play capability in the run game. Jones rating of 81.3 per Pro Football Focus ranked him 12th among all running backs.
Williams, who reshaped his physique in the offseason, should be quicker and more agile this season. He is a reliable receiver out of the backfield and more than capable as a backup.
Wide receiver: Davante Adams is one of the NFL's top five receivers and will continue to be so. Adams should profit from a more-balanced attack, but it's difficult to see him duplicating his huge numbers (111 catches, 13 touchdowns) of last year.
I do believe Adams' yards-per-catch (12.5) will increase significantly. In a perfect world, Adams will be subjected to less wear and tear and more yards per catch.
Wide receiver: Randall Cobb's best game in 2018 might've been the opener against Chicago, when he caught nine passes for 142 yards and a touchdown. Now he's off to Dallas. He will be replaced by Marques Valdez-Scantling, who was among the NFL's top rookie receivers in catches and big plays.
At this stage of Cobb's career, MVS is a decided upgrade. He possesses big-play potential downfield and forces defense to account for his exceptional straight-line speed.
I'm predicting big things for MVS this season.
Wide receiver: Geronimo Allison was underrated before being injured last year. His absence was a big hit on the offense. He had five catches for 69 yards and a touchdown versus the Bears in the opener last year.
Allison's return, perhaps as the slot receiver, gives Green Bay a veteran who's capable of making clutch catches.
J'Mon Moore, Equanimeous St. Brown, Jake Kumerow and Trevor Davis will be among those fighting for playing time. It's a group long on potential and light on experience. The good news is the receivers have been through an NFL season, which gives them a knowledge base to build on in the new attack.
Tight end: Jimmy Graham gets an opportunity to redeem himself after a lackluster 2018 season. Graham's greatest problems were a lingering knee injury and a sputtering offense that left him either covered or ignored.
That is likely to change given a new offense that's designed to focus on the tight ends. It's up to Graham to respond.
Left tackle: David Bakhtiari was the NFL's top-ranked offensive tackle in 2018 with an 88.4 rating, according to Pro Football Focus. He and center Corey Linsley likely will be flanking rookie Elgton Jenkins, the second-round draft pick, in the season opener. Jenkins is fortunate to have two top-flight pros to play with.
Left guard: Lane Taylor started a year ago, but it'll be the rookie, Jenkins, at left guard when the season opens. Jenkins is a big (6-4, 310), strong and athletic guard. He should give the Packers' line an upgrade in both the run game and pass pro.
Center: Corey Linsley is a solid, reliable center who communicates well with the quarterback. Linsley (fifth round) and Bakhtiari (fourth round) were tremendous draft picks.
Right guard: Justin McCray may be serviceable as a backup, but as a starter he can't cut it. He will give way to Billy Turner, a kick-butt right guard who was acquired in free agency.
Turner's size (6-4, 315) and tenacity will serve Green Bay well. It's been too long since the Packers had a dynamic duo at guard. Turner and Jenkins could develop into that.
Right tackle: Bryan Bulaga scored a 75 by Pro Football Focus last season, an indicator that he remains an above-average tackle when healthy. That's the key, of course – staying healthy.
Bulaga, who turned 30 in March, enters his 10th NFL season. His health is critical to the Packers' success this season. Right now, I don't see a surefire, reliable backup tackle on the roster.
The Packers need someone to emerge in that capacity during training camp. If not, they may need to scour the waiver wire for help once the final cuts are made.
Next week: A defense that features six of 11 new starters. How much better will it be? Find out next week…