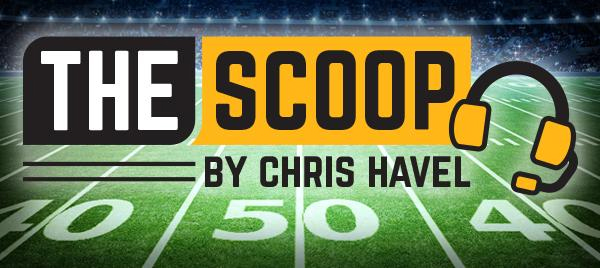 By Chris Havel
Special to Event USA
Rodgers' future impossible to ignore after Colts' franchise QB chooses to walk away
GREEN BAY, Wis. – The Indianapolis Colts just went where no Green Bay football fan wants the Packers to go.
Truth be told, it's only a matter of time.
The abrupt but not altogether unexpected retirement of Colts quarterback Andrew Luck during the weekend sent a shockwave throughout the NFL.
The regular season is only 10 days away. We've got your ticket!
Naturally, that included Green Bay, where the most recent silly debate regarding Aaron Rodgers revolved around whether the 35-year-old quarterback should or shouldn't play this preseason.
With three-fourths of the exhibition shenanigans mercifully navigated, including the "80 yards and a shroud of disgust" debacle in Winnipeg, Manitoba, the question is moot.
For better or worse – and without Rodgers it would be worse – bring on the Bears for the Sept. 5 opener at Soldier Field. The Colts only wish they had the chance to sit Luck before their regular-season opener. It turns out Luck seated himself.
Packers head coach Matt LaFleur deserves credit for having the common sense to sit Rodgers and the other starters against the Raiders. The substandard field in Winnipeg demanded it.
A less-confident first-year coach might've forgotten what LaFleur recalled being told when he took the job: Trust your gut. So he trusted his gut and sat Rodgers and the rest in a 22-21 loss to the Oakland/Las Vegas Grudens last Thursday night.
So what was the point again about playing Rodgers?
Those Packers fans that whistle and moan about Rodgers not playing in the preseason should check their hole card again. It's No. 12, the ace up their sleeve, the winning hand that beats all.
Consider the Colts.
Indianapolis was a minus 175 (bet $175 to win $100) wager to make the playoffs with Luck. Without him, the wager plummeted to plus 400 (bet $100 to win $400).
I'm not going to bother checking the Packers' latest odds out of Las Vegas. I don't have to. With Rodgers, the Packers are a serious threat to go deep into the post-season. Without him, they are the Arizona Cardinals minus Kyler Murray.
A year ago this week, Rodgers signed a four-year, $134 million contract extension. It included $98.2 million guaranteed plus a $57.5 million signing bonus. Rodgers realized (in real dollars) $80 million by March of this year.
Somehow it seems longer than a year ago that the Packers made Rodgers the NFL's highest-paid player.
Clearly, the Packers and Rodgers are in this together.
Never mind that Brett Favre's legacy in part might be having some Packers fans believe their All-World QB will play forever. Some fans were in denial with Favre. Some are in denial now.
Hell, I wish Rodgers could play forever.
The Packers just might win another Super Bowl in my lifetime.
Then again, Rodgers already has played forever, at least in football terms.
Consider this: Rodgers already has played TWICE AS LONG as Luck. Rodgers, who is entering his 15th season, was drafted in 2005. Luck didn't enter the league until the Colts made him the first overall pick in the 2012 NFL draft.
After seven years, a battered and beaten Luck called it quits.
The sacks began piling up (sound familiar?), and so did the injuries. Despite having perhaps his best season in 2018 – Luck had career highs in completion percentage (67 percent), passing yards and quarterback rating – he opted to call it quits.
He threw for 39 touchdowns last year, just one off his career best, but it didn't matter. He'd had enough at age 29.
Rodgers, for his part, hopes to play until he's 40.
In an interview with NBC Sports' Peter King last July, Rodgers articulated his intentions.
"My goal is to be able to move like I do or close to how I do now and still be able to do that at 40 … just because nobody's been able to do that and still move around the same," he told King. "Steve Young's career was cut short in his late thirties, John Elway the same – he didn't really move the same as when he was younger. So to be able to move the same way at 38, 39, 40 would be cool. That's my aim."
Rodgers is wise to focus on mobility.
It can be used to extend plays and make heroic throws downfield. It also can be used to escape disastrous hits and the consequences they bring.
A quarterback's "escape ability" determines his longevity, which almost always comes down to two questions.
Can he stay healthy? Can he make plays downfield?
Rodgers can do both.
The two-time league MVP and Super Bowl XLV MVP always had superior mobility to Luck. Whereas the Colts' quarterback – more along the Ben Roethlisberger mold – would stand in the pocket and take shots to the kisser, Rodgers evades them.
Still, he endured 49 sacks despite throwing away a record number of passes to avoid being hit in 2018. It's a minor miracle Rodgers actually came through last season as healthy as he did.
How long will it last?
The truth is nobody knows. That's what makes it scary.
What we do know is that Rodgers can't keep getting hit so often, and that he can't play forever.
With that said, my advice is to let the Packers' GM worry about finding the next Rodgers, and quit stressing over the preseason.
Sit back and enjoy watching one of the NFL's legends still play at a high level … certainly at a level high enough to give the Packers a real shot to KO the Bears in the season opener.
Live for moments like Thursday, Sept. 5, at Chicago.
Ultimately, only Rodgers and the football gods know how many of those moments the great No. 12 has left to play.
Don't believe it? Ask a Colts fan. But be respectful.
They're apt to be in denial, or mourning, or both.