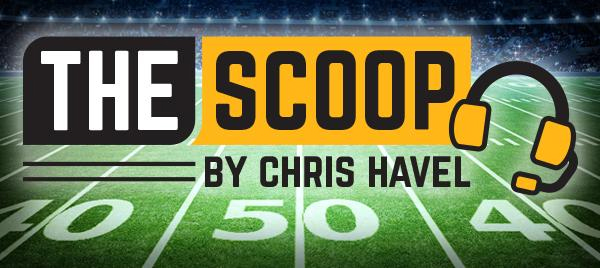 By Chris Havel
Special to Event USA
Green Bay's 34-27 loss also sees Rodgers, offense fail to punch ticket in red zone
GREEN BAY, Wis. – All the talk about the Packers' "bad-ass defense" – Preston Smith's words, not mine – being the best in the NFL appears to have been premature.
It's still possible, but Green Bay's defense isn't there yet.
That much was clear in Philadelphia's 34-27 victory over the Packers on Thursday night at Lambeau Field.
This also is clear: Green Bay's defense is one linebacker short of a load, and the Packers' offense mostly revolves around Aaron Rodgers, Davante Adams and a prayer.
Speaking of prayers … sending them out to Jamaal Williams, who was concussed on a vicious helmet-to-helmet shot by the Eagles' Derek Barnett, who should have been ejected.
Instead, half of the Packers' running back tandem was carted off the field while Barnett was allowed to continue. He went on to get the Eagles' lone sack – a second quarter strip-sack that forced a Rodgers fumble and impacted the outcome.
Hopefully Williams, who was a tremendous guest at Event USA's player reception party Wednesday night, will be ok.
Meantime, Rodgers-to-Adams was pure brilliance at times, and their 58-yard first-quarter completion was textbook execution.
Adams finished with a career-high 180 yards on 10 catches, but was lost to a foot injury in the fourth quarter. When he went to the sideline, the Packers' best chance to win went with him.
When the Packers' offense wasn't repeatedly stubbing its toe in the red zone without Adams, the Eagles' Carson Wentz was busy perfecting the art of the handoff.
Jordan Howard carried it 15 times for 87 yards. Mile Sanders had 11 for 72. Both would've had more yards and attempts except the Eagles' scoring drives occurred too fast to allow it.
The Packers' defense could've tossed rose petals at their feet for all the resistance it mounted.
The Packers weren't merely guilty of poor tackling. They were walled off, sealed off and cordoned off by an Eagles' offensive line and tight end group that blocked its tail off.
Green Bay was outplayed along the line on both sides, but it was especially ugly on defense.
Afterward, Preston and Za'Darius Smith said in their tag-team interview: "This isn't us."
Packers' fans better hope they're right.
They better hope Za'Darius Smith gets right – he didn't register a single stat while gamely trying to play with a sore knee. When Za'Darius is less than 100 percent, so is the Packers' pass rush.
The Packers' offense had its moments, both good and bad.
It is mind-boggling that Rodgers led the offense into the Eagles' red zone on seven occasions and they still lost. That's largely because they went a dreadful 3-for-7 once they got there.
Jimmy Graham caught six passes on nine targets, but the three misfires all came in the red zone. Geronimo Allison had three catches for 52 yards, including a leaping 31-yard grab to set up his 19-yard touchdown catch two plays later.
That made it Eagles 21-20 at the half.
Packers' fans went into intermission feeling much better.
It proved to be an illusion.
The Packers battled to a 27-27 tie by converting 6 of 11 third down attempts and racking eight first downs by penalty.
It wasn't enough.
Rodgers led the Packers to the Eagles' doorstep twice but failed to score the tying touchdown both times. The second drive fizzled when the Eagles intercepted a tipped pass to end it.
"We're a building team, a good team," Rodgers said, but made it clear that the top teams win games like Thursday night's.
Wentz, who was 16 of 27 for 160 yards and three touchdowns, finished with a 113.2 passer rating. He relied on tight end Zach Ertz, who delivered with seven catches for 65 yards. Alshon Jeffery, Dallas Goedert and Howard all had touchdown catches.
The Packers have 10 days to get healthy and fix what ails them.
Rodgers' 53 pass attempts were more than the 52 plays they ran for the game in the win against Denver. He finished 34 of 53 for 422 yards, two touchdowns and an interception. He was sacked just once and finished with a 93.4 passer rating.
Green Bay's offense needs to find a consistent running attack.
The Packers' defense must figure out how to stop the Cowboys' vaunted running attack featuring Ezekiel Elliott when they meet Oct. 6 at Dallas.
The Packers' special teams weren't blameless, either. Sanders' 67-yard kickoff return set up the Eagles' first touchdown drive. Green Bay had taken a 10-0 lead and might've forced Philadelphia to abandon the run. Sanders' huge return and the Eagles' subsequent touchdown made it 10-7 and it was game on.
So who is the Packers' defense?
In fact, who are the Packers?
The challenge that Dallas and its running attack presents should offer clues. This time the Packers' defense needs to throw up road blocks, rather than pave Dallas' way with rose petals.