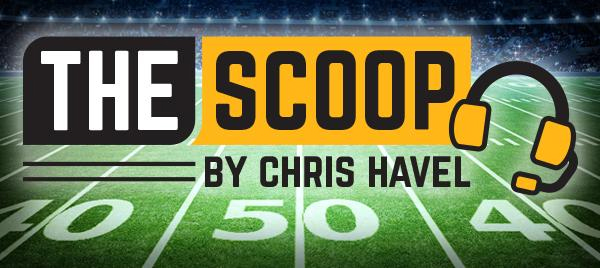 By Chris Havel
Special to Event USA
Green Bay's health, progress under LaFleur suggest deep postseason run
GREEN BAY, Wis. – For a few glorious hours Sunday afternoon it appeared the Green Bay Packers were going to get "bye" with a little help from their friends.
That ended when Minnesota erased a 20-point halftime deficit to edge the Broncos 27-23. A few hours later, San Francisco rallied after trailing in the final minutes to beat the Cardinals 36-26.
Apparently the Football Gods help those who help themselves.
Fair enough.
Two great December games at Lambeau. We can get you there!
The Packers (8-2) control their own destiny anyway.
The NFC North leaders travel to San Francisco (9-1) for a Sunday night matchup with the NFC's top seed at stake.
At least one website that calculates playoff percentages reveals that the Packers – with a win at San Francisco – would see their odds to make the playoffs rise to 99 percent. Their odds to capture the NFC North would climb north of 70 percent.
Win or lose, with six games to play under a first-year head coach, it isn't merely about the outcome Sunday night. It also will be about how the Packers play. They have won seven of their last 10 games coming out of the bye, but considering this is head coach Matt LaFleur's first season that's old news.
What changes might LaFleur make coming out of the bye?
What did the self-scout reveal in terms of what to keep and what to pitch?
How will the personnel – especially on defense – be deployed? And will a true No. 2 receiver emerge behind Davante Adams?
The Packers' game against the 49ers will be incredibly instructive going forward.
After the Packers edged the Panthers 24-16 last week, Aaron Rodgers made it clear that this team has a great opportunity. He and tight end Jimmy Graham discussed that very thing.
"It doesn't happen like this all the time," Rodgers said. "He and I have both been through rough seasons over the years, where you're just not quite in the mix. This feels different."
Rodgers made it clear he wasn't trying to rally the younger players around the idea of winning one for the old-timers.
"You have the option to buy into what we're doing or not," Rodgers said. "And it doesn't stop when you leave the building this week. It's to mentally get balanced and come back and get ready for a tough road trip."
Davante Adams stayed in Green Bay during the bye to continue to rehab from his turf toe injury.
"We're in a blessed position with our record and with our health right now, more or less," Adams said, "so we have to make sure we don't take that for granted and take care of business."
The NFC playoff picture today looks like this:
** No. 1 – San Francisco (9-1); No. 2 – Green Bay (8-2); No. 3 – New Orleans (8-2); No. 4 – Dallas (6-4); No. 5 – Seattle (8-2); No. 6 – Minnesota (8-3).
Going into the bye week I felt that the Packers' greatest edge over the 49ers and Vikings was the quarterback.
Aaron Rodgers has been exceptional all season.
Meantime, the Vikings' Kirk Cousins and the 49ers' Jimmy Garoppolo have been inconsistent. But that didn't stop either from directing epic comebacks Sunday afternoon.
Cousins completed 29 of 35 for 319 yards, three touchdowns and a 133.2 passer rating despite being sacked five times. Dalvin Cook rushed 11 times for 26 yards to offer no semblance of a running attack, so Cousins did it with his right arm.
Garoppolo hit on 34 of 45 for 424 yards, four touchdown passes, two interceptions and a 115.4 passer rating. That was a godsend on a day when Tevin Coleman was held to 14 yards in 12 carries with a long run of 4 yards.
In Cousins' case, it was the first time a team won after trailing by 20-plus points at halftime in a span of 100 games.
In Garoppolo's case, he did so without tight end George Kittle and the normal complement of running backs.
If both continue to play well down the stretch it puts that much more emphasis on the Packers' defense. Perhaps Ibraheim Campbell will help better defend the middle of the field, including the opposing tight end.
Preston and Za'Darius Smith have been amazing thus far. The trick for defensive coordinator Mike Pettine will be devising alternative ways to get to the quarterback while keeping the Smiths fresh for the postseason run.
Offensively, LaFleur's focus must continue to be on having running backs Aaron Jones and Jamaal Williams play key roles each and every week.
Allen Lazard has the inside track on becoming the No. 2 receiver, although Marquez Valdes-Scantling's leg injuries were fairly serious and he should benefit from the time off.
Going into the bye the Packers ranked third in red zone offense, eighth in red zone defense and first in red zone takeaways. The Packers haven't committed a turnover in four straight games. They ranked fifth in turnover margin.
As the Packers began preparing for the 49ers they had to be emboldened by the fact that everyone on the roster was able to practice Monday.
That's great news because it will take all hands on deck to capture home-field advantage throughout the playoffs.
The first step to that end comes Sunday night at San Francisco.