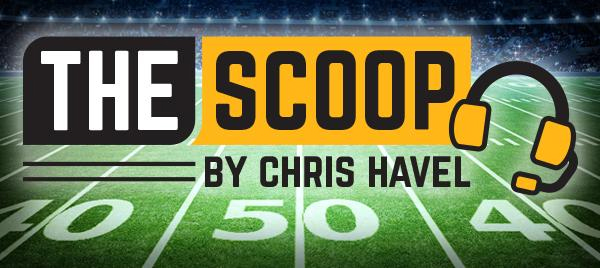 By Chris Havel
Special to Event USA
Green Bay's formula for success relies on suffocating defense and running the ball
GREEN BAY, Wis. – Just win ugly, baby!
The awkward play on Al Davis' legendary quip describes the Packers' passing attack these days, but who's complaining?
The absence of a stifling defense and a stellar running attack in Green Bay may have turned the basics of championship football into re-acquired tastes, but make no mistake – they are the key ingredients in the Packers' recipe for sweet success.
HOME FOR THE PLAYOFFS!!! GRAB YOUR SPOT NOW!!!
It has taken the Packers (12-3) further than most NFL observers – "expert" or otherwise – predicted they could go. And like their 2019 NFC North title T-shirts read, "The North is not enough."
The Packers' 23-10 victory over the Vikings on Monday night at U.S. Bank Stadium clinched their first division title since 2016. It also placed the Packers in position to capture the NFC's top seed with a win at Detroit and a 49ers' loss at Seattle on Sunday.
The Vikings (10-5) are assured the No. 6 seed with the loss.
Three first-half turnovers by Green Bay's offense breathed life into the Vikings' faithful. The Packers' defense snuffed it out.
After scoring twice off the Packers' turnovers to take a 10-3 lead, the Vikings and quarterback Kirk Cousins were smothered by Green Bay's attacking defense.
Minnesota mustered seven first downs, its fewest in a game since 1971 when the Packers' defense held the Vikings and quarterback Gary Cuozzo to five first downs in a 3-0 loss.
Za'Darius Smith spearheaded a Packers' defense capable of turning back time and the Vikings' offense on the same night.
Cousins completed 16 of 31 passes for 122 yards (3.9 per completion) with one touchdown and an interception. He was sacked five times and finished with a 58.8 quarterback rating.
The Packers' defense stayed the course when it got dicey early.
Za'Darius Smith had 3 ½ sacks – the most by a Packers' player since Clay Matthews in 2012 versus the Bears – to go with seven tackles and five tackles for loss and five pressures. He boosted his NFL-leading total of QB pressures to 57.
Kenny Clark registered a sack and routinely collapsed the pocket, while Preston Smith added a half-sack.
Cornerback Kevin King's second-half interception thwarted a promising Vikings' drive with Minnesota leading 10-9.
Cousins arched a deep pass intended for Stefon Diggs, but King left his man and swooped in to make the interception. His 39-yard return set up the Packers' offense at Green Bay's 47.
"That was a big-time play when we needed it," Za'Darius Smith said.
Rodgers promptly directed the offense on a five-play, 53-yard touchdown drive capped by Aaron Jones' 12-yard sprint to the end zone. Rodgers connected with Geronimo Allison for the 2-point conversion to make it Green Bay 17, Minnesota 10.
"I liked the 2-point thought," Aaron Rodgers said. "That was an important spot. Matt (LaFleur) letting us go for it showed trust and then he dialed up a really good play. The Kevin King interception was a big play for us – not just the interception but the return close to midfield was important."
The loss drops Cousins to 0-9 on Monday Night Football.
Meantime, Aaron Jones rushed 23 times for 154 yards and two touchdowns to fuel the Packers' offense.
Jones' 54-yard touchdown gallop in the fourth quarter sealed the victory. It was blocked up beautifully, including a tremendous block by Marquez Valdes-Scantling.
"I think it says a lot about our character," Packers' head coach Matt LaFleur said. "We've won a lot of tight games this year and we've won in so many different ways. That's what this game is about."
LaFleur acknowledged the offense has been sluggish.
"Sometimes it hasn't always been pretty," he said, "but that's ok. We've built a belief within this team that no matter what happens out there we'll find a way to win."
Frankly, some Packers fans spend as much time fussing about the passing offense as they do fretting over the outcome. They delight in a defensive slugfest, but they crave a blowout keyed by an offensive explosion to get them thinking Super Bowl.
It's understandable.
An entire generation of Packers fans was weaned on the notion that great offense is the path to Super Bowl salvation. It can be nerve-racking watching the defense trying to close a game out.
It's ok. The worrying makes the winning all the more satisfying.
No one looked more satisfied than Aaron Rodgers.
The Packers' quarterback completed 26 of 40 passes for 216 yards, no touchdowns and an interception. His quarterback rating of 68.3 was wrought by a halting combination of inaccurate throws and imprecise routes.
Nonetheless, Rodgers relished the victory.
"To win this game feels pretty good – especially in a place where I was jeered as I was leaving with a broken collarbone," he said with a gleam. "It feels good."
DaVante Adams caught 13 passes – one shy of Don Hutson's single-game team record – for 116 yards on 16 targets.
Allen Lazard added five catches (nine targets) for 45 yards with a long of 15 yards. It was important that Lazard got volume, in terms of targets, going forward.
Clearly, LaFleur established Lazard as the No. 2 receiver. It sets the pecking order going forward and gives Lazard a better chance to succeed.
LaFleur also made sure Jones touched the football.
Rodgers was 8 of 10 passing in the second half. LaFleur stayed with the running game and it paid dividends.
LaFleur is the 10th rookie coach in NFL history to reach 12 wins.
Now he wants more.
"The first time we got together our No. 1 objective was to win the North," LaFleur said. "Our guys accomplished that tonight. I'm very proud of them.
"Now it's time to reassess and have new goals. We took care of the first goal. Now we have another big game against the Detroit Lions."