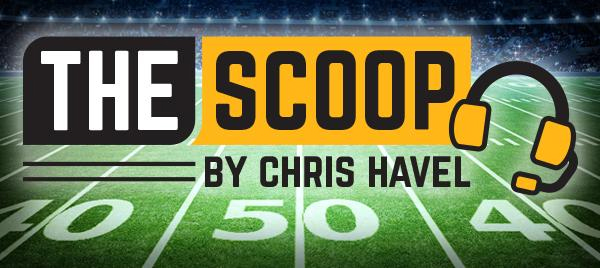 By Chris Havel
Special to Event USA
Expect Gutekunst to double down at both positions by utilizing free agency, draft
GREEN BAY, Wis. – The Green Bay Packers' opportunity to upgrade an already strong roster is almost at hand.
The NFL Draft is seven weeks away.
Free agency begins on Monday, March 16, with the "legal tampering" phase. Players can start signing on Wednesday, March 18, at 3 p.m.
So what will the Packers do in 2020?
With the combine concluded, and free agency inching closer, these are my top three "dream scenarios" to elevate the Packers from the NFC's No. 2 seed to Super Bowl LV champions.
It is based upon GM Brian Gutekunst's way of doing business thus far. It's also influenced by the Packers' most pressing needs.
Gutekunst doesn't appear to let free-agent signings determine where he will go in the draft. Drafting cornerback Jaire Alexander in the first round of the 2018 draft didn't preclude him from selecting Josh Jackson in the second round, or signing Tramon Williams in free agency.
Acquiring edge rushers Preston and Za'Darius Smith as free agents didn't keep him from making edge rusher Rashan Gary the 12th pick.
Signing safety Adrian Amos in free agency didn't prevent him from trading up to grab safety Darnell Savage, Jr., with the 21st pick.
Getting guard Billy Turner in free agency didn't make him think twice about selecting another guard, Elgton Jenkins, in the second round. There is a pattern – and a method to the madness – for Gutekunst.
So what will Gutekunst do in 2020?
** Scenario No. 1

The dream begins by signing the Rams' Cory Littleton, the best inside linebacker in free agency. The cost might be prohibitive, and the Packers would be wise to avoid a bidding war, but Littleton is special.
With the 30th pick, and Littleton in the fold, the Packers most certainly would select a receiver, right? Wrong.
If Oklahoma's Kenneth Murray is available with the 30th pick I guarantee Gutekunst would take him in a heartbeat. Imagine the havoc wrought by an inside linebacker pairing of Littleton and Murray.
Littleton is an All-Pro. Murray (6-2, 238) has the ideal size, speed and instincts to make splash plays sideline-to-sideline. He is fast and physical. He compares favorably to the Bears' Roquan Smith in that he can cover tight ends but also forcefully stuff the run.
In this scenario, the Packers can still address receiver in free agency and the draft.
Sammy Watkins would be an ideal No. 2 receiver to Davante Adams. He was productive in Kansas City and is coming off a terrific postseason run. He isn't going to come cheap, but he'll cost less than his $21 million cap number for this season, which is why the Chiefs likely will be unable to re-sign him.
Another more cost-effective signing might be Emmanuel Sanders, who is a solid No. 2 receiver on any squad. As an added bonus, it would mean he won't re-sign with the rival 49ers.
In the draft, Wisconsin's Quintez Cephus most assuredly will be available at 62 and quite possibly at 94. Cephus is one of the most underrated receivers in the draft.
How does this sound: Littleton and Murray at inside linebacker on one of the NFL's top defenses, along with a receiving corps of Adams, Watkins/Sanders, Cephus, Allen Lazard or Marquez Valdes-Scantling at No. 4, and special teams ace Jake Kumerow as the No. 5?
It could happen.
Scenario No. 2

Littleton re-signs with the Rams and Murray is off the board.
So now what?
Never fear, Gutey is here.
The Packers already have shown interest in ex-Browns linebacker Joe Schobert, who is the second-best ILB to Littleton in free agency. More important, Schobert represents a significant upgrade for the Packers. It's not about who you didn't acquire, but rather who you did.
With Schobert in the fold, the Packers could still double-down by adding Texas Tech's Jordyn Brooks (6-1, 245) on Day 2 of the draft.
In this scenario, the Packers would likely draft a receiver at 30, especially with Murray off the board.
Some mock drafts have as many as six receivers being selected in the first round. It is a testament to their value in today's NFL and the tremendous depth in this year's receiver class.
What if Jerry Jeudy, CeeDee Lamb, Henry Riggs III, Justin Jefferson and Tee Higgins are selected before the 30th pick? No worries.
That still leaves Colorado's Laviska Shenault or TCU's Jalen Reagor. Either would be the Packers' No. 3 receiver on Day One.
In this scenario, Gutekunst likely could afford to pay a free-agent receiver such as the Jets' Robby Anderson.
An inside linebacker tandem of Schobert and Texas Tech's Brooks would be a major upgrade. Meantime, the receiving corps would feature Adams, Anderson, Shenault/Reagor, MVS/Lazard and Kumerow.
Aaron Rodgers would be all smiles.
Scenario No. 3
Littleton signs elsewhere and Murray is off the board. Furthermore, Anderson, Watkins and Sanders aren't coming here in free agency.
Now what?
For starters, I expect the Packers to double down at tight end. They drafted Jace Sternberger in the fourth round last spring. With Jimmy Graham's likely departure they still need a veteran tight end.
That's where ex-Falcon Austin Hooper enters the picture.
The Packers already have expressed interest in Hooper. He would represent a big upgrade over Graham, with an ascending Sternberger in the wings. It also offsets the absence of a "true" No. 2 receiver if Anderson, Watkins and Sanders don't come to Green Bay.
In this scenario, the Packers draft a receiver at 30 or trade up to do so.
Colorado's Laviska Shenault or LSU's Justin Jefferson might slip within reach of the Packers at 30. I wouldn't be shocked if they traded up in the early or mid-20s to land one of them. That's especially true if the Packers aren't able to land a quality No. 2 receiver in free agency.
That means the Packers' top weapons in the passing game would be Adams, Shenault/Jefferson, Lazard/MVS, and Kumerow at receiver, with Hooper and Sternberger at tight end.
That also is an upgrade from 2019.
So what about inside linebacker?
Schobert would fill the void left by Blake Martinez's departure. Furthermore, the Packers could still reach out to ex-Bengals inside linebacker Nick Vigil, whose niche is the speed to more than adequately cover running backs and tight ends.
Again, Schobert and Vigil plus a Day Two pick would be a big upgrade at inside linebacker.
Those are just three scenarios out of a multitude of possibilities, but all three are within the realm of possibility. Any of them would make the Packers' passing game more explosive and the defense more dangerous.
In fact, they might just elevate the Packers to a berth in Super Bowl LV.