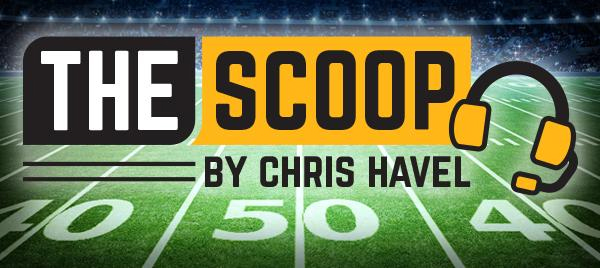 By Chris Havel

Special to Event USA
Draft's strength aligns with Green Bay's need at WR, so Gutey goes elsewhere at 30
GREEN BAY, Wis. – Here is NFL commissioner Roger Goodell, live from his basement, to announce the next selection: "With the 30th pick in the 2020 NFL draft, the Green Bay Packers select …"
That's easy. It's always "TBA" and I don't mean "To Be Announced."
It's TBA as in "The Best Available."
Whenever Packers' Hall of Fame GM Ron Wolf was asked to speculate on the draft his ready response was a variation of, "When you can tell me who's on the board, I'll let you know who we're going to take."
And that would be that.
Obviously, it is impossible to know with any certainty which players will be on the board 29 picks into a draft.
So what are the Packers and GM Brian Gutekunst going to do at 30?
The simple answer is that they'll take the best receiver on their board. Then they'll rev up for Day 2.
I'm OK with that scenario on two conditions:
** The first is that LSU's Justin Jefferson is the Packers' pick at 30. Jefferson is a special player who would contribute immediately. He is the only receiver beyond Alabama's Jerry Jeudy and Henry Ruggs III and Oklahoma's CeeDee Lamb that looks to have the talent to be a team's No. 1 receiver sooner than later.
** The second is that no team calls to make an offer they can't refuse. Trading back is always a possibility, especially late in the first round.
If Jefferson is gone, the Packers may be tempted to "reach" and select TCU's Jalen Reagor, Arizona State's Brandon Aiyuk, Clemson's Tee Higgins or Notre Dame's Chase Claypool. They are all excellent receivers – and all strong second-round possibilities – but not at 30.
The reason is obvious: The Packers can acquire ample help at receiver in the second round. It's less likely – if not impossible – to find comparable talent beyond the 30th pick at any other position.
So if Jefferson is off the board, and no team calls with a trade offer, I would take any of these three players ahead of a receiver (in order):
** No. 1 – TCU defensive end Ross Blacklock, a rugged athlete who would immediately make a positive impact the Packers' defense. Blacklock would lighten Kenny Clark's burden. Together, they would be more than a handful for opposing offenses from Day One.
** No. 2 – LSU inside linebacker Patrick Queen, another supreme athlete who would give coordinator Mike Pettine's defense a legit chance to control the middle of the field.
Queen would contribute immediately in sub-packages while developing behind/alongside veteran Christian Kirksey.
** No. 3 – Alabama cornerback Trevon Diggs, who at 6-1, 205, would play in sub-packages until he eventually replaces Kevin King, whose contract is up after this season.
I would select Diggs – the younger brother of ex-Vikings' receiver Stefon Diggs – at 30 ahead of Reagor, Aiyuk, Higgins and Claypool. The Packers can't get another "Diggs" on Day 2, but they can get one of those really good receivers.
Here's a quick history lesson.
Some in the media are fussing over the fact that the Packers haven't drafted a receiver in the first round since 2002. That year they took Javon Walker with the 20th pick.
In hindsight, it was a fine pick by then coach-GM Mike Sherman. Only LSU safety Ed Reed, who was chosen with the 24th pick by Baltimore, went on to become a Hall of Fame player.
The 2002 draft was notoriously weak.
Walker was dynamite before a ghastly knee injury derailed his career.
Walker was the right call.
The Packers haven't drafted a receiver in the first round since then mostly because they've had terrific quarterbacks. Too many teams make the mistake of trying to draft the next great receiver in order to make their acquisition of a so-so quarterback look good.
Ask the Detroit Lions and Joey Harrington how that works out.
The more meaningful glimpse at the Packers' past is the impact of Donald Driver, Jordy Nelson, Greg Jennings, James Jones and Davante Adams. All were incredibly successful; none was a first-round pick.
A huge factor in their favor was being able to play catch with a Hall of Fame quarterback, first Brett Favre and now Aaron Rodgers.
That hasn't changed.
Now fast-forward to the 2019 draft.
The Packers chose edge Rashan Gary at 12, safety Darnell Savage at 21, guard Elgton Jenkins at 44, and tight end Jace Sternberger at 75.
Gary contributed while learning his craft behind Za'Darius Smith. Savage and Jenkins were promising rookie starters who may develop into Pro Bowl players. Sternberger, who was injured early last year, finished strong and should be the starting tight end this season.
The Packers don't have nearly that much ammo in this draft with picks at 30, 62 and 94. Then again, they have fewer holes to fill.
The Packers could have drafted a gifted receiver a year ago, except Gutekunst apparently valued an offensive lineman more than a pass catcher. The Packers selected Jenkins with the 44th overall pick.
That means they could have had their pick of these receivers:
** Mississippi's A.J. Brown, who was taken by Tennessee at 51, caught 52 passes for 1,051 yards and eight touchdowns;
** Georgia's Mecole Hardman, who went to Kansas City with the 56th pick, caught 26 passes for 538 yards and six touchdowns for the eventual Super Bowl champions;
** Mississippi's D.K. Metcalf, selected 64th by Seattle, caught 58 passes for 900 yards and seven touchdowns;
** Ohio State's Terry McLaurin, chosen 76th by Washington, caught 58 passes for 919 yards and seven touchdowns.
That's four rookie receivers – drafted between 51 and 76 – who contributed in a big way last year. Surely, the Packers scouted and liked Brown, Hardman, Metcalf and McLaurin.
Yet they went with Jenkins.
It illustrates Gutekunst's desire to stick to his board.
That won't change this year.
In fact, I suspect NFL GM's will be more conservative this year due to the uncertainty and chaos created by the COVID-19 pandemic.
Now, more than ever, is the time to trust the tape and your scouts.
So with the 30th pick, the Packers select Justin Jefferson. Then they get busy finding help at other positions.
If he's off the board, it's (in order): TCU defensive end Ross Blacklock, LSU inside linebacker Patrick Queen or Alabama corner Trevon Diggs. Then it's getting busy in the second round to select the best receiver.
Any combination of Blacklock, Queen or Diggs at 30 and a second-round receiver (Reagor, Aiyuk, Higgins or Claypool) would be considered a dynamite draft.
Next week, just days before the April 23-25 draft, I'll narrow it down while also taking a look at "value picks" in the middle rounds.