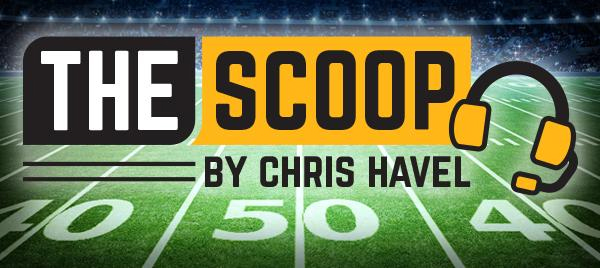 By Chris Havel

Special to Event USA
Gutekunst goes QB, RB, TE and multiple O-linemen to upgrade LaFleur's attack
GREEN BAY, Wis. – Based on fan reaction to the Packers' 2020 NFL draft you might think head coach Matt LaFleur's preferred way to play is "3 yards and a cloud of dust."
Or that GM Brian Gutekunst's draft strategy basically amounted to "three picks and a cloud of disgust."
The Packers' draft certainly triggered an avalanche of questions and an onslaught of second-guessing.
This year's draft brought more than most.
Why trade up in the first round for a quarterback? Why pass on receivers in a draft replete with them? Why ignore a defense that was run off the field by San Francisco in the NFC Championship game?
The reason should be clear enough by now.
These aren't Mike McCarthy's Packers anymore.
LaFleur's offense is predicated on using the run to set up the pass, not the other way around. It has been his stated philosophy since Day One. Perhaps fans weren't listening, or only hearing what they wanted to.
LaFleur intends to run the football.
It's why the Packers drafted Boston College's A.J. Dillon in the second round. Dillon is a six-foot, 247-pound beast that ran a 4.53 40-yard dash and posted an impressive 41-inch vertical (best among running backs).
It's also why they drafted tight end/H-back Josiah Deguara.
The third-round pick out of Cincinnati is a powerfully built 6-foot-2, 242-pound athlete who is used to lining up all over in the offense.
When I see A.J. Dillon, I think of Derrick Henry.
When I see Josiah Deguara, I think of Delanie Walker.
When I see all of the offensive linemen the Packers drafted, I think of replenishing a position that had been neglected far too long.
While this isn't what some fans and media wanted or expected to see, it's all in keeping with LaFleur's plan.
When a first-year coach leads his team to a 14-4 record and gets it one win away from the Super Bowl, you'd think he'd get some slack.
Instead, LaFleur is getting grief. It goes with the territory.
The important thing is Gutekunst and LaFleur are executing a plan.
Disgruntled fans should give it a chance.
"I think as we've gone through a full season we have a much better idea of who we are, of what we do well, and now it's on us to put that plan in place," LaFleur said after the draft. "If I look back at our Day 1 install from last season to our Day 1 install that is approaching this offseason, it's night and day different. We have a better identity of who we are."
None of this should be as surprising as the negative reaction to it.
"I think Matt certainly wants to the run the ball," Gutekunst said after Day 2 of the draft. "I think he's talked to (the media) repeatedly about how much he'd like to run the ball and have the pass work off of that."
What's the better scenario: Rodgers dropping back to pass and being hit on practically every down … or Rodgers relying on play-action to loft tight spirals to wide-open receivers?
"The best teams pass when they want to, not because they have to," former Packers offensive coordinator Sherman Lewis would say.
It's a cliché because it is true.
The Packers were the NFL's most pass-happy outfit in recent years. They led the league in drop-back percentage from 2013-2018. They tried to replicate their high-powered 2011 offense year after year.
They failed to do so.
The problem was they didn't have the weapons to pull it off. And when they did have the weapons – see Aaron Jones – McCarthy had no clue how to incorporate him into the attack.
The Packers didn't have the defense to back it up, either.
That dreadful combination of sandlot offense and slipshod defense proved the catalyst for a slow, steady decline. And that was with the great Aaron Rodgers at quarterback.
Gutekunst and LaFleur aren't forcing Rodgers out the door. They're implementing an attack that he can flourish in while not having to be the do-everything quarterback fans are accustomed to seeing.
It is what's best for the team. It's what's best for Rodgers.
Early on, LaFleur said he intended to take pressure off the quarterback by successfully running the football. That hasn't changed.
"Matt really wants to tie everything to the run game and off the run game, and these guys will help us do that," Gutekunst said.
Some fans and media don't see it that way.
It's their prerogative.
What matters most is how quickly the rookies can develop in the system. Dillon, Deguara and the rest were drafted because their skills are best-suited for LaFleur's preferred way to play.
While Rodgers' career is winding down, the Packers' new regime is still in its infancy.
Imagine the Packers trading up four spots to select Utah State quarterback Jordan Love in the first round after a losing season.
Rodgers' fans would be irate.
Instead, they gripe and grouse about Gutekunst and LaFleur somehow disrespecting their quarterback by not getting him adequate weaponry.
What about Gutekunst's and LaFleur's need to get the right kind of weaponry to do the job? After all, it's their team to build, and it doesn't mean they don't expect to win in the process.
Gutekunst said the drafted unfolded in such a way that they couldn't justify selecting a receiver over another position at any point.
"I think it's a little bit the way everything kind of fell early in the draft," Gutekunst said of the receiver board. "Just didn't work out that we weren't able to select some of the guys that we had rated really highly. And once we got to the middle and toward the end of the draft, I just didn't think there was great opportunity to add a player that was going to make an impact on our roster this year."
That's right. Gutekunst said he wanted players who could make an impact this year.
That doesn't sound like a GM who is mailing it in.
Trading up to draft Love was a bold but necessary move. If Gutekunst and LaFleur believe he can be the Packers' quarterback for the next decade after Rodgers departs they were obliged to draft him.
The opportunity to get a special player at the most important position doesn't come along very often. When it does a team should pounce. New England's Bill Belichick desperately needed a quarterback, but he said the draft didn't allow it to happen.
"The plan wasn't to not draft a quarterback," Belichick said.
He wouldn't reach, or sell the farm, so he sat tight. The short-term pain is that the Patriots have to live with Jarrett Stidham and Brian Hoyer at quarterback while their search continues.
It's like the Packers and their search for a receiver. Gutekunst wanted to draft a player LaFleur could line up opposite Davante Adams, but he didn't see that player on the board when the Packers were on the clock.
What he did see was the Packers' quarterback of the future. He also saw an athletic, bruising running back who can catch the football with ease, and a tight end/H-back combo player who fits the offense nicely.
Dillon and Deguara aren't receivers, but they are weapons.