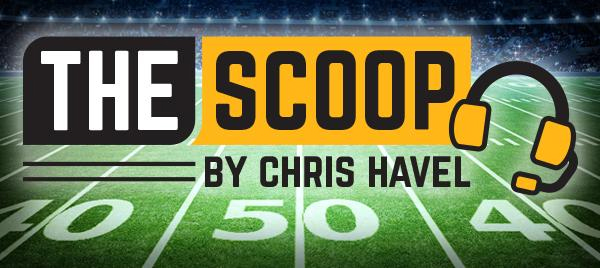 By Chris Havel

Special to Event USA
At Minnesota a serious test to open, but December looks like 4-0 to close

GREEN BAY, Wis. – The NFL schedule-makers did the Packers favors both early and late in the 2020 season.
What lies in between is tough sledding.
I have the Packers opening at 3-1 before falling to 3-2 with a loss at Tampa Bay. A loss at San Francisco drops them to 5-3, and a loss against Philadelphia puts them at 7-5 with four to play.
That's when Packers' coach Matt LaFleur, quarterback Aaron Rodgers and the rest run the table to finish with a flourish at 11-5. Feel free to post on your refrigerator for your records.
Here's a game-by-game breakdown:
** Sunday, Sept. 13, at Minnesota

The Vikings (10-6, 2nd NFC North) selected 15 players in the draft to offset key losses via trade and free agency. That's a solid plan, except this offseason is different.
The COVID-19 pandemic has forced the NFL's first "virtual" offseason. Justin Jefferson, the Vikings' first-round pick, may be an adequate replacement for Stefon Diggs, who was traded to Buffalo. The problem is the Vikings' coaches don't know when they'll get to work with their new players in a face-to-face setting. That loss of hands-on time together makes this an especially trying time for new coaches and players.
The Vikings' defense retained safety Anthony Harris, but lost defensive end Everson Griffen, defensive tackle Linval Joseph, cornerbacks Mackensie Alexander, Xavier Rhodes and Trae Waynes, and safeties Jayron Kearse and Andrew Sendejo.
That's a lot of defense to let walk out of the locker room.
While rookie corners Jeff Gladney and Cameron Dantzler are talented, and could grow in solid NFL bookends, they are still rookies.
Aaron Rodgers will eat the Vikings' secondary alive.
Packers 34, Vikings 23
** Sunday, Sept. 20, Detroit

The Lions broke the bank on offensive tackle Halapoulivaati Vaitai (five years, $50 million) and added veteran free agent linebacker Jamie Collins and cornerback Desmond Trufant.
Then they drafted Ohio State cornerback Jeff Okudah to replace Darius Slay, Notre Dame edge Julian Okwara to replace Devon Kennard, and Georgia running back D'Andre Swift to give the running attack legs.
Again, the Lions are counting on rookies to play major roles.
That's risky business at best.
Packers 28, Lions 10
** Sunday, Sept. 27, at New Orleans

The Saints retained Drew Brees and Taysom Hill to go with Alvin Kamara, Michael Thomas and the rest of that terrific offense.
While Teddy Bridgewater is trying to resurrect the Panthers, the Brees/Hill/Jameis Winston trio will keep it interesting in New Orleans.
The Saints drafted Michigan center Cesar Ruiz to anchor the line and Wisconsin edge rusher Zach Baun to get after the quarterback.
Look for the Packers to push the Saints to the limit, but it's always difficult to win down on the bayou.
Saints 31, Packers 27
** Monday, Oct. 5, Atlanta

The Falcons added running back Todd Gurley and tight end Hayden Hurst to give Matt Ryan some weapons. He'll need them because he's going to have to outscore opponents to win.
Adrian Clayborn, Vic Beasley and Desmond Trufant are all gone from a defense that had its ups and downs last year.
Packers 30, Falcons 13
Week 5 – BYE
** Sunday, Oct. 18, at Tampa Bay
The Buccaneers added Tom Brady and Rob Gronkowski while re-signing Shaq Barrett, Jason Pierre-Paul and Ndamukong Suh to sustain one of the NFL's more underrated defenses.
The NFL God's know this game will be hyped as "Rodgers vs. Brady" and I suspect it will live up to that billing.
Patriots – oops – Bucs 28, Packers 24
** Sunday, Oct. 25, at Houston
The Texans' Deshaun Watson is one of the NFL's most electrifying quarterbacks. He lost the great DeAndre Hopkins, but added Randall Cobb and Brandin Cooks to the WR corps.
The Texans overpaid for running back David Johnson, and I can't see Houston's defense being able to dominate like it has in the past.
Packers 34, Texans 20
** Sunday, Nov. 1, Minnesota
It was so much fun in Week 1, why not more of the same in Week 8?
Kirk Cousins remains the Vikings' greatest asset and liability. Minnesota has the look of a 10-6 team, which puts them in position to qualify as a wild-card team in the playoffs.
Meantime, the Packers will own them, home and away.
Packers 24, Vikings 23
** Thursday, Nov. 5, at San Francisco
This is what I meant by the Packers having a difficult middle stretch. The NFL has the Packers host NFC North rival Minnesota on Sunday, then jet off to the West Coast to face the 49ers on Thursday night.
That's a tall order for any team, especially one that lost twice at Levi's Stadium last season. The 49ers retained Arik Armstead and Jimmie Ward to sustain the defense. DeForest Buckner was a loss along the defensive line, though the 49ers did draft Javon Kinlaw to fill that role. They also lost receiver Emmanuel Sanders, but they drafted Brandon Aiyuk to fill that role. It should be a great game and may decide which team has home-field advantage throughout the playoffs.
49ers 31, Packers 24
** Sunday, Nov. 15, Jacksonville
The Jaguars are going with Gardner Minshew at quarterback now that Nick Foles has departed for Chicago. Tyler Eifert will give Minshew a reliable tight end, and Yannick Ngakoue is one of the game's top edge rushers. Ultimately, though, Jacksonville can't keep up with the Packers.
Packers 37, Jaguars 9
** Sunday, Nov. 22, at Indianapolis
Philip Rivers is going to be running the Colts' show.
He'll have rookies Michael Pittman, Jr., to throw to and Jonathan Taylor to hand off to. It'll be interesting to see how good Taylor, the ex-Badgers' ball carrier, will be in the NFL.
For what it's worth, I think Taylor will be sensational. He might be good enough to get the Colts past the Packers, in fact.
Colts 24, Packers 23
** Sunday night, Nov. 29, Chicago
This is the first of four home games after Thanksgiving for Green Bay. It will be an interesting stretch in that Packers head coach Matt LaFleur intends to run the football, and this type of weather is made for that.
Packers 21, Bears 15
** Sunday, Dec. 6, Philadelphia
The Eagles have Super Bowl aspirations. They also were the only team to defeat Green Bay at Lambeau Field last season.
Can Philadelphia make it two straight in back-to-back seasons?
It's possible. The Eagles drafted receiver Jalen Reagor in the first round to bolster an injured, underperforming receiver crew.
This could be a preview of the NFC's first round of the playoffs.
Eagles 24, Packers 20
** Sunday, Dec. 13, at Detroit
The Packers added running back A.J. Dillon and H-back/tight end Josiah Deguara to shore up their offense.
The Lions added ex-Packers receiver Geronimo Allison.
I'll take the Packers to sweep the Lions.
Packers 21, Lions 10
** Saturday, Dec. 19, or Sunday, Dec. 20, Carolina
Some Packers fans wanted to see Robby Anderson in a Green Bay uniform. They'll get to see him in Green Bay's stadium, at least, as he and the Panthers will be at Lambeau Field in late-December.
Bridgewater is the signal caller in Carolina now. The ex-Vikings QB is familiar with Green Bay, but between the cold weather and the Packers' pass rush I think it'll be a long afternoon for him.
Packers 30, Panthers 12
** Sunday night, Dec. 27, Tennessee
The Titans retained Derrick Henry and added edge rusher Vic Beasley in the offseason. They also paid a lot of money to Ryan Tannehill (four years, $118 million) to replace Marcus Mariota, now with the Raiders.
Titans head coach Mike Vrabel is a rising star. It will be interesting to see Vrabel and his protégé – Matt LaFleur – battle head-to-head.
Davante Adams, Aaron Jones and Rodgers are better than the Titans' offensive weapons. It's that simple.
Packers 30, Titans 21
** Sunday, Jan. 3, Chicago
The Bears' defense added Robert Quinn in the offseason. The pass rusher has a nasty streak longer than Michigan Avenue. Quinn and Khalil Mack (remember him?) form a dynamic duo.
This will be a test to see if the Packers adequately replaced Bryan Bulaga with Rick Wagner.
Packers 23, Bears 13
FINAL RECORD: 11-5, NFC North champions