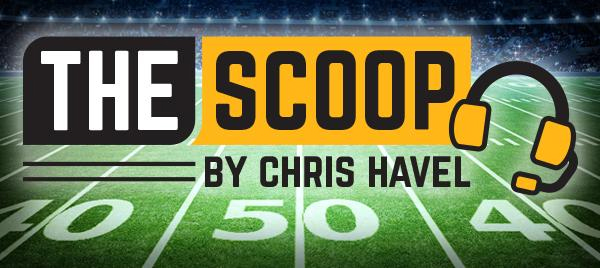 By Chris Havel

Special to Event USA
Winning was HOF GM Wolf's business, and Wolf was all business in the 1990s
GREEN BAY, Wis. – What with the COVID-19 pandemic, George Floyd's murder and a rather reflective mood permeating our nation, I thought it might be a good time to look back at my time in Green Bay.
I arrived in August of 1991 as the Press-Gazette's Packers beat writer. Since then, so many people have had a great impact on my career, which also includes shaping my thoughts on football and life.
Last week, I discussed five Packers who don't have a bust in Canton, but whom I regard as Hall of Famers nonetheless.
This week, I would like to discuss five men who are enshrined in the Pro Football Hall of Fame, and who reached their pinnacle in Green Bay.
** Ron Wolf, Packers' general manager (1991-2001)
Wolf is one of the most intelligent, intimidating personalities I have dealt with as a sportswriter.
He was hired by the Packers to replace Tom Braatz in November, 1991, just four months after I was hired by the Press-Gazette. During the course of the next nine years, I interviewed Wolf hundreds of times, yet it almost always felt like he was interviewing (interrogating) me. I'm pretty sure he gleaned as much, or more, info than I did from those talks.
Once, I criticized the Packers' hierarchy in print for not including the Super Bowl XXXI free agents as part of the Packers' visit to the White House. A few weeks later, I phoned Wolf to inquire about the team's interest in a particular free agent linebacker.
Wolf paused, and before answering the question, said, "When you wrote that the Packers should've invited all players from the 1996 Super Bowl team, who were you referring to?"
I had heard he was displeased with my column, so I wasn't caught totally unaware, and I replied, "Well, that would be you."
Wolf replied: "Huh … (eternally long pause) … hey, I'll get back to you on that linebacker."
Of course, he didn't get back to me. In fact, he failed to return any of my interview requests for several weeks. Only later did he admit it was probably a mistake not to include the entire roster.
Wolf was all business.
About five years after he retired in Green Bay, I asked if he would join me for a book signing in town. I was promoting my book, "Year of Champions: The 1996 Green Bay Packers." It was Wolf's greatest team.
He kindly accepted and we had a delightful day.
In between autograph seekers, Wolf would pour over the pages fondly. Clearly, he took great pride in those players and that team. After the signing, Wolf shook my hand, smiled and said, "Thanks."
Then he left to watch the Packers' training camp practice across the street, clutching a copy of the book in one hand while shaking fans' hands with the other.
He didn't seem nearly so intimidating after that.
** Bart Starr

It isn't often that a childhood idol surpasses expectations if you're fortunate enough to meet them, but that's how it was with Bart Starr.
I was 10 when Starr retired in 1972.
All I'd ever heard about growing up was that Starr was the NFL's best quarterback starring on the league's greatest team. But when I was old enough to understand football a bit, I wondered why all the fuss?
I didn't realize that Starr's arm was shot, and at 38 he was only a shell of his legendary self. He also went on to coach the Packers, but the best they could do was 5-3-1 in a strike-shortened season.
Only later did I come to know – mostly through Johnnie Gray – that Starr actually had become an exceptional coach by the time he was fired.
Years later, after being fortunate enough to interview Starr numerous times, I began to understand his humility, sincerity, generosity and love of Coach Lombardi and his teammates.
Once, I called to ask if Starr would write the foreword for a book on Brett Favre. His secretary took the call and asked several questions. After a minute, I heard Bart say to his secretary, "Hello Chris, this is Bart Starr." He had been screening the call, and only after he was satisfied with the project did he intervene."
We spoke for about 45 minutes. Afterward, he said, "I think you've got a great understanding of how I feel. Go ahead and write it up."
So I did. The next day, after emailing the manuscript to Starr for approval, he returned the corrected copy with only one minor change. Bart Starr had gone from being my idol to my editor in a single day.
I was thrilled that he approved of the foreword.
Through my years at the Press-Gazette I would occasionally receive "thank you" notes. Starr sent three such notes – all handwritten and complimentary – during that time. I treasure them to this day.
** Brett Favre
There are too many Favre stories to recount here.
One memorable event involved the devastation following Hurricane Katrina's direct hit on Mississippi in late August of 2005. Katrina, a deadly Cat 5 storm, killed nearly 2,000 people and left a path of destruction in its wake.
The storm hit on a Monday. The Packers had a preseason game that Thursday. Favre flew to Hattiesburg immediately after the game to assess the damage. After filing my game column, I climbed into a cargo van filled to the brim with supplies donated by Green Bay businesses to assist hurricane ravaged Mississippians. Four friends and I drove through the night – two in the cargo van, three in an RV – to Hattiesburg. We were greeted as the Favres' home by family and friends who had fled the coast.
The supplies, including powdered milk, diapers, bread and fuel oil, were much-needed and well-received. We were there for two days, during which I wrote several columns while my friends and a Mississippi state trooper escorted Deanna to the coast to provide assistance.
The enduring message: Whether you're an NFL superstar or a sportswriter, we're all in this together. The gratitude Brett and Deanna showed is one of my best memories.
** Willie Wood

It was difficult to fathom that the slight man seated next to me – the Hall of Fame safety Willie Wood – once butted helmets with Jim Brown, Gale Sayers and the rest.
Wood was in Green Bay for the Packers' Hall of Fame weekend. He was in his mid-60s at the time, but his hips, knees and back suggested they belonged to a much older man.
Nevertheless, Wood never complained despite wincing occasionally from the pain while trying to get comfortable on the bleachers at St. Norbert College, where we met to do an interview.
Wood was kind, honest and self-deprecating.
He had a soft, melodic voice that was exceedingly pleasant. He also loved to laugh, even if it was at his own expense. He told of playing in a charity golf outing, hitting his ball in a bunker, and falling flat on his back when his hips and knees gave out.
"I'm lying in the sand looking like as helpless as a turtle," he said. "I'm thinking how these people came to see a Hall of Famer and instead they get an old man that can't climb out of a sand trap."
Wood passed away in February.
To go from being the Pac 10's first black quarterback to a Pro Football Hall of Fame safety was something special.
Then again, so was Wood.
** Reggie White
When White died unexpectedly of sleep apnea complications on Dec. 26, 2004, Green Bay and the entire football world mourned.
It was a Sunday morning and I heard the radio report as I was pulling into the parking lot at Elizabeth Ann Seton Catholic Church. I missed the first 15 minutes of mass hoping and praying that I'd heard wrong.
When news of White's passing recycled I sat in disbelief. Then, I went inside and got word to the priest, who closed with a group prayer for White as the tears quickly outnumbered the parishioners 1,000 to 1.
Covering his funeral in Charlotte, N.C., might've been the most difficult assignment I'd ever been given. The whole thing was surreal, from the open casket visitation to the funeral.
White looked so peaceful – a stark contrast to the grown men and women who wept during the viewing. Empty boxes of tissues were piled next to wastebaskets at either end of the casket.
Outside, I spotted Ed West, the Packers' former tight end, so I politely asked if he'd be willing to talk. West managed a smile and kindly agreed. He got through two sentences before he began crying. He apologized, though there was no need, and hugged me like a brother.
Then, he said he needed to go back inside but promised to get through the interview after the visitation ended.
West, tough as nails on the outside, was a gentle soul at heart. He squeezed my shoulder and went back inside. We both knew the interview was over.
There was nothing more to be said.
White's greatness on the field, and especially the love he felt for his fellow man, brought people together even after his death.
People like Ed West and me.
Someone asked me the other day what White would've thought about today's racial and social injustice. I replied, "You don't have to wonder. He would fight it with all his considerable might. Mostly, though, the preacher in him would call for healing, unification and love."
It's who Reggie White was.