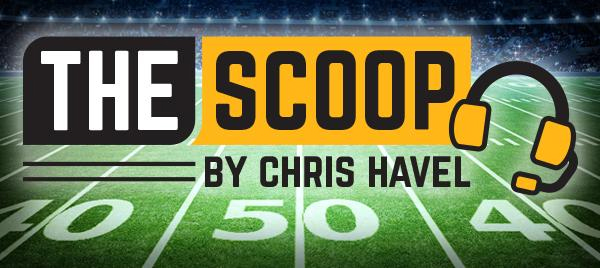 By Chris Havel

Special to Event USA
Packers tip-toeing through COVID-19 minefield in pursuit of a 2020 season
GREEN BAY, Wis. – The NFL's offseason team activities were reduced to Zoom meetings. The Cowboys-Steelers Hall of Fame Game was cancelled. Two weeks of the NFL preseason have been erased.
It's no wonder the NFL Draft was such a hit.
It stands as the first, and pretty much only, league event that was largely unaffected by the COVID-19 pandemic.
That's about to change.
As the NFL offseason hurtles deeper into the uncharted, the league's attempts to keep it "business as usual" are admirable if implausible. Trying to maintain a sense of normalcy is the quickest way to its return, although for now, at least, it is clear COVID-19 will have the final say.
The Packers are squarely in the middle of it.
The team's "virtual" shareholder's meeting is set for Thursday, July 23.
Rookies report in 15 days. Veterans arrive the following week.
They won't be staying at St. Norbert College's dormitories though. The 63-year partnership between SNC and the Packers – with SNC providing food and lodging during training camp – has been postponed a year.
League-wide safety protocols mandate it.
Packers' president Mark Murphy raised almost as many questions as he answered in his monthly "Murphy Takes Five" column.
Murphy wrote, in part, about the logistical challenges.
"We've made decisions along the way," he wrote, "but the major ones we've been able to put off until we have information. With so much uncertainty, it has made sense that we have not made decisions until we absolutely have to."
It pained the Packers to part with SNC, if only for an offseason, which is why they made a donation to offset the school's lost revenue.
"With training camps set to start in less than a month and with COVID-19 showing no signs of slowing down, the Packers will have to make several difficult decisions in the coming weeks," Murphy continued.
"Since the pandemic arrived earlier this year, NFL teams have had the benefit of time."
That benefit is set to expire.
The "difficult decisions" Murphy referred to include stadium seating.
The Packers' season-ticket holders received a letter offering them an opportunity to "opt in" or "opt out" for attending games this season.
I'm curious to know the final numbers.
Sadly, my best guess is that more will opt out, given COVID-19's recent surge in Wisconsin. My next-best guess is that other fans will be happy to fill whatever seats remain in compliance with social distancing orders.
Beyond that, Murphy and the Packers must decide:
** The fate of Family Night. Do they allow fans into the stadium? Will it cause any undue risk to the fans? Will it create unnecessary risk for the players, coaches and team personnel?
If there is hope for fans in the stands during the season, it seems Family Night provides the basis for a meaningful dry run.
** The greatest questions are A) whether to allow fans into Lambeau Field for games and B) how many fans is the safest number?
That doesn't include training camp, which creates questions about whether spectators should be allowed to watch practices. Other decisions like whether players should ride kids' bicycles to practice or sign autographs before and after seem like an obvious "not this summer."
Murphy admitted plans are still in the works.
"There are many factors to take into consideration in making these decisions, including the economic impact of our games on the local community," he wrote. "But most important will be the health and safety of our players, coaches and fans."
So how should the Packers proceed?
The only way they can: With caution.
Meantime, fans must rely on the Packers' sincere interest in applying "best practices" to all things pandemic related.
Patience is going to be critical.
As badly as fans want to see the Packers on the field, they're going to have to be understanding given the circumstances.
The fact that training camp is set to open by month's end is exciting.
It also is scary because of the ancillary unknowns.
My best advice is for Packers' fans to take a deep breath – with mask in place – and prepare for what figures to be a wild, choppy ride.
Stay tuned.