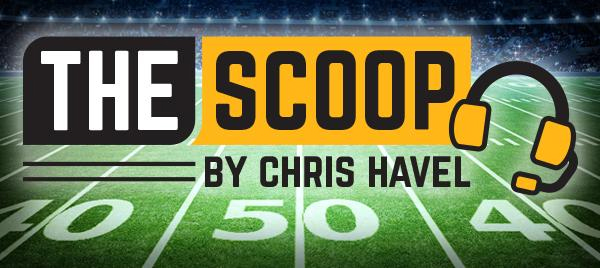 By Chris Havel

Special to Event USA
Preston, Za'Darius dominant from Day 1; QB depth behind Rodgers non-existent
GREEN BAY, Wis. – There are times it pays to remember where you've been in order to know where you're going.
So it is with the Green Bay Packers from last year to this.
A look back at my Event USA columns written in August, 2019, was revealing in several ways. Here are a few storylines, excerpts and reasons they matter going into this season:
** Headline: LaFleur soaks it all in during first Family Night
Excerpt from 2019: The Packers drew 56,133 fans to Family Night, much to the amazement of the team's first-year coach and wide-eyed rookies, first-year players and newcomers.
LaFleur was fairly impressed.
"Oh, man, what an environment," LaFleur said. "I've never been a part of anything like that in my life. To see – I don't know what the final number was, but when you can almost fill up that stadium on a practice, that's pretty unreal. (It) just shows the passion and loyalty this fan base has, which is awesome."
Why it matters: The trust and cache LaFleur amassed during what amounted to a 14-4 first-year vote of confidence is invaluable now. Given the uncertainty surrounding the pandemic, it is paramount that a team has a leader who engenders trust by word and deed.
LaFleur has been consistent on that.
The Packers weren't the NFL's healthiest team purely by chance. If that were the case teams wouldn't waste the resources on it. Rather, LaFleur proved to pay more than lip service to the importance of knowing when to push his players and when to back off.
It is one reason it feels as if LaFleur has been the Packers' head coach for years, rather than months.
One reason is that he doesn't act like a first-year coach. By that, I mean he doesn't give fans or media undue reason to be reminded that this is indeed his first head coaching job.
** Headline: Packers' offense shaky while Rodgers sits out
Excerpt from 2019: "While I can all but guarantee that the Packers' defense will be much-improved this season, I can't say it is strong enough to carry the team if Rodgers isn't available.
In fact, it's the offense that is more worrisome at this point.
Backup quarterbacks DeShone Kizer and Tim Boyle took turns directing a rag-tag practice Sunday while Rodgers sat out.
Frankly, it resembled the Packers' offense in a 26-13 preseason loss at Baltimore last Thursday. On Sunday, J'Mon Moore dropped passes, Dexter Williams blew an assignment and the offense generally looked shaky at best.
Sadly, it is becoming business as usual, and it has to stop."
Why it matters: The Packers' notion to trade up for quarterback Jordan Love wasn't hatched exclusively on draft night. Perhaps some fans had forgotten how inept the offense looked – if-ever-so-briefly – without its future Hall of Fame quarterback on the field in the preseason.
Trust me, the Packers' GM and head coach hadn't forgotten.
** Headline: Defensive coordinator Mike Pettine has impressive arsenal to draw upon
Excerpt from 2019: "In the team's designated third-down period Sunday, the Packers' defense lined up with Preston Smith, Za'Darius Smith, Kenny Clark and Rashan Gary up front. Aside from Clark, the nose tackle, that represents an entirely new pass rush group.
Thus far, the Smiths and Gary haven't disappointed.
Preston Smith has shown big-picture awareness and already has laid claim to being a defensive leader.
Za'Darius Smith has been impressive in the one-on-one pass rush drills, especially with a couple of wins over David Bakhtiari. He also has been accountable and available.
"That's the one good thing about being here with the other guys, the outside linebacker room, we do a great job of moving," Za'Darius Smith said. "We can go anywhere in a front. We can be over a center, we can be over a guard … I'm just so happy to be here and be part of something that's going to be special."
In terms of the Smiths, you're getting what you paid for.
Why it matters: The Smiths' presence was felt immediately. Talk about nailing it on the head in terms of great value in free agency. Almost 1,800 snaps and 25 ½ sacks later, the Packers' defense improved mightily while being led by the Smiths.
With them, and perhaps Rashan Gary to whatever extent, Pettine's crew actually might be better this year than last. Some say, "There's no way the Smiths can have consecutive career years."
I say, "Why not?"
It was the first year they were teammates. They will be playing under the same defensive coordinator and position coaches in the same scheme. They also should get some help from Gary this season.
What's not to like? Imagine being the Minnesota Vikings' offense as it prepares for the Packers' defense – led by the Smiths – in the opener. They haven't forgotten the seven first-down beat-down the Packers' defense administered last December. Now the Vikings have to figure out where Za'Darius will line up and how much they need to pay attention to Gary in his second season. That's not to mention dealing with Adrian Amos and Darnell Savage Jr. in the secondary.
It's a lot for the Vikings to chew on, or perhaps choke on.
** Headline: Defense gets boost with Savage's arrival
Excerpt from 2019: Safety Darnell Savage, Jr., brought energy to the defense after missing eight practices following dental surgery.
Savage, who had his wisdom teeth pulled, returned and immediately was paired with veteran Adrian Amos at safety.
Savage's speed and ability to cover ground were apparent at the outset and will be an instant upgrade from his backup, Raven Greene. With Savage's return, Greene will be used as the dime inside backer.
Why it matters: Savage and Amos are among the NFL's top safety tandems. Savage has burgeoning all-pro talent while Amos is among the Packers' most dependable players.
While Pettine shuffles the front seven to include Christian Kirksey and expanded roles for Kingsley Keke and Raven Greene, the defense's back-end returns intact.
** Headline: MVS, Moore struggle early in camp
** Excerpt from 2019: "With Aaron Jones and Jamaal Williams absent, the Packers looked to hone the passing game.
Marquez Valdes-Scantling struggled a bit, and J'Mon Moore continued to drop passes, but everyone else from top to bottom played well. Davante Adams, Geronimo Allison (who looks smooth in his return from a serious groin injury), Jake Kumerow and Trevor Davis all showed up."
Why it matters: It's a reminder that the most competent of coaching staffs can make mistakes. And that it's not easy for a team to improve in every area in a single offseason.
The Packers felt good enough about their receiving corps to trade Trevor Davis last August. While Davis isn't an all-pro, he is better than MVS, Moore and Allison.
With Devin Funchess' opt-out due to COVID-19, Allison's departure via free agency, Davis' trade and Moore's release, the Packers are back to Davante Adams, a still shaky MVS, the return of Equanimeous St. Brown, the position switch of ex-RB Tyler Ervin and Kumerow.
When I look at the receiving corps behind Adams, I see plenty of potential, but no less uncertainty as I saw last August. In terms of improvement on offense, the backs and tight ends better be really good, because the receivers remain a work in progress.