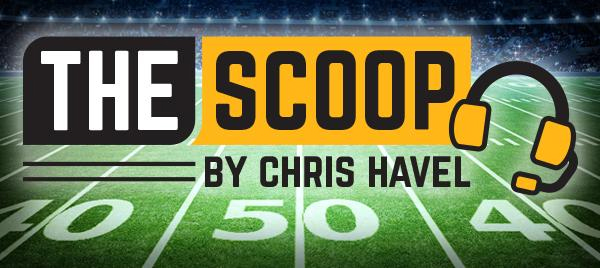 By Chris Havel

Special to Event USA
Green Bay's defense stifles Atlanta offense while Rodgers-to-Tonyan racks up 3 TDs
GREEN BAY, Wis. – Necessity is indeed the mother of invention.
On Monday night, Packers' head coach Matt LaFleur relied on various personnel groupings featuring six offensive linemen, three tight ends and three running backs to offset injuries to the receiving corps.
The result was a mosaic of motion, misdirection and mismatches that helped the unbeaten Packers roll to a 30-16 victory over winless Atlanta on Monday Night Football at Lambeau Field.
"We were down a couple of guys, but we had guys step up," LaFleur said. "That's what we want to see, because no matter who's out there the standards never change. We expect to do well and we expect to win.
"It was a good team win."
Aaron Rodgers directed the diverse offensive personnel to great success.
Rodgers was 27 of 33 for 327 yards, four touchdowns, zero interceptions and a 147.5 passer rating. He was sacked just once and completed a perfect 19 passes on 19 targets to his tight end and running backs.
Aaron Jones rushed 15 times for 71 yards (4.7 per carry) and he caught another five passes for 40 yards and a touchdown. Jamaal Williams, often on the field with Jones, caught eight passes for 95 yards.
Marquez Valdes-Scantling caught four passes for 45 yards while being used mostly as a decoy. No other receiver had a reception on a night when Davante Adams (hamstring), Allen Lazard (core) and tight end Marcedes Lewis (ankle) were all sidelined going into the game.
The Packers have the upcoming bye week to heal up.
"I like where we're at," Rodgers said. "I really do. I like the diversity in our approach. Again (coach) Matt (LaFleur) was really good kind of mixing it up with the calls. Obviously we had to do some different things without Davante, without Allen and without Marcedes, but I thought we had a nice plan and we executed really well."
The Packers' offense hasn't committed a turnover through four games. Green Bay was penalized just three times for 30 yards on Monday night.
Green Bay gained 403 yards on 60 plays. The Packers are the first team in NFL history to score 150-plus points with zero turnovers through four games. They are the only remaining team without a turnover this season.
For all of the injuries, the Packers' offense has functioned smoothly, and Rodgers looks as comfortable as he has at any point in his career.
"He's one of those guys that are self-motivated," LaFleur said of Rodgers. "It doesn't take anything other than he wants to be the best. He usually is the best every Sunday when we're out there. We're fortunate to have him as our leader. He's the one driving the ship out there."
Every captain needs a crew.
Rodgers had all available hands on deck Monday night, and it was more than enough to take down the Falcons.
Robert Tonyan led the way with a career-high six catches for 98 yards and three touchdowns. He became the third tight end in Packers' history to post a three-TD game, joining Keith Jackson and Jermichael Finley.
Tonyan, who has scored in three straight games, has five touchdown catches to tie Tampa Bay's Mike Evans for the league lead.
"I just had to continue to do what I've been doing, just keep playing well and stick to the game plan," Tonyan said. "Like I've said before, when plays come to me, I've got to make them. Aaron (Rodgers) had a nice little look in his eye tonight, so I just was trying to roll with that."
Indeed, Tonyan rolled with it literally and physically.
When Falcons' safety Jamal Carter tackled Tonyan to keep him from getting open, Tonyan rolled forward, sprang to his feet and hauled in a 21-yard touchdown pass from Rodgers.
That put the Packers up 27-9 late in the third quarter.
The Falcons mustered a meaningless touchdown the rest of the way.
That's because Green Bay (4-0) also got a strong night from its defense.
The Packers limited Atlanta's Matt Ryan to just 249 yards passing and zero touchdowns. The Falcons' offensive line came into the game with the NFL's sixth-best sacks allowed percentage.
By the time Za'Darius Smith and Green Bay's defense was finished, Ryan was sacked four times and the Falcons (0-4) went home winless and wondering what hit them.
Za'Darius Smith said LaFleur challenged him to be his dominant best earlier in the week. The pass rusher responded in a big way. Smith racked up eight tackles (six solo), three sacks, four tackles for loss and five quarterback hits.
It earned Za'Darius Smith a game ball.
"(LaFleur) called the stats – I forgot the stats but it was something crazy," he said. "I'm talking about on a video game. I didn't even know I had done that much but, you know, it's big, man, to be able to get this (game ball) because he challenged me earlier this week to bring my all."
The Falcons' Todd Gurley II rushed 16 times for 57 yards (3.6 per carry) with two touchdowns. Atlanta's long run of the night was 13 yards.
Meantime, All-Pro receiver Julio Jones – perhaps pressed into duty because of the team's dire circumstances – caught four passes for 32 yards before exiting just before half after re-tweaking his hamstring.
Calvin Ridley was shut out on five targets. One of those incompletions came when Packers safety Adrian Amos swooped in to knock down a would-be touchdown catch in the fourth quarter.
"That was big," Za'Darius Smith said. "Double-A (Amos) is an impact player for us. He brought it in a clutch situation."
The Packers' defense limited the Falcons' high-powered offense despite being without All-Pro defensive tackle Kenny Clark and starting inside linebackers Christian Kirksey and Kamal Martin.
Raven Greene stepped up with eight tackles and a sack, while Ty Summers and Krys Barnes added seven tackles apiece.
Now, the Packers can gather themselves during the upcoming bye.
Adams and Clark should be back for Green Bay's Oct. 18 game at Tampa Bay. It will be billed as a matchup between Hall of Fame quarterbacks Tom Brady and Rodgers, but it's more than that.
It's a game featuring two of the early favorites in the NFC.
Will the Packers prevail?
Perhaps, but as LaFleur noted Monday night, winning is the expectation going into every game, and there's no reason to believe otherwise.