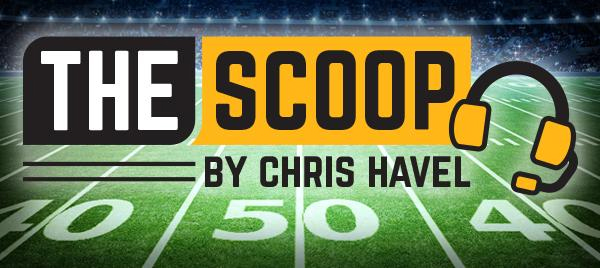 By Chris Havel

Special to Event USA
Davante Adams hauls in 13 catches for career-high 196 yards, two touchdown
GREEN BAY, Wis. – Aaron Rodgers called last week's loss an outlier.
Then he fired four touchdown passes to punctuate the point as the Packers trounced the Texans 35-20 Sunday at Houston's NRG Stadium.
"I said it was an anomaly, and obviously we wanted to back that up," Rodgers said of the four-TD loss at Tampa Bay. "That game is an outlier and I believe today was more in line with our first four weeks."
The Texans' offense was neutralized by a focused Packers' defense that pitched a first-half shutout and registered a sack from every level.
Green Bay's short-handed offense also came up big.
It's funny. When Davante Adams is out with an injury his teammates rally around him, and when Adams' teammates are out, he steps up.
Adams caught 13 passes (on 16 targets) for a career-high 196 yards, two touchdowns and seven third-down conversions. One of his greatest grabs came on third-and-9 at Green Bay's 23 late in the first quarter.
The Packers were up 7-0 on Malik Taylor's 1-yard touchdown catch.
Adams got a half-step on Texans cornerback Vernon Hargreaves up the left sideline. Rodgers threw an arching pass that Adams corralled by not betraying the football's arrival with his eyes, and then catching it while simultaneously hand-fighting Hargreaves.
It was a thing of beauty – a combination of talent and textbook in one.
"It was really the catch down the left sideline on third down that got us going, him and I together," Rodgers said. "(It was) just beautiful late hands by him. We had a couple other adjustments that were really good. He's such a talented player and gives you such a wide margin when you throw the ball to him. (He's) so steady."
Adams' 28-yard catch extended the drive. Rodgers finished it with a nifty 3-yard touchdown pass to Jace Sternberger to go up 14-0.
"I felt like we had a pretty good day making them pay," Rodgers said. "Because when you've got a one-on-one and Davante, it is kind of feast-or-famine. Today we made those plays count."
There for a moment in the first half it felt like Rodgers had more touchdown passes (three) than yards passing for touchdowns (seven). That changed when Rodgers found Adams for a 45-yard score early in the second half to go up 28-7.
Green Bay's defense held the Texans to back-to-back field goals before Jamaal Williams scored on a 1-yard touchdown run to make it 35-13. The Texans added an inconsequential late touchdown to cap the scoring.
Green Bay (5-1) bounced back despite being without All-Pro left tackle David Bakhtiari, explosive lead running back Aaron Jones and the clever, do-everything Tyler Ervin.
No matter.
Adams and the team's depth rose to the moment.
Strong contributions came from Jamaal Williams, who became the No. 1 back in Jones' absence, and Billy Turner (at left tackle) and Rick Wagner (at right tackle) to compensate for Bakhtiari.
Wagner was solid and Turner played perhaps his best game of the year.
Williams rushed 19 times for 77 yards (a 4.1 average) and a touchdown. He also caught four passes for another 37 yards.
The Packers' offensive line allowed only one sack – on Rodgers' first pass attempt – but it was nullified by penalty. Rodgers remained clean the rest of the way.
"I just think we're a resilient group," Packers' head coach Matt LaFleur said. "These guys rallied around each other and made plays when we needed them. We had a lot of guys just step up. They've been working hard. They've been working for those moments."
The Texans (1-6) really weren't as bad as their record. They were worse.
In fairness, a Houston offense led by quarterback Deshaun Watson is blessed with more talent than experience together. It also lacks the focus a LaFleur-led offense brings more often than not.
Still, Randall Cobb (eight catches for 95 yards), Brandin Cooks (7 for 60) and Will Fuller V (a touchdown) have enough talent and speed to give NFL defenses fits. Running back David Johnson (14 for 42) also is a legit threat, but a hustling Packers' defense held the Texans in check.
With Darnell Savage, Jr., Kevin King and Tyler Lancaster out with injuries, players such as Billy Winn, Vernon Smith and Henry Black all made plays when given the chance.
Adrian Amos racked up a clean sack of Watson, while Krys Barnes and Za'Darius Smith also got to the Houston quarterback. Raven Greene had eight tackles and two passes defended, while rookie Kamal Martin (six tackles, one for loss) looked really good in his first game as a pro.
The Packers' special teams had moments both good and bad.
Punter J.K. Scott flipped the field with a first-quarter bomb, but he also had a punt blocked when running back Dexter Williams missed a block. Jamaal Williams replaced him on the next punt.
Green Bay also failed to recover an onside kick.
These mistakes didn't hurt the Packers on Sunday, but they need to get cleaned up nonetheless.
Mostly, the Packers need to get healthy.
Imagine a defense with Kenny Clark, the Smiths, Martin, Barnes, King, Savage and Christian Kirksey on the field together.
Consider an offense with Adams, Jones and Williams along with a healthy Ervin and Allen Lazard.
Those are the kind of thoughts that get Packers' fans daydreaming about a serious playoff run, beginning with a second serious butt-kicking of the stumbling Vikings on Sunday at Lambeau Field.