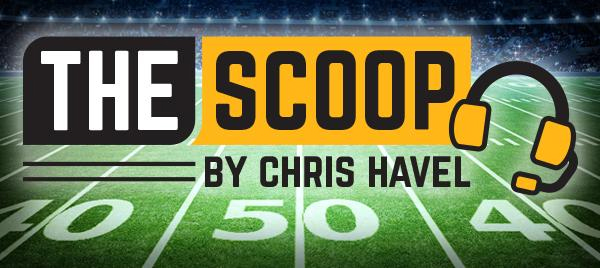 By Chris Havel

Special to Event USA
Green Bay's early lead evaporates as Colts rally, prevail in overtime, 34-31
GREEN BAY, Wis. – The Green Bay Packers brought the juice Sunday to Indianapolis' Lucas Oil Stadium.
They just didn't pack enough of it in a 34-31 overtime loss to the Colts.
The Packers (7-3) are the NFC's No. 3 seed – down two spots from last week – after a four-turnover day proved to be their undoing against the Colts (7-3) and the NFL's No. 1 defense.
"We knew what we were facing," Packers' coach Matt LaFleur said.
"We knew we were facing a really good football team that does as good a job as anybody that we've seen in terms of punching the ball out. And when you lose the turnover battle like that, it's usually going to end up in defeat."
Next up is Chicago (5-5) at Lambeau Field on Sunday Night Football.
A Packers' win would go a long way toward sewing up the NFC North. A loss and it's a one-game lead over the Bears with five games to play, including the Jan. 3 regular-season finale at Soldier Field.
The idea that the Bears could challenge the Packers for the NFC North title seemed doubtful before Sunday's kickoff and laughable at the half.
A re-energized Packers' team opened a two-touchdown lead over Indianapolis by intermission. They were in total command.
At one point Aaron Rodgers had as many touchdown passes (three) as incompletions. He was 7-of-7 on play-action passes. Davante Adams already had a touchdown catch in his fifth straight game.
Green Bay's defense even had the temerity to force two turnovers, and its offense promptly turned them into a pair of touchdowns.
Then the second half happened. And overtime.
The Colts outscored the Packers 20-3 in that span.
Indianapolis kicker Rodrigo Blankenship's 39-yard field goal in overtime completed the rally.
"It turned quickly," LaFleur said. "It was a tale of two halves. I thought in the first half, there was a lot of great, complementary football. The second half was the exact opposite and we got beat in every phase."
The Colts' Philip Rivers led his team to three second-half scores that were sandwiched around a pair of Packers' three-and-outs. In what seemed the blink of an eye it was 28-28 and game on.
Marquez Valdes-Scantling bore the brunt of the blame after his fumble on the opening drive of overtime set up the Colts' game-winning field goal. MVS said in a Twitter post that he had received death threats.
It's a sad commentary in a world where the threat of death is omnipresent with COVID-19. But instead of being thankful that there is a Packers' season at all, some choose to lash out in the harshest way.
Fortunately, MVS knows his team has his back, and that anyone who delivers a death threat isn't a Packers' fan. They're a bully or worse.
MVS's fumble was his first in 42 career games. Give him a break.
Colts' rookie Julian Blackmon split two would-be blockers and got a hand on the football just as MVS was gathering it in. DeForest Buckner recovered the football and it was all over but the kicking.
"I know he's really hurting right now," LaFleur said of MVS. "He made so many plays for us and not only in the pass game but in the run game, stuff that you guys probably don't even notice that we're not getting the yardage that we get if he's not blocking his ass off.
"So I can live with MVS. I've got more confidence in him now than probably ever. I think he continues to get better each and every day. Every time we go out there he's providing big plays."
MVS drew a 51-yard pass interference penalty just before half that led to Jamaal Williams' 4-yard touchdown catch. He also made a sensational 47-yard grab to set up the Packers' game-tying field goal to go to OT.
It isn't fair to single out MVS for his turnover.
Darrius Shepherd fumbled a kickoff return in the second half that set up Indianapolis' 43-yard field goal to give the Colts a 31-28 lead.
In addition, Rodgers and Corey Linsley fumbled a snap on second-and-2 at the Colts' 38 on the game's opening drive.
Linsley came into the game nursing a bad back, botched the exchange and exited with a bum ankle. Perhaps Linsley shouldn't have been on the field to begin with.
Shepherd looks like a high school kid amongst men returning kicks. He took several huge shots and it seemed inevitable he would fumble. The Packers missed Tyler Ervin, who was out with an injury.
Rodgers also threw a first-half interception to kill a promising drive.
He finished 27 of 38 for 311 yards, three touchdowns, the interception and a 110.7 passer rating.
The Colts outrushed the Packers 140-66 but it wasn't because Green Bay didn't have success. It was because they stopped trying to run it. Aaron Jones had 10 carries for 41 yards and Williams added 12 on five carries.
Adams hauled in seven catches for 106 yards and Tonyan had five catches for 44 yards and a touchdown.
Afterward, Rodgers said he was disappointed but not discouraged.
"Today actually gave me a lot of confidence in our guys," Rodgers said. "That might sound weird when we lost and we turned the ball over four times, but there was a different type of energy this week at practice. I thought it carried over to today.
"I felt like this was the first week all season where we practiced like a great team and not just a good team, so that was encouraging."
Here's what else would be encouraging: A victory over the Bears in front of a national TV audience.