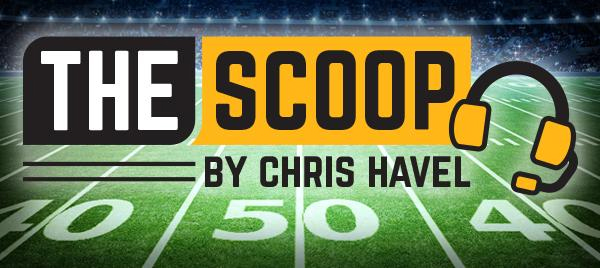 By Chris Havel

Special to Event USA
Green Bay clinches NFC North title with dominant 31-24 win vs. Lions
GREEN BAY, Wis. – Aaron Rodgers allowed himself a rare indulgence.
The quarterback savant sat quietly at his locker, a sweet smile of satisfaction creasing his lips while he relished the scene before him.
The Packers had just captured a second straight NFC North title and leapfrogged New Orleans for the conference's top seed with a 31-24 victory over the Lions Sunday at Ford Field.
Players passed around their championship hats and T-shirts that read, "Won Not Done," while reveling in the moment.
"I just kind of leaned back in my locker, just smiled and took it all in," Rodgers said. "With the music playing and the guys celebrating it was a special moment. You realize these are the times you're going to miss when it's all said and done. I'm happy for the opportunity to be part of this and I'm optimistic about what the future can hold with these guys."
The future is indeed exciting.
The prospect of playing for the NFC title at Lambeau Field – with a berth in Super Bowl LV at stake – is within the Packers' control.
The Vikings' loss at Tampa Bay, coupled with the Eagles' upset of New Orleans, presented an opportunity the Packers gratefully seized. If they win out they will be the NFC's No. 1 seed and receive the only bye.
Rodgers and the Packers have reached four NFC Championship games. Each has been on the road. Green Bay's win at Chicago in the 2010 NFC title game enabled them to reach Super Bowl XLV, where they defeated Pittsburgh to claim Rodgers' lone Super Bowl win.
"I think it's important for sure to get that extra week of rest," Rodgers said of the bye. "The big thing – we've played in four NFC title games – and all four have been on the road. To be able to have the whole thing come through Green Bay is something we've talked about and wanted and never had. That would definitely be in our favor with the weather."
What a long, strange pandemic-impacted journey it has been thus far, with three regular-season games and the post-season still ahead.
Packers head coach Matt LaFleur is taking nothing for granted.
"We're going to enjoy it for one night and then we're going to get back to work because there's a lot out in front of us," he said. "We know the work it took to get to this point, so we're going to take it one day at a time, one game at a time."
That is wise given the Packers' playoff disappointment last season.
A year ago, the hats and T-shirts read, "The North is not enough." Then, Green Bay defeated Seattle at home in the divisional round before getting smoked at San Francisco in the NFC Championship game.
Instead of "Won Not Done" it was more like "Won and Undone."
This season feels different.
Much of that is because Green Bay's offense is operating at a high level.
The Packers' 31-24 win at Detroit illustrates the point.
Rodgers was 26 of 33 for 290 yards with three touchdown passes for a 133.6 passer rating.
He wasn't sacked. In fact, he was barely inconvenienced.
Rodgers opened the scoring with a back-shoulder completion to Davante Adams, who did the rest by taking it 56 yards for a touchdown. That effectively canceled the Lions' opening-drive touchdown.
Adams' eighth-straight game with a touchdown catch moved him past the legendary Don Hutson in team annals. He finished with seven catches for 115 yards and the record-setting touchdown.
"He's so explosive," LaFleur said of Adams. "Whether it's one or two guys on him, he always seems to find a way to make a great play.
"What a throw by our quarterback," he continued. "And it doesn't happen if the guys up front don't do their job. I thought our pass protection as a whole was outstanding."
Marquez Valdes-Scantling also showed up big.
MVS hadn't caught a pass since the one he fumbled in overtime in the loss at Indianapolis. Against the Lions, MVS went 6-for-6 in targets and catches, including a brilliant 14-yard touchdown grab in the first half.
"That was a perfect illustration of strong hands, attacking it with your hands," LaFleur said. "I'm proud of his effort. 'Quez does a great job of bringing excitement and energy to practice every day."
The Packers and Lions were tied at 14 at halftime, but Green Bay wasted no time taking control after the intermission.
The Packers strung together touchdown drives that went 75 yards in 14 plays, and 79 yards in 12 plays, to take a commanding 28-14 lead. The two drives chewed up more than 16 minutes.
In between, the Lions' offense ran three plays.
"We took what they were giving us," LaFleur said. "It was a bunch of single high. The run game wasn't as explosive as we'd like but that tends to happen when you're going against loaded boxes.
"We were methodical in our approach."
The Lions couldn't stop the Packers' offense even with the benefit of several holding penalties.
"We had a couple of penalties that set us back, but our guys just stuck with it and grinded it out in the third quarter," LaFleur said. "It was awesome to see our defense get that three-and-out, and then to follow up with that nine-minute drive was the difference in the ballgame."
Mason Crosby, the ageless wonder, nailed a 57-yard field goal to put Green Bay up 31-21 before Detroit's Jamal Agnew returned the ensuing kickoff 71yards to set up a late Lions' field goal.
Crosby's "field goal line" was at the 37-yard line. After a false start penalty moved it back 5 yards – and beyond the 37 – LaFleur looked at Crosby and said, "Mason, can you hit this?"
"He said 'yes' and I figured I could fudge on the line so we kicked it," LaFleur said. "That's a lot of trust. He made us right."
The Packers' defense allowed several big plays, but for the most part delivered a winning performance.
The Lions' Matthew Stafford completed 24 of 34 passes for 244 yards and a touchdown while under duress throughout. He was sacked four times and ultimately exited with sore ribs.
The Lions' top two weapons – Marvin Jones Jr. and T.J. Hockenson – were fairly neutralized by Green Bay's defenders. They combined to make 10 catches for 91 yards and a touchdown, but it took 19 targets.
Clearly, defensive coordinator Mike Pettine wasn't going to allow either of them to beat the Packers. The Lions' D'Andre Swift rushed seven times for an inconsequential 24 yards.
Darnell Savage led with eight tackles and one of four sacks. The others were registered by Rashan Gary, Kenny Clark and Dean Lowry.
Now, the Packers must prepare for a rare Saturday night game against the Carolina Panthers at Lambeau Field.
The Packers still have plenty to improve upon, including more consistent play from left guard Lucas Patrick, who has struggled a bit since moving from right guard the past two weeks.
Green Bay's defense also needs to figure out how it's going to defend back and tight ends with safety Raven Greene out for the season.
"It's never easy. It's never perfect in this league," LaFleur said. "But our guys stuck together. It was a four-quarter battle. We're going to enjoy this one. Then we're going to get ready for Carolina."