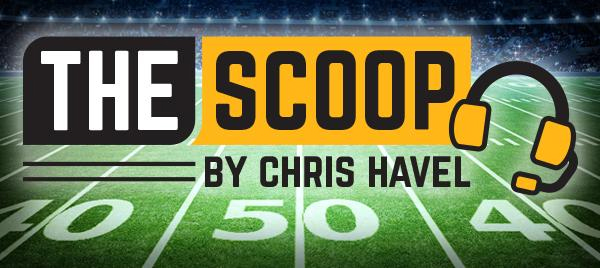 By Chris Havel

Special to Event USA
Green Bay's offense sizzles at outset, then fizzles in 2nd half of 24-16 win
GREEN BAY, Wis. – It looked as easy as one, two, three.
Green Bay's defense held Carolina to a "three-and-out" on its opening drive, and backed it up by forcing a red-zone field goal and a goal-line fumble on its next two series.
Aaron Rodgers was all business in between.
The Packers' offense rolled to three straight touchdown drives to build a commanding 18-point lead late in the first half. With the game in hand, or so it seemed, the Packers' offense curled up and took a catnap.
That's when the Panthers went to work.
By game's end, Green Bay had managed a 24-16 victory Saturday night at Lambeau Field, but not before the Panthers' last-ditch, fourth-down pass fell incomplete at the Packers' 26.
Along the way, the cute stat of the night – Rodgers' 39 TD passes to J.K. Scott's 38 punts coming in – became homelier by the kick. Scott booted six punts, all told, with Mason Crosby's 51-yard field goal the only score during Green Bay's ugliest seven-drive stretch of the season.
For the record it's Rodgers with 40 TD passes to Scott's 44 punts.
The Packers' offense went from unstoppable to unrecognizable as a pesky Panthers' defense wiped the smile from their face-masks.
On the Packers' first three drives, Rodgers' cadence might've been, "Win … number 11! Win … number 11! Coming right up … hut, hut!"
Who could blame them? Robert Tonyan's 1-yard touchdown catch, Rodgers' 6-yard TD run and Aaron Jones' 8-yard scoring prance gave a national TV viewing audience a glimpse of Green Bay's greatness.
Even when the Panthers' offense showed signs of life, the Packers stymied it when it mattered most. Linebacker Krys Barnes' perfectly timed punch-out of the football on Teddy Bridgewater's goal-line leap – which Kevin King recovered and returned 47 yards – was the difference between the Packers up 14-10 or on their way to a 21-3 blowout.
It was the first time in 27 goal-to-go situations this season that the Packers' defense forced a turnover.
"That was the play of the game, no doubt about it," LaFleur said. "They caught us in a defense where they were going to take advantage of it and pound the football. Our guys knew what was coming. It was great awareness by Krys to punch that sucker out."
Barnes' playing time has increased. He also has been switched from the "will" (weak-side) to the "mike" (middle) linebacker. He has the green dot on his helmet and relays the defensive calls in the huddle.
In turn, Christian Kirksey lined up at "will" linebacker, which allows him to roam free and chase down plays.
LaFleur said he is "very happy" with Barnes' play.
"His instincts and intelligence (stand out)," he said. "He does such a great job of communicating everything. He sees plays very quickly. He is able to process and diagnose and there's no hesitation in his game.
"Once he sees it he goes."
That 14-point swing coincided with the Packers' apparent swoon.
It was as if the Packers relaxed. It also was about the time they seemed to begin ignoring the run game. While Green Bay's offense was mired, Carolina fought its way back into the game.
The Panthers' defense would show eight in the box, then either drop into coverage or stay stout against the run. Carolina's defensive backs also tackled better than the Packers' offensive coaches thought possible.
Green Bay (11-3) managed just 47 yards offense in the second half.
As the offense dried up, Rodgers sounded less like a signal caller and more like a captured POW reciting his name, rank and serial number.
It's no wonder.
While an 18-point lead dwindled to eight, the Packers' offense did a five-sack about face. Rodgers was hit often. The catalyst was Carolina's Derrick Brown, who abused left guard Lucas Patrick most of the game.
In fact, Patrick's switch from right to left guard is something the Packers' coaching staff needs to scrutinize. He seems OK in the run game, but in pass protection he leads a lot to be desired.
It wasn't all about the Panthers' clever stunts, either.
Brown beat Patrick like a drum in one-on-one situations. Linebacker Brian Burns also played well with a pair of sacks and constant pressure.
The Packers' choice is clear: Either Patrick needs to play better, or he needs to move to center with Elgton Jenkins going back to left guard. I wouldn't mess with the O-Line's right side. It's been too good.
Clearly, the Panthers (4-10) outplayed the Packers after the intermission, but the deficit was too great to overcome.
It was the eighth time Carolina has lost by a one-possession margin.
LaFleur admitted he should've been more stubborn in terms of sticking with the running attack.
"The disappointing thing is when you're up 21-3 you've got to knock out your opponent," LaFleur said. "Especially if you think you're better. We weren't able to do that. We've got to look at missed opportunities and figure out why we didn't connect on those."
The good news for the Packers is that they moved a step closer to clinching the NFC's No. 1 seed for the playoffs. It would give them a bye and home-field advantage throughout.
The Saints' narrow 32-29 loss to Kansas City – coupled with the Jets' epic upset of the L.A. Rams – means Green Bay merely needs to defeat the Titans or the Bears to clinch the top seed.
After games like Saturday night, the "Bottom Line" becomes a team's best friend. That's when a team plays poorly but still wins.
"At the end of the day it's all about finding ways to win," LaFleur said.
"We can't let one area overshadow the others. We have high standards in all three phases, so when we don't play as well in one area, I still have to be excited about the win. We should be happy that the defense and special teams came through for us."
The Packers host the Titans (10-4) on Sunday night.
Green Bay is 5-0 in night games this season and had scored touchdowns 37 of 48 red zone possessions going into the Carolina game. The Packers need to be that efficient against the Titans, who feature the NFL's No. 1 scoring offense, the league's best back in Derrick Henry and a pesky D.
It will be a great test for Packers' team still working to improve.