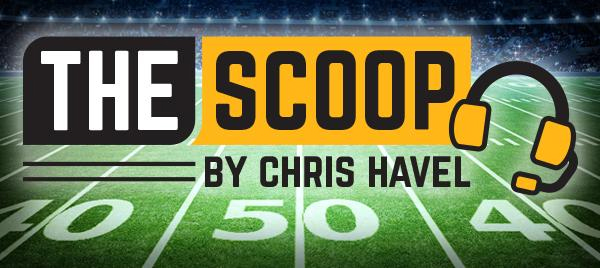 By Chris Havel

Special to Event USA
Sixth-seeded L.A. upsets Seattle, 30-20, to earn 3:35 p.m. Saturday showdown
GREEN BAY, Wis. – The Packers' Davante Adams had 18 touchdown catches in a record-breaking season. The Los Angeles Rams' top-ranked defense allowed just 17 touchdown passes all year.
So what gives Saturday when the Rams (11-6) and the Packers (13-3) tangle in their 3:35 p.m. NFC Divisional playoff at Lambeau Field?
That depends on the Packers' ability to effectively run the football. If Aaron Jones and Co. can do just enough to set up the play-action pass, Aaron Rodgers is likely to keep the Rams' defense off balance all day.
If the Packers' run game stalls, it's apt to be a fight to the finish.
Green Bay opened as a touchdown favorite in Las Vegas sports books. I suspect that will hover between 6 ½ and 7 points throughout the week.
On paper the game feels closer than that.
The Rams are banged up, to be sure, but they're also coming off a fairly impressive 30-20 upset of the third-seeded Seahawks at Seattle.
The Rams boast the NFL's No. 1 scoring defense at 18.5 points per game. They also feature what is arguably the league's top defensive duo in tackle Aaron Donald and cornerback Jalen Ramsey.
Meantime, the Packers have been able to rest and get healthy.
The Packers also will have a 6,011-to-11 advantage as they're allowing 6,000 fans to attend. The weather forecast predicts temperatures in the high teens with 10 mph winds out of the northwest and no precipitation.
It isn't the Ice Bowl, but it's not Los Angeles, either.
"I feel like our home-field advantage is really more," Packers' running back Jamaal Williams said. "Most people's home-field advantage is just the fans and the fans alone, but ours is fans and the environment. We embrace the cold. We embrace the frozen tundra, and we want (teams) to come here. We want them to come into this freezer and feel this.
"We know what type of place this place is and what type of environment, what type of weather and the fans that we have, so it's just going to be great."
Indeed, it should make for a terrific playoff-type atmosphere.
"We're really excited about (the 6,000 fans)," Packers head coach Matt LaFleur. "We're definitely going to feed off that energy, so if anybody's coming to the game, make sure you're nice and loud for us."
Some suggest 6,000 fans aren't enough to make an impact.
Packers' cornerback Chandon Sullivan disagrees.
"Oh, that's going to help out a lot," Sullivan said. "This whole season, it's been pretty much a quiet stadium. Having as many fans as we can have is going to help.
Hopefully, they can be loud and give us that momentum we need to win."
Let's take a look at Rams-Packers on both sides of the football.
** WHEN THE PACKERS HAVE THE BALL
Green Bay has been able to overcome the late-season loss of All-Pro left tackle David Bakhtiari thus far. That will be put to the test Saturday.
Ex-Bears edge rusher Leonard Floyd had two sacks at Seattle and is playing the best football of his up-and-down career. Michael Brockers is a stout run stuffer and capable inside pass rusher.
Then there is Donald, who defies most adjectives, and is going to go helmet-to-helmet with the Packers' All-Pro center, Corey Linsley. It's going to be incumbent upon the Packers' interior of the line – Elgton Jenkins, Linsley and Lucas Patrick – to hold up.
Jones averaged 5.5 yards per carry with nine touchdowns and 52 first-down conversions. Williams averages 4.2 per carry and has churned out 29 first downs on the ground.
I like the Packers' chances to hurt the Rams' defense by deploying Jones and Williams together, and then playing a little cat-and-mouse by either running it or throwing to the backs out of the backfield.
This is where Robert Tonyan comes in.
The Packers' tight end had 52 catches (in 59 targets) for 586 yards and 11 touchdowns. Tonyan has feasted on bootleg passes from Rodgers. That action is more successful if the Packers can mount a running attack.
Pre-snap motion and misdirection also will be a key.
The Rams' defense flows to the football like metal to a magnet. Anything Green Bay can do to cause hesitation will be welcome.
Another marquee matchup is Ramsey versus Adams on the perimeter.
I suspect LaFleur will move Adams all over the formation in search of a better matchup. Then again, Adams has been able to take on and defeat all comers to this point.
This is going to be among the Packers' greatest challenges offensively.
Despite all the ways the Rams' defense can dominate a game, Rodgers is the odds-on MVP for a reason. Rodgers is playing his best football in years gives the Packers a huge edge at the most important position.
** WHEN THE RAMS HAVE THE BALL
Rams' quarterback Jared Goff came off the bench to defeat Seattle with only one opposable thumb. While just 11 days removed from thumb surgery on his right hand, Goff was able to do enough to secure the win.
The Rams only completed 12 passes against the Seahawks, but they got a big boost from running back Cam Akers. The rookie rushed for 131 yards and a touchdown while adding two catches for 45 yards, including a 44-yard catch in the first half.
Akers, with Malcom Brown in reserve, will be force-fed the football. Rams head coach Sean McVay is going to be stubborn in his attempts to run the football against Green Bay, in part out of necessity.
It remains to be seen how Goff's thumb injury responds to cold weather. All it may take is one nasty hit on it to knock him out. Backup John Wolford started but suffered a stinger and was knocked out of the game. McVay said Wolford is OK, but the Rams plan to activate Blake Bortles as their third quarterback in case of emergency.
** PREDICTION
This is the Packers' time. This is Aaron Rodgers' moment.
While the Rams' defense presents a tremendous challenge, L.A.'s offense has been sporadic as it faces an improving Green Bay defense.
The Packers' decision to make rookie Krys Barnes the "MIKE" linebacker – which requires him to set the defense – and move Christian Kirksey to "WILL" linebacker was a shrewd move.
Furthermore, Za'Darius Smith (12 ½ sacks) leads a Packers' pass rush that registered 41 sacks this season. Green Bay can get after the quarterback when the circumstances call for it.
On offense, I see LaFleur and Rodgers utilizing their array of weapons, especially in terms of throwing to the backs and tight end.
Special teams play is always a wild-card in these games, but I'll take Packers' kicker Mason Crosby with the game on the line every time.
** FINAL SCORE
Packers 27, Rams 19