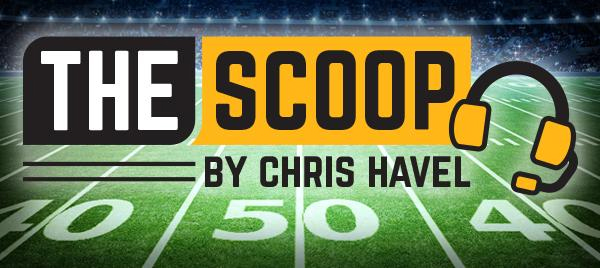 By Chris Havel

Special to Event USA
MVP quarterback the centerpiece of Packers' plans for 2021 …and beyond?
GREEN BAY, Wis. – It seems like the Packers face more unknowns than absolutes this offseason, but Aaron Rodgers' role going into the 2021 NFL season and beyond isn't among the mysteries.
In their season-ending news conferences Monday morning, Packers GM Brian Gutekunst and head coach Matt LaFleur firmly reiterated their belief that as Rodgers goes, so goes Green Bay.
Their plan doesn't call for the NFL's MVP quarterback to go anywhere, unless it's going to Super Bowl LIV as the Packers' leader.
The Packers (13-3) earned the NFC's No. 1 seed in the playoffs. They defeated the Rams, 32-18, before falling to the Buccaneers 31-26 in the NFC championship game.
Rodgers' significant salary cap number, coupled with Green Bay's decision to trade up in the first round to select quarterback Jordan Love last spring, seems to have spawned questions about his future.
The Packers aren't having any of it.
"He's playing at an extremely high level," Gutekunst said of Rodgers. "What we're trying to do we can't accomplish without Aaron Rodgers. He's certainly part of what we're doing now and in coming years."
When asked if reports were true that the Los Angeles Rams had called Green Bay to inquire about Rodgers' availability via a trade, Gutekunst replied, "There's no truth to that whatsoever."
Late last week the Rams sent a king's ransom in draft picks to Detroit in order to swap quarterbacks: The Lions' Matthew Stafford for Jared Goff.
Green Bay is quite happy with its quarterback situation, thank you.
"It was a special year that didn't finish like we wanted but everybody's motivated to be back, and that includes Aaron Rodgers," Gutekunst said. "He's our quarterback. He's our leader."
LaFleur echoed that sentiment.
"(Rodgers) will absolutely be here for a long time," he said, when asked if he would be the Packers' quarterback in 2021 and beyond.
After the Packers' 31-26 loss to Tampa Bay in the NFC championship, Rodgers expressed frustration with a late-game decision to kick a field goal instead of going for it on fourth down at the Bucs' 8-yard line.
LaFleur said he understands Rodgers' viewpoint.
"I wouldn't want a quarterback that didn't want another crack it at," he said. "That's the great competitor that he is and it's a part of what makes him so special."
It was interesting that LaFleur acknowledged that he and Rodgers weren't entirely on the same page on the final play. Rodgers assumed the Packers were in four-down territory. LaFleur was thinking otherwise.
The coach admitted he should have made it clearer.
If the Packers had reached the 5-yard line on third down, for example, LaFleur said it would've been a different conversation about going for it.
Ultimately, LaFleur said he and Rodgers discussed it and moved on.
It was almost comical that Gutekunst was asked if he still believed that Love was the Packers' future at quarterback. Without a conventional offseason and no preseason games due to COVID-19 restrictions, there's no reason to believe Love has done anything to rule himself out.
"I view him as a very talented prospect that we're excited about developing," Gutekunst said. "It's not the norm (having quarterbacks sit for three seasons like Rodgers did), but we have a history with that.
"I'm excited about the limited development Jordan has been able to do with a limited offseason, no preseason games … we're excited about that and at the same time competing for championships with Aaron."
Aside from Maurice Drayton being hired as special teams' coordinator to replace Shawn Mennenga, who was fired last week, this offseason brings an inordinate amount of unknowns.
The Packers fired defensive coordinator Mike Pettine last week after three seasons with the team. Inconsistent play, coupled with a disastrous defensive call that allowed the Bucs to score a touchdown before halftime of the NFC championship, proved to be Pettine's downfall.
LaFleur said the defensive call was "just a flat-out miscommunication and ultimately anytime something like that occurs, that 100 percent falls squarely on my shoulders. We've got to make sure we're crystal clear on our communication."
Gutekunst described Pettine's defense as "salty at times" but too inconsistent overall.
The Packers' process to hire a new D.C. is just getting underway.
Meantime, the future of players such as Aaron Jones remains in limbo. Clearly, the Packers would love to have him back, but it seems more likely he will leave via free agency.
Gutekunst declined to speculate if a franchise tag was in play for Jones.
"We'd love to have Aaron (Jones) back," Gutekunst said. "He's such an important part of our offense, such a dynamic player, and everything you want in a professional football player.
He takes care of himself. He's a great teammate. We'll have to get through some things (salary-cap wise) in the next few months and see if that's a possibility."
Speaking of the salary cap, Gutekunst expects it to plummet this year. Reports suggest it could drop as much as $30 million from last season.
"That's a unique challenge and it's a first for me since I've been in the league," Gutekunst said. "We've been working two-to-three years ahead, and we've been disciplined, so I'm confident going forward. I think (salary cap expert) Russ Ball does a great job communicating with me. We've got a plan moving forward."
Gutekunst didn't sugarcoat the possibility that Green Bay is going to have to part ways with some really good players.
"There's going to be some hard decisions," he said. "You don't plan for a pandemic, but because Russ has done such a good job with the cap and we've been disciplined over the years we can take on this challenge without gutting this team."
It appears veteran defenders such as Christian Kirksey and perhaps Preston Smith will be released. When asked specifically about the inside linebacker position, Gutekunst made it clear it wasn't good enough.
"We have to have more productive play there," he said. "We had some injuries (at inside linebacker) early and I was pleased with how some of the young players stepped up (Krys Barnes and Kamal Martin). They will continue to grow and get better. You'll see that moving forward."
Ultimately, Gutekunst and LaFleur were proud of the 2020 team, but both expressed excitement about taking the next step this season.
"We were the No. 1 seed for a reason, playing these (playoff) games at home for a reason, and obviously we had a great opportunity to win the last ballgame," Gutekunst said. "You're always disappointed when you come up short, but I'm proud of our players. That was a really good team. They sacrificed and put the team ahead of themselves. I wish we'd played our best football in the last game. We didn't."
Gutekunst said he hoped players would learn from it.
"Once guys get back to work the sting of this loss – not that it will ever leave them completely – will be eased by working toward a new goal."
Gutekunst was asked if he thought this team will bounce back, given that some teams never quite recover from championship game losses.
"I don't have any doubts that this team will recover," he said. "This one hurt them deeply. It was very important to them. They were very disappointed. I know we've got a lot of the right guys in that locker room that care about what we're trying to accomplish here."
"I appreciate that."