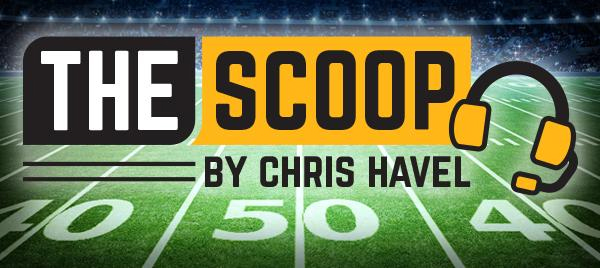 By Chris Havel

Green Bay lands TD machine with 4-year, $48-million free-agent deal
GREEN BAY, Wis. – The Packers dealt with Aaron Jones the same in free agency as they did during the season: Create space and let's run it.
Or, as Jones tweeted Sunday, "Let's run it back."
The difference in free agency is that it wasn't just the offense clearing a path for Jones. It was truly a team effort on both sides of the football.
Safety Adrian Amos, offensive lineman Billy Turner and edge rusher Preston Smith all agreed to restructure their contracts to clear cap space.
That came after left tackle David Bakhtiari did likewise to begin the paring process. The Packers also released offensive lineman Rick Wagner and linebacker Christian Kirksey for the same purpose.
Then it was Jones' turn to do his part.
The 26-year-old fan favorite agreed to a four-year, $48 million deal that includes a $13-million signing bonus and averages $12 million per year.
It is easy to see the inherent risk in the move.
Running backs get hammered on a weekly basis. The injury risk is high.
Furthermore, given their importance in today's game, teams are more comfortable paying a "stable" of backs to do the job. The days of heavily investing in one running back are growing rarer all the time.
It's different in Green Bay.
Packers GM Brian Gutekunst and head coach Matt LaFleur care less about league trends and more about Green Bay's specific needs.
Aaron Rodgers led the NFL's top-ranked offense last season.
Jones' explosiveness, production and durability were significant factors in Rodgers' gaudy 48-to-5 TD-to-INT ratio, as well as consecutive 13-3 records and NFC championship game berths.
The fifth-round pick in 2017 was the NFL's fourth-ranked rusher last season. The UTEP alum rushed for 1,104 yards despite missing two games with a calf injury. It earned him his first Pro Bowl berth.
In 2019, Jones rushed for 1,084 yards and led the NFL with 19 touchdowns. He finished with 23 touchdowns – including playoffs – which is the most TDs in any season in Packers' history.
Jones is one of only two players – Hall of Famer Jim Brown is the other – to have 3,000-plus rushing yards, a 5-plus yards per carry (5.2) and 35-plus rushing touchdowns in their first four seasons.
Rodgers has been terrific on play-action passes the past two seasons. The mere threat created by Jones' presence leaves defenses little choice but to bite on play-action. If they don't, and they guess wrong, they'll probably be looking at Jones' backside after he blows past them.
Jones' ability as a pass catcher out of the backfield also is noteworthy. LaFleur is comfortable splitting him out into the slot, as well as relying on him in the screen game.
Jones' knack for taking glancing blows, as opposed to "kill shots," has been a factor in his durability and availability.
A.J. Dillon's presence is another reason retaining Jones makes sense. Dillon, a second-round pick in 2020, is a bruising 6-0, 247-pound back with enough straight-line speed to go the distance.
Furthermore, Dillon will help absorb some of the punishment.
The Packers have a versatile, explosive two-headed monster out of the backfield. They can hand it, toss it or throw it to Jones or Dillon. They also can count on them to be proficient in pass protection.
The Packers' running back situation gives Green Bay an edge over most. In fact, it could be argued the Packers have the best combination of quarterback and running back(s) in the league.
Offensively, the Packers are set to make another strong showing.
The apparent remaining needs include a true No. 2 receiver to pair with Davante Adams, a third running back to replace Jamaal Williams, and a pair of offensive linemen.
That should be do-able between the draft and free agency.
Defensively, the Packers' decision to retain Preston Smith at a reduced rate makes sense. Smith is coming off a down year, but he's had a history of "good season, bad season, good season" throughout his career.
He also provides veteran depth while trying to recapture his 2019 form.
Now, the Packers can focus on finding a cornerback (or two) and a defensive lineman. It's not far-fetched to think they will draft a corner, a linebacker and a defensive lineman in the first three rounds.
Meantime, Green Bay's offense looks more explosive than ever.
Retaining Jones was critical.
"I'm just glad I could keep playing where I started my career," Jones said on Instagram Live.
Packers' fans couldn't agree more.