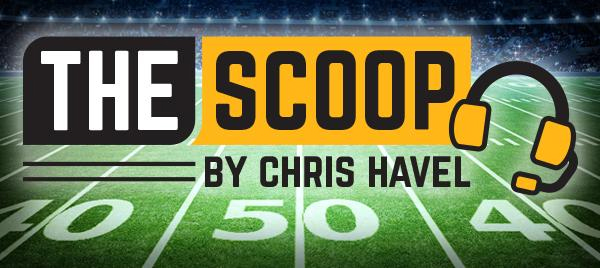 By Chris Havel
Green Bay's ammunition, flexibility enhance chances for draft-day drama
GREEN BAY, Wis. – The Packers have positioned themselves nicely going into Thursday night's first round of the NFL draft.
They earned the 29th overall pick with their 13-3 record and berth in the NFC championship game. They narrowed their list of needs by solid drafts, strong player development and some shrewd free-agent signings.
They maximized their flexibility by acquiring 10 picks (three compensatory) including five in the first four rounds. They are picks 29, 62, 92, 135 and 142. Here is a safe prediction: Those five picks will yield three players by the time Gutekunst is done wheeling and dealing.
The Packers need quality, not quantity, at this point.
Green Bay's decisions will be based on how the draft unfolds.
In what amounts to an almost impossible guessing game – especially without knowing which players are gone through the first 25 picks – it comes down to common sense and the best players likely available.
Packers GM Brian Gutekunst has presided over three drafts, and he has executed first-round trades in all of them. That trend could continue if the draft unfolds the way many experts predict.
There will be five quarterbacks (and maybe six) taken in the first round. It is likely there will be three receivers, one tight end, four offensive linemen, five edge rushers, two linebackers, three cornerbacks and a safety taken in the top 25 (see below).
** PROBABLY GONE (Picks 1-25)
QBs: Trevor Lawrence, Clemson; Zach Wilson, BYU; Mac Jones, Alabama; Trey Lance, North Dakota State; Justin Fields, Ohio State.
WRs: Ja'Marr Chase, LSU; DeVonta Smith, Alabama; Jaylen Waddle, Alabama.
TE: Kyle Pitts, Florida.
OL: Penei Sewell, Oregon; Rashawn Slater, Northwestern; Alijah Vera-Tucker, USC; Christian Darrisaw, Virginia Tech.
Edge: Kwity Paye, Michigan; Jaelan Phillips, Miami; Gregory Rousseau, Miami; Jayson Oweh, Penn State; Azeez Ojulari, Georgia.
LB: Micah Parsons, Penn State; Zaven Collins, Tulsa.
CB: Patrick Surtain II, Alabama; Jaycee Horn, South Carolina; Caleb Farley, Virginia Tech; Greg Newsome II, Northwestern.
S: Trevon Moehrig, TCU.
** STILL ON THE BOARD (Picks 26-32)
OL: Teven Jenkins, Oklahoma State; Samuel Cosmi, Texas.
WR: Elijah Moore, Ole Miss; Rashod Bateman, Minnesota.
DL: Christian Barmore, Alabama;
LB: Jamin Davis, Kentucky.
CB: Asante Samuel, Jr., Florida State.
Green Bay's most glaring needs are (in order) cornerback, offensive line, defensive line and receiver. The thinnest of positions – especially at the top of the draft – is defensive line.
Alabama's Christian Barmore was the only defensive tackle among the 13 players invited to Cleveland to attend the draft in person. The other 12 are consensus top 20 picks.
Barmore is something of a lightning rod.
He fits the mold of terrific Alabama defensive linemen, but he remains a mock draft wild-card with experts predicting he'll be selected anywhere from the late teens to early in the second round.
I love him. I just don't know if the Packers love him.
Either way I wouldn't trade up for him unless he slips into the 20s and the Packers can pull off a sweet deal.
For example, if the Packers wanted to trade up from 29 to 21 with Indianapolis, it would cost them the 29th, 92nd and 142nd picks. That's a high price to pay for the 21st pick overall. On the other hand, it qualifies as a great trade IF Barmore is the real deal.
He would line up next to Kenny Clark and provide immediate help against the run and the pass. He would free up edge rushers Za'Darius Smith, Preston Smith and Rashan Gary to get after quarterbacks.
Big men like Barmore don't come along very often, especially when a team is selecting late in the first round.
However, if Barmore is unattainable the Packers still have great options.
They could sit tight and hope one of the top cornerbacks such as Northwestern's Greg Newsome II or Virginia Tech's Caleb Farley falls to within shouting distance.
I could see the Packers trading up a handful of spots to get either one. Farley or Newsome II would be a great night's work. If the defensive tackle or corners don't work there's still a need for an offensive tackle.
A pair of offensive tackles – Oklahoma State's Teven Jenkins or Texas' Samuel Cosmi – could be available at 29. If Barmore is gone, and the top corners aren't available, Gutekunst could take a tackle and feel good.
Then he could still get exceptional help at corner, defensive tackle and/or receiver in rounds 2, 3 and 4.
Last week, I described my "perfect" top four players: Newsome, interior offensive lineman Quinn Meinerz, Louisiana Tech defensive tackle Milton Williams and Western Michigan receiver D'Wayne Eskridge.
Unfortunately, the NFL draft isn't perfect. In fact, it is a very inexact science with a multitude of possibilities and scenarios.
Ultimately, I believe the Packers will look to trade up for an impact defensive player. If no opportunities arise, I expect them to weigh the value of adding a defender versus an offensive lineman.
The best-case scenario is Barmore, Farley or Newsome II in the first round. After that, I absolutely love Wisconsin-Whitewater offensive lineman Quinn Meinerz, Iowa defensive tackle Daviyon Nixon and Western Michigan receiver D'Wayne Eskridge.
Of course, another possibility is the Packers trading out of the first round in an attempt to acquire another pick in the top 100. In that scenario, the Packers could land three top 100 players with their top five picks.
It's why the draft is so unpredictable, and why so many love trying to predict it anyway.
THE PICK IS IN … Alabama defensive tackle Christian Barmore.
NOTE: Check out Event USA's website Friday morning for my column on Day 1 of the draft.