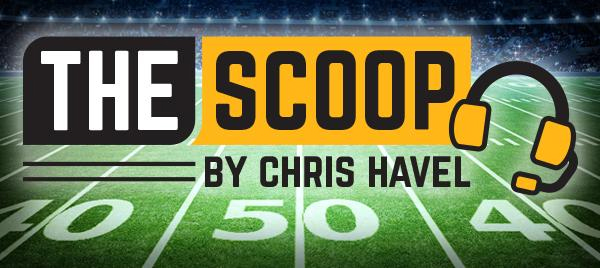 By Chris Havel
Draft-day drama casts pall over event, renders Stokes selection an afterthought
GREEN BAY, Wis. – Welcome to Purgatory, heretofore known as Titletown, USA, a place where revenge is indeed a dish best served cold, and Packers fans are left to languish as the blame game usurps football.
Aaron Rodgers' premeditated hijacking of the NFL draft confirms the notion that hell hath no fury like that of a scorned quarterback. As the calendar flips from April to dis-May, the tundra has never felt so frozen.
While news spread Thursday that Rodgers is unhappy in Green Bay and no longer wants to play here, blindsided fans were left to choose sides in a game few relish playing.
Some fault the Packers for poisoning the relationship by trading up to select Jordan Love in the first round of last year's draft.
Others direct their ire at Rodgers for pulling what they regard as an unseemly stunt.
Isn't Rodgers bigger than this? Isn't he better than this?
Apparently no, he's not.
At least Rodgers has David Bakhtiari (for now) to protect his blind side.
Where do fans turn when disaster crashes their party?
Today, their melancholy litters the Lambeau Field parking lot like so many discarded wrappers and empty cups after a heart-wrenching loss.
Their Packers entered the 2021 NFL draft as a Super Bowl favorite in search of a player or two to get their team over the top.
They left it wondering how to pick up the pieces after the bombshell. That, and why the Packers selected a cornerback in the first round who many draft-nicks rated the second-best corner on his own college team?
Georgia's Eric Stokes, a talented corner and nice addition, was reduced to an afterthought even before the Packers took him with the 29th pick. Welcome to Purgatory, kid, and may fortune smile upon you.
Now back to the disgruntled quarterback.
Rodgers, at 37, is the NFL's MVP and one of its top quarterbacks along with the Bucs' Tom Brady and the Chiefs' Patrick Mahomes.
He also is a self-absorbed, self-entitled prima donna.
That shouldn't come as a newsflash to his fans. They have given their unconditional support in good times and in bad. They have marveled at his greatness and tolerated his peevishness.
Just as a parent knows their child, they know their quarterback … or so they thought.
The shocker was the lengths Rodgers would go – the lengths "their guy" would go – to upstage and undermine "their team" merely to exact vengeance for a real or imagined year-old slight.
The Packers' response was marginally unambiguous.
"We are not going to trade Aaron Rodgers," Packers GM Brian Gutekunst said Thursday night after the draft's first round.
That is subject to change, of course, with reports continuing into the weekend that Rodgers will be traded to Denver or wherever.
Nevertheless, Gutekunst forged ahead with GM-speak.
"I'm not going to speak for Aaron, but I think obviously we have a really good team and I do think he'll play for us again," Gutekunst continued. "Like I said, we're going to work toward that and we've been working toward that on a number of different fronts.
"The value that he adds to our football team is really immeasurable, you know what I mean? He brings so much to the table not only as a player but as a leader. He's so important to his teammates, to his coaches, so yeah, that's the goal."
ESPN reported that the Packers have offered to restructure his contract and that CEO Mark Murphy, Gutekunst and head coach Matt LaFleur all met with Rodgers and/or his agent in an attempt to placate him.
Apparently Rodgers isn't interested in being placated.
He wants to be traded.
Rodgers' leverage was at its greatest going into the draft.
Unless the Packers trade him – and it's still a distinct possibility – his options are to hold out, retire or become the fulltime host of Jeopardy! That is unless the TV game show's producers select CNN's Anderson Cooper instead, which might really throw Rodgers into a tizzy.
I can hear Rodgers' reaction now: "You can't replace me with Anderson Cooper. I haven't been officially hired yet!"
Rodgers' lovefest with the 49ers is intriguing.
Why would the king of slight wish to play for the team that disrespected him by choosing Alex Smith all those years ago?
Speaking of the 49ers, one has to hand it to their front office, which shrewdly put itself in a win-win situation by leaking the news that they called the Packers to inquire about Rodgers' availability.
At best, it might've led to the 49ers acquiring the superstar. At worst, it inflicted major damage on an NFC rival's ability to heal whatever perceived wounds Rodgers is feeling and move forward.
Frankly, it is difficult to imagine Rodgers playing for the Packers again.
Fortunately, it is equally difficult to imagine the Packers trading their MVP quarterback – a player their coaching staff helped resurrect – to a team of his choosing.
If they have tried in vain to give him what he wants to stay, it's doubtful they'll give him what he wants to leave.
Following the Packers' 31-26 loss to Tampa Bay in the NFC championship, Rodgers referred to his future as a "beautiful mystery."
It's a mystery alright, but beauty is in the eye of the beholder, and this looks like the ugliness that is an ungrateful athlete wanting what he wants or else.
If Rodgers is the righteous man he professes to be he should take to social media and explain to his fans exactly why he is angry and what he wants to make it right. Until then, fans are left to twist in the wind while their fate flutters between football hell and Super Bowl salvation.
Welcome to Purgatory.