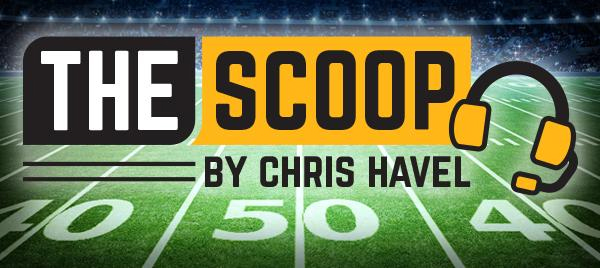 By Chris Havel
NFL schedule reflects belief Green Bay will be incredibly interesting in 2021
GREEN BAY, Wis. -Aaron Rodgers' parting gift, should he fail to play for the Packers this season, is a tough-as-nails first-place schedule with the fourth-highest degree of difficulty in the league.
Packers fans knew the opponents before the NFL released its 2021 schedule Wednesday night, which merely solidified times and dates. What fans didn't know until two weeks ago (aka the eve of the NFL draft) was that Rodgers reportedly didn't want to play in Green Bay.
Seeing as how the Packers weren't about to move the franchise to Rodgers' desired location, the current standstill ensued. While Rodgers and the Packers try to "iron some things out" as Davante Adams puts it, coach Matt LaFleur is left to proceed in alternate universes.
There is the universe with Rodgers under center in Green Bay, which is as it should be, and the one where Jordan Love calls signals and prays to the football gods that the defense goes for the play-action fake.
Either way, it's a demanding and interesting 2021 schedule.
The Packers have five prime-time games despite the uncertainty involving Rodgers' future.
LaFleur is Ok with the high-profile exposure because of what it implies.
"That's a good thing for us," he said on the Packers' website. "That means we're doing some good things. We just have to make sure we're doing everything in our power from all off-season into training camp, making sure we're ready to play come Week 1."
The Packers, coming off consecutive 13-3 seasons, were viewed by Las Vegas odds-makers as a Super Bowl favorite. Sin City set Green Bay's over/under for total wins at 10 ½.
The Packers reaching 11 wins seemed like easy money until news broke regarding Rodgers' discontent with the team's front office. Las Vegas odds-makers have since taken the wager off the board.
Meantime, I'll take up the annual task of predicting the W's and L's (wisely in pencil, typically in English, and always praying that the W's and the L's add up to 16 … uh, I mean 17.
** Sunday, September 12, 3:25 p.m.: Packers at Saints
The road to 11 wins begins in The Big Easy with a Week 1 nationally televised matchup between the Packers and the Saints. New Orleans is embarking on its ever-after (happily or otherwise) following Drew Brees' retirement.
Alvin Kamara scores five touchdowns, but Green Bay counters with a heavy dose of Rodgers-to-Rodgers (Aaron to Amari) and the other Aaron (Jones) to notch the season-opening win. The Packers' Mason Crosby clinches the victory with a 57-yard field goal at the final gun.
Final: Packers 38, Saints 35
** Monday, September 20, 7:15 p.m.: Lions at Packers
Monday Night Football comes to Lambeau Field with an old Black-and-Blue Division matchup featuring the new-look Lions with Jared Goff against Green Bay's defense. Eric Stokes' first career "pick six" sends Detroit to defeat, and a star is born, at the least Jaire Alexander's bookend.
Final: Packers 24, Lions 14
** Sunday, September 26, 7:20 p.m.: Packers at 49ers
Wildly successful defensive coordinator Robert Saleh left the Bay Area to become the Jets' head coach, but the 49ers' defense is going to remain a tough nut to crack.
Final: 49ers 31, Packers 17
** Sunday, October 3, 3:25 p.m.: Steelers at Packers
Ben Roethlisberger is fighting a losing battle against Father Time. The Steelers' quarterback will wilt in the face of a swarming, surging Packers' defense.
Final: Packers 23, Steelers 19
** Sunday, October 10, Noon: Packers at Bengals
With Bengals' QB Joe Burrow coming off a knee injury, it's better to play Cincinnati sooner than later. Week 5 will do.
Final: Packers 27, Bengals 13
** Sunday, October 17, Noon: Packers at Bears
Who has greater problems: The Packers, because Justin Fields is the Bears' quarterback? Or Fields, because he's the quarterback in Chicago? I say Fields, with one of the few exceptions being this game. Call it a hunch. Call it a field-goal battle, decided by a 2-point try.
Final: Bears 22, Packers 19
** Sunday, October 24, Noon: Washington at Packers
Washington features a terrific, quarterback-crunching defense that will cause fits for LaFleur's offense the entire game. Nevertheless, Adams comes up with a fabulous TD catch, and Aaron Jones hits a seam and goes 80 yards for the game-winning score.
Final: Packers 24, Washington 16
** Thursday, October 28, 7:20 p.m.: Packers at Cardinals
The Cardinals are a difficult team to figure. It appears quarterback Kyler Murray is ready to take the next step and become an equally sensational, but more consistent player. The Packers will have their hands full (of thin air trying to tackle Murray).
Final: Cardinals 39, Packers 31
** Sunday, November 7, 3:25 p.m.: Packers at Chiefs
This is a great coaching matchup featuring LaFleur (the rising star) versus Andy Reid (the future HOFer) in what's called "the 17th game." The Packers are game against Patrick Mahomes, Tyreke Hill and the rest, but they can't keep pace with Kansas City's electric attack.
Final: Chiefs 41, Packers 31
** Sunday, November 14, 3:25 p.m.: Seahawks at Packers
Russell Wilson isn't happy in Seattle, according to reports, and it's likewise for Rodgers in Green Bay, again according to reports. Let's see if I've got this straight. Wilson and Rodgers are wealthy, handsome and among the NFL's finest quarterbacks. Wilson is married to Ciara and Rodgers is engaged to Shailene Woodley.
One question: Why so unhappy?
Final: Packers 38, Seahawks 35
** Sunday, November 21, Noon: Packers at Vikings
Whether it's Rodgers or Love for the Packers, that's still Kirk Cousins pulling the trigger for the Vikings, so … wouldn't Stokes' second career "pick six" be extra-special at U.S. Bank Stadium? I think so.
Final: Packers 28, Vikings 24
** Sunday, November 28, 3:25 p.m.: Rams at Packers
This is where the Packers' season begins to feel really long. The Rams' defense is apt to be top-notch again with Aaron Donald and Co., while Matthew Stafford's renaissance seems a safe bet.
Final: Rams 17, Packers 14
** Sunday, December 5: BYE (as always, it comes at a good time)
** Sunday, December 12, 7:20 p.m.: Bears at Packers
The Packers, fresh off their bye, absolutely annihilate Chicago. Fields feels the wrath of Za'Darius Smith, Rashan Gary and Kenny Clark on a four-interception day at windswept Soldier Field.
Final: Packers 28, Bears 14
** Sunday, December 19, Noon: Packers at Ravens
On the surface, Green Bay versus Baltimore feels like a defensive struggle, but in this modern age of offensive football it spirals into a shootout. In fact, I'm predicting one of the league's all-time shootouts featuring Lamar Jackson's legs, Rodgers' arm and invisible defense.
Final: Ravens 48, Packers 45
** Saturday, December 25, 3:30: Browns at Packers
This isn't Baker Mayfield's home. It's Lambeau Field. Mayfield's awful day against an angry Packers' defense sends the Browns packing on Christmas Day.
Final: Packers 34, Browns 19
** Sunday, January 2, 7:20 p.m.: Vikings at Packers
This game could decide the NFC North championship. Then again, it might be flexed out for a more meaningful matchup, but I doubt it. Picture idyllic Lambeau Field on a snowy winter's night as Packers fans serenade a downcast Kirk Cousins as he freezes to the visitor's bench. It's downright Rockwellian.
Final: Packers 31, Vikings 21
** Sunday, January 9, Noon: Packers at Lions
The 17th game proves to be little more than a formality as the Packers, who would finish 11-6, have already clinched the NFC North title. Aaron Rodgers sits out the finale in preparation for a playoff run, while Love does enough to eke out the road victory.
Final: Packers 23, Lions 21